Religious Versus LGBT Protections Roil Landmark Rights Measure
Republicans oppose bill's curtailment of religious rights
Legal observers say religious defense still would be intact
Bloomberg Government subscribers get the stories like this first. Act now and gain unlimited access to everything you need to know. Learn more.
Democrats' momentum to enact landmark LGBT civil rights legislation is facing headwinds from opponents who say the measure would limit federal religious protections.
Those objections will likely be raised at a Wednesday Senate Judiciary Committee hearing on the bill. But some legal experts disagree with critics and say the measure wouldn't completely wipe out religious rights of employers and other groups.
The Equality Act (H.R. 5), which the House passedalong party lines last month, would amend the 1964 Civil Rights Act to enshrine protections for sexual orientation and gender identity. It would expand rights to public and commercial spaces, jury selection, and transportation services.
The legislation would also bar certain religious defenses to LGBT claims of discrimination. That issue remains a contentious area that courts haven't resolved, and appears to be a sticking point for Republicans, who would be crucial to passing the legislation in the Senate.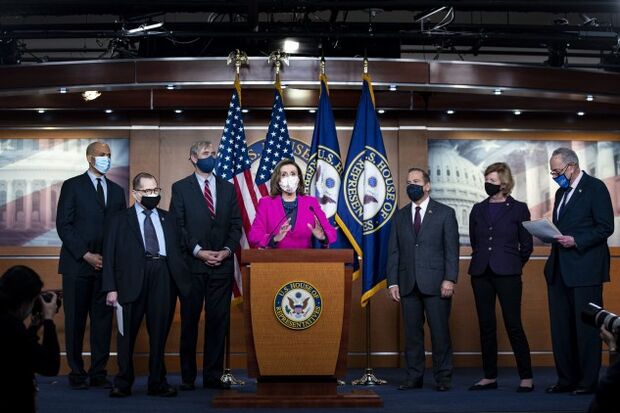 After decades of fighting for such protections, LGBT advocates are more optimistic about the bill's chances, in large part because of the White House's backing, said Sharon McGowan, chief strategy officer and legal director for Lambda Legal, an LGBT advocacy group.
"This time feels different," McGowan said.
Filibuster Barrier
Supporters face a steep challenge to overcome the Senate filibuster—a procedural hurdle that requires 60 votes to bring a measure up for a vote—without resolving concerns around religious exemptions. No Senate Republicans have signed onto the bill, and some have said they won't back it without new exemptions for religious organizations.
McConnell Says GOP Will Retaliate If Democrats End Filibuster
A spokeswoman for Sen. Mitt Romney (R-Utah) told the Washington Blade that he believed protections for religious liberty were essential for any bill, "and since those provisions are absent from this particular bill, he is not able to support it." Romney's office didn't respond to a request for additional comment.
Sen. Susan Collins (R-Maine) signed on as cosponsor of the legislation when it was previously introduced in the Senate. She declined to do so this time, citing unspecified changes that hadn't been made to the bill. A Collins spokeswoman said the Equality Act was a starting point for negotiations, and that Collins supported fairness and equal treatment of all Americans, regardless of their sexual orientation or gender identity.
Supporters say the Equality Act is essential because of the patchwork of protections guaranteed to LGBT people across the country. In 27 states, there are no laws explicitly banning discrimination against people on the basis of gender identity or sexual orientation, according to Freedom for All Americans, an LGBT rights group.
Congress is considering the legislation as a new wave of bills targeting transgender students advance in states. Lawmakers in South Dakota and Mississippithis year passed bills to block transgender athletes from participating in women's sports, and similar legislation has been proposed in Tennessee.
Congressional Republicans and former President Donald Trump have sought to make political hay out of the issue.
Trump Teases Possible 2024 Run In Speech Recalling 2016 Themes
Religious Opponents
The Equality Act proposes weakening a 1993 law that creates a religious defense in discrimination lawsuits.
Religious organizations and certain small, non-religious companies can invoke that law, the Religious Freedom Restoration Act, to defend against discrimination lawsuits brought by the government. As written, the Equality Act would trump this law, which is driving opposition from religious groups, said Stanley Carlson-Thies, senior director of the Institutional Religious Freedom Alliance, which advocates for religious employers.
"It's never actually been limited before," he said.
Carlson-Thies has consulted with Republicans on an alternative bill, the Fairness for All Act (H.R. 1440), which would ban LGBT discrimination but include carve-outs for religious institutions. The Equality Act doesn't do enough to consider thorny questions that churches or religious employers could face in operations like food pantries or job training programs, he said.
The Equality Act provides no protections for "claims of conscience," said Douglas Laycock, a law professor at the University of Virginia, who opposes the Equality Act.
"This is not an attempt to reconcile conflicting interests or reach any kind of compromise," Laycock said. "It attempts to give one side 100% of what it wants, protecting even its most attenuated symbolic interests, while completely wiping out the rights of those who conscientiously object to participation."
Fifth Circuit Hears Injunction Debate in LGBTQ Medical Care Case
'Right to Discriminate'
Religious objections create a false dichotomy between LGBT rights and religious protections, counters David Lopez, co-dean at Rutgers University and former general counsel at the Equal Employment Opportunity Commission.
He noted many religious groups back the Equality Act and other equal rights measures for LGBT people, particularly as reports of discrimination and hate against these groups continue. The bill's supporters include more than 120 faith organizations, including the Presbyterian and Episcopal churches.
"They are trying to say exercise of religion means right to discriminate," Lopez said. "You have an obligation not to discriminate, but you still can have a private belief."
High Court Weighs In
The U.S. Supreme Court decision last year in Bostock v. Clayton County, GA protects LGBT workers from discrimination, but leavesopen questions on whether employers can fire or refuse to hire a gay or transgender individual because of religious objections.
Since then, the high court has expanded the view of who is a minister and therefore can't make a bias claim against a religious employer, and has also upheld a Trump administration rule allowing religious groups to opt out of birth control requirements. It's also considering a case involving same-sex couples serving as foster parents.
HHS Asks for Pause in Obamacare Birth Control Rule Opt Out Case
Other religious protections under the Civil Rights Act, as well as the ministerial exception, the First Amendment, and due process rights under the 14th Amendment would still be intact if the Equality Act was enacted, said Michelle Phillips, an attorney with Jackson Lewis PC.
"The idea that religious liberty is at risk, that is not the case," she said. "It's always the duty to reasonably accommodate someone on sincerely held beliefs. That highly evolved principle won't go away."
Religious Freedom Restoration Act questions mostly aren't going to be relevant to LGBT discrimination claims in the workplace under the Civil Rights Act. That's because that actapplies only to people who think their religious exercise is substantially burdened by government entities. For example, most religious employers would still be able to claim an exemption under various protections, unless the government sued.
"The issue of the balance and tension of sexual orientation is something we've been grappling with for a while," Phillips said. "The Equality Act won't resolve the continued issue of this balancing act between disparate rights."
To contact the reporters on this story: Erin Mulvaney in Washington at emulvaney@bloomberglaw.com; Andrew Kreighbaum in Washington at akreighbaum@bgov.com
To contact the editors responsible for this story: Sarah Babbage at sbabbage@bgov.com; Anna Yukhananov at ayukhananov@bloombergindustry.com
Stay informed with more news like this – from the largest team of reporters on Capitol Hill – subscribe to Bloomberg Government today. Learn more.