Redistricting Will Oust Another Incumbent: Ballots & Boundaries

At least one of Michigan's members of Congress will be a lame duck after today's primary.
Democrats Haley Stevens and Andy Levin both sought the same suburban Detroit district drawn by an independent redistricting commission. The merged district includes most of Oakland County and is strongly Democratic.
Stevens has several advantages. She now represents more people in the merged district than Levin, raised more in campaign funds, and attracted far more in outside support. Super PACs funded by EMILY's List, which aids Democratic women who support abortion rights, and the American Israel Public Affairs Committee (AIPAC) combined to spend more than $7 million to back up Stevens or oppose Levin.
Read more: Candidate Embraces Her Gender as Abortion Ruling Drives Voters
Stevens-Levin is No. 5 of six primaries pitting two incumbents after redistricting. The final same-party matchup comes Aug. 23 in New York, where 30-year Reps. Carolyn Maloneyand Jerry Nadler are Democratic primary opponents in mid-Manhattan. Maloney, Nadler and lawyer Suraj Patel will debate tonight at 7 pm eastern time. — Greg Giroux
TENNESSEE: THURSDAY PRIMARY
Thanks to Republican-led redistricting in Tennessee, the winner of a Thursday primary probably will be headed to Congress.
Republican cartographers stripped the 5th District of part of strongly Democratic Davidson County (Nashville) and added Republican-leaning counties, turning President Joe Biden's 24-point win in the district into an 11-point deficit. The changes prompted longtime Rep. Jim Cooper (D) to retire.
Read more: New Tennessee Congressional Map Favors Republicans 8 to 1
The nine Republicans seeking the seat include former state House Speaker Beth Harwell, Maury County mayor Andy Ogles, and self-funding lawyer Kurt Winstead. A former Trump State Department official who wanted to run was disqualified by state GOP officials because she hadn't voted in recent Tennessee Republican primaries. — Greg Giroux
Ballot Questions
KANSAS: ABORTION
Early voting was robust in Kansas, where voters today are deciding the first abortion-focused ballot measure since the US Supreme Court overturned its Roe vs. Wade decision.
More than 271,438 early ballots were cast, according to the Kansas Secretary of State's office. That's far more than the last midterm primary in 2018, when advance mail-in and in-person ballots totaled 89,449.
The proposed amendment would add to the state constitution a declaration that there's no right to abortion—a step that would free the Republican-controlled state Legislature to pass restrictions or an outright ban. — Alex Ebert
Read more:
PENNSYLVANIA: GOVERNOR SUES
Gov. Tom Wolf (D) is suing Pennsylvania's Republican-led legislature to block potential ballot questions on elections and abortion from appearing on the November 2023 ballot.
Republican lawmakers pushed the package of proposed constitutional amendments that would restrict abortion access, add new voter ID requirements, and limit executive powers to get around Wolf's veto pen. — Jennifer Kay
Read more: Wolf Sues to Stop GOP-Backed Amendments (AP)
Election Law
WISCONSIN: FRAUD FOLLOWUP
A costly investigation into Wisconsin's 2020 presidential election has shown "absolutely no evidence of election fraud," Dane County Judge Valerie Bailey-Rihn said at a hearing.
The judge awarded attorneys' fees to American Oversight, a Washington-based group that sued the state Legislature's Office of Special Counsel for what the group alleges is an illegal withholding of documents from the public.
The case could cost chief investigator Michael Gableman his law license after a referral from another judge, and the Washington Post reports today on differences between Gableman's public and private comments.
And then there's the Racine County guy who decided to check for himself on the quality of the state's election infrastructure. Harry Wait, in a series of interviews with various media outlets, admitted making fraudulent absentee ballot requests.
Still to be determined: whether there will be a criminal referral. — Stephen Joyce
Read more:
Razor's Edge Races
Another in a series spotlighting close congressional contests after redistricting changes.
Today: Illinois' 17th District
Where Is It? The C-shaped district includes parts of northern, northwestern and central Illinois. It takes in most of Rockford in the north, then moves southwest along the Mississippi River to scoop up Rock Island and Moline. The 17th then meanders southeast to pick up Galesburg and then most of Peoria and Bloomington-Normal.
Who Drew It? The Democratic-controlled legislature. Gov. JB Pritzker (D) signed it into law.
2020 Presidential Vote: Joe Biden 53%, Donald Trump 45%
Demographics: 68% White, 14% Black, 11% Hispanic, 2% Asian
Cook Political Report rating: Toss Up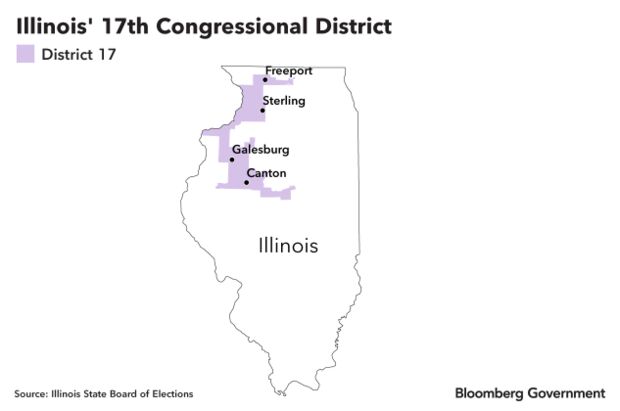 Nominees: Eric Sorensen (D), Esther Joy King (R)
Why You Should Watch: This race will test the sturdiness of a Democratic gerrymander in an election that's more likely than not to favor Republicans. Legislators boosted the district's Democratic leanings after Rep. Cheri Bustos (D) announced her retirement, though Republicans say the reconfigured district—one of 23 nationwide that Biden would have won in 2020 by between 5 and 10 percentage points—is competitive enough for them to flip. The Nov. 8 election pits Sorensen, a former Rockford TV meteorologist, against King, a lawyer and Army Reserve officer who held Bustos to a 52%-48% win in 2020. — Greg Giroux
Next edition: California's 27th District
Caught Our Eye
Resources
Add Us to Your Inbox
SIGN UP for Ballots & Boundaries, your check-in on ballot initiatives, state voting laws, and redistricting.
To contact the reporters on this story: Greg Giroux in Washington at ggiroux@bgov.com; Stephen Joyce in Chicago at sjoyce@bloomberglaw.com; Jennifer Kay in Miami at jkay@bloomberglaw.com
To contact the editor responsible for this story: Katherine Rizzo at krizzo@bgov.com