Redistricting Will Oust an Incumbent Today: Ballots & Boundaries

It's primary day in West Virginia, where Rep. David McKinley will find out if his home-court advantage and a couple party-bucking votes can overcome Donald Trump's wrath.
Redistricting put McKinley into the same seat as Trump-endorsed Rep. Alex Mooney, setting up the first incumbent-vs-incumbent matchup in this cycle. McKinley represents 19 counties and 64% of the registered Republicans in the new district compared with Mooney's eight counties and 36% of Republicans.
Mooney has Trump behind him. McKinley's backers included Gov. Jim Justice (R), Sen. Joe Manchin (D), and the West Virginia Chamber of Commerce, all supporters of the infrastructure law that McKinley voted for.
Voting ends at 7:30 p.m. Washington time. Counties to watch include Wood (Parkersburg), Monongalia (Morgantown) and Ohio (Wheeling) in McKinley's current district and the Eastern Panhandle region now represented by Mooney. — Greg Giroux
READ MORE: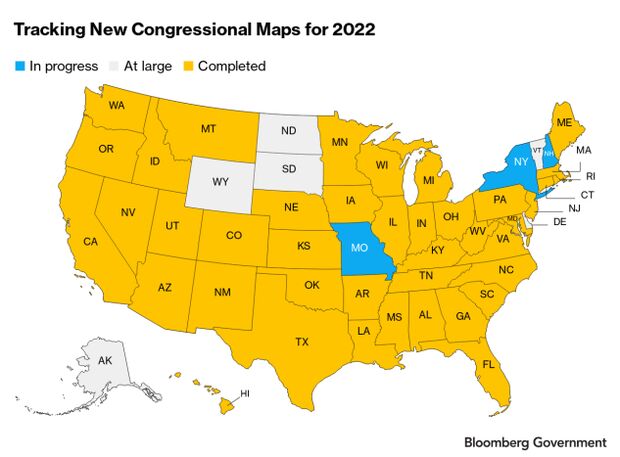 MISSOURI: LAST CHANCE
It's the final week of Missouri's legislative session and the last chance for Republicans to break their GOP-against-GOP stalemate over congressional redistricting.
The state Senate is vetting a House-passed map that would favor Republicans in six of the eight districts and redraw Republican Rep. Ann Wagner's competitive 2nd District such that Donald Trump would have defeated Joe Biden there by eight percentage points in the 2020 election. The current 2nd produced a virtual tie between Trump and Biden.
How to reconfigure the 2nd District has been a point of contention, along with whether to draw seven GOP-favoring districts rather than six. A segment of the state Senate wants to carve the Kansas City area in a way that would make it hard for Rep. Emanuel Cleaver (D) to win re-election.
"This mapmaking isn't easy, is it?" state Rep. Dan Shaul (R), the chair of the House redistricting committee, said before the House passed his map yesterday.
If the Republicans don't get together Missouri will end up with court-drawn districts. — Greg Giroux
(Was this newsletter forwarded to you? It's free. SUBSCRIBE )
NEW HAMPSHIRE: GOP IMPASSE
Court-drawn districts also are possible in New Hampshire, where Gov. Chris Sununu didn't like the state House's second attempt at redrawing districts and the House passed its map anyway.
The newest proposal, from state Rep. Ross Berry (R), would revamp Democratic Rep. Chris Pappas' 1st District to be more Republican-friendly and also lasso in the residence of Rep. Annie Kuster (D), who represents the more Democratic 2nd District.
The New Hampshire Supreme Court heard oral arguments and is preparing to step in if Republicans can't resolve the matter. The candidate filing period is June 1-10. — Greg Giroux
NEW YORK: MUM MASTER
New York's special master, charged with redrawing the state's congressional and state Senate maps, has made his public debut, hearing redistricting wish lists from members of the public and politicians.
The man behind the next boundary lines, Special Master Jonathan Cervas, offered no indication about what he thought about their requests. — Keshia Clukey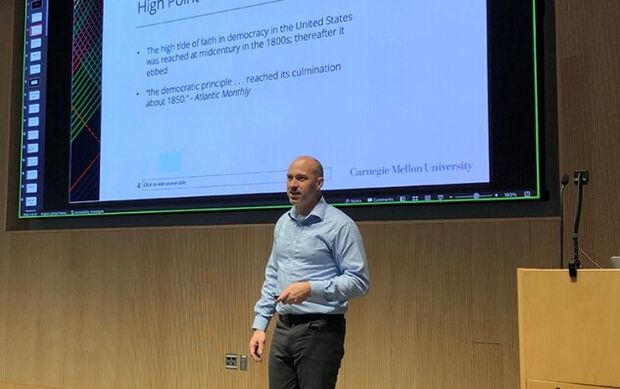 ILLINOIS: MEMBER V. MEMBER
Democratic Reps. Sean Casten and Marie Newman agreed more than they disagreed during a candidate forum for Illinois' 6th Congressional District. The only point of contention came after Newman underscored her support for a single-payer, "Medicare for All" health insurance system.
"I think where there's a difference between myself and Congresswoman Newman is that when I look around the world, the countries that have universal health care that provide choice have better health outcomes than the countries that have a single payer," Casten said.
Newman represents more of the merged district than Casten, 41% to 23%, though Casten is much better-funded, with $2 million in campaign money as April began compared with $553,000 for Newman. The primary is June 28. — Greg Giroux
ARIZONA: ON THE BALLOT
Arizona candidates accused of supporting the US Capitol insurrection will remain on the 2022 Republican primary ballot after the state Supreme Court refused to disqualify them.
The justices upheld a lower court decision dismissing the case against Reps. Paul Gosar and Andy Biggs, and state Rep. Mark Finchem, who is running for secretary of state. — Brenna Goth
Caught Our Eye
A man who voted in New Hampshire and via absentee ballot in Arizona in 2016 has been ordered to pay over $1,000 in fines and penalties. (The Associated Press)
'Massive forgery scheme' claims rock Michigan elections, governor's race. (Bridge Michigan)
Voter fraud was an animating topic in a Nevada candidate debate. (The Associated Press)
Finished Maps
Alabama|Arizona | Arkansas | California| Colorado |Connecticut | Florida| Georgia |Hawaii| Idaho | Illinois | Indiana | Iowa | Kansas | Kentucky |Louisiana| Maine | Maryland | Massachusetts | Michigan | Minnesota | Mississippi |Montana | Nebraska | Nevada | New Jersey | New Mexico | North Carolina |Ohio| Oklahoma | Oregon | Pennsylvania | Rhode Island |South Carolina |Tennessee| Texas | Utah | Virginia|Washington | West Virginia | Wisconsin
More Resources
Add Us to Your Inbox
Click HERE to sign up for Ballots & Boundaries, your check-in on redistricting, state voting laws, and initiatives.
To contact the reporters on this story: Greg Giroux in Washington at ggiroux@bgov.com; Keshia Clukey in Albany, N.Y. at kclukey@bloomberglaw.com; Brenna Goth in Phoenix at bgoth@bloomberglaw.com
To contact the editors responsible for this story: Tina May at tmay@bloomberglaw.com; Katherine Rizzo at krizzo@bgov.com