Redistricting Spurs Lawmakers to Raise Millions for Close Races
New lines set to be drawn by commissions, legislators
Incumbents may need more cash to increase name I.D.
House incumbents are for the most part better-funded than they were two years ago as they prepare for a potentially chaotic redrawing of congressional district lines before the 2022 elections.
There are 145 House members whose campaigns began July with more than $1 million in cash on hand. That's up from 107 at a similar point in the 2020 elections, according to a Bloomberg Government review of campaign finance reports due Thursday to the Federal Election Commission.
A big bankroll can help an incumbent prepare for a difficult re-election campaign in a district revamped by the opposing political party or an independent redistricting commission. Ample campaign funds can help a potentially vulnerable House member move quickly to reach out to prospective new voters who aren't familiar with them.
House members should "hit the gas on fundraising early on because when you turn the corner, you're going to need the money," said Democratic campaign consultant Michael Fraioli.
Five House members reported having more than $10 million in the bank as of June 30, led by California Democrats Adam Schiff ($15.6 million) and Katie Porter ($12.9 million). They were high-profile critics of Donald Trump's conduct as president and are favorites of progressive donors.
California's independent redistricting commission will redraw lines that reflect the state's loss of one of its 53 districts in reapportionment. Porter, who represents a Democratic-trending district in Orange County, unseated a Republican incumbent in 2018 and was re-elected by 7 percentage points in 2020.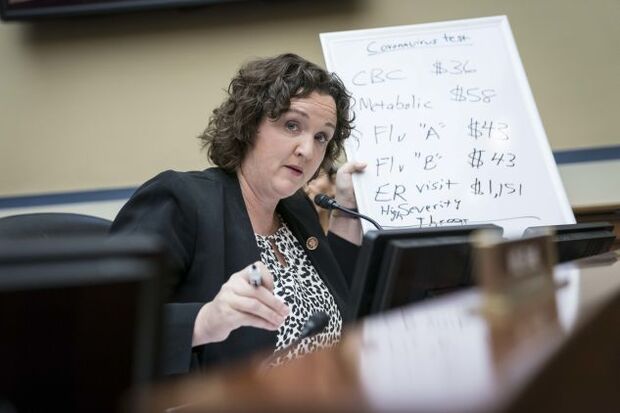 Porter is the best-funded of the 32 "Frontline Democrats" the Democratic Congressional Campaign Committee currently identifies as having the most competitive re-election campaigns in 2022. That list probably will change after redistricting.
The other top-funded House members are California Republican Devin Nunes ($11.5 million), Illinois Democrat Raja Krishnamoorthi ($10.1 million), and New Jersey Democrat Josh Gottheimer ($10 million). Democrats control redistricting in Illinois, while a bipartisan politician commission will redraw lines in New Jersey. Gottheimer, who represents a competitive district near New York City, was re-elected 53%-46% in 2020 after defeating a liberal primary challenger.
Here are some of other well-funded incumbents who face the prospect of more challenging district lines next year:
Rep.

Lloyd Doggett

(D-Texas) began July with $5.3 million in his campaign account—money he could deploy following redistricting, which will be led by Texas Republican legislators. Doggett, a House member since 1995 who now represents parts of Austin and San Antonio, could run in a strongly Democratic Austin district if Republican mapmakers decide to concentrate most of the liberal capital city in one district to shore up Republicans from other districts. Doggett easily won primaries and general elections after the 2011 redistricting revamped Austin-area districts.
Rep.

Josh Harder

, a Frontline Democrat from California, banked $5 million. He was re-elected 55%-45% in 2020 in a district that includes Modesto, Tracy, and Turlock.
Rep.

Elissa Slotkin

, a Frontline Democrat from Michigan, had $3.1 million to prepare for a third House term. An independent commission will redraw the lines in Michigan, which is losing one of its 14 districts. Slotkin was re-elected 51%-47% in 2020 in a district Trump also won.
Rep.

Kim Schrier

, a Frontline Democrat from Washington state, had $2.7 million on hand. An independent commission will redraw lines. Schrier was re-elected 52%-48% in 2020 in some suburbs of Seattle. She would benefit if her revised district sheds rural Republican precincts east of the Cascade Mountains.
Among the best-funded House Republicans is

Alex Mooney

of West Virginia, which will see its House delegation of three members—all Republicans—shrink by one because of reapportionment. Mooney had $2.6 million compared with $503,000 for Rep.

David McKinley

and $125,000 for Rep.

Carol Miller

. All three have said they plan to seek re-election, though they will reassess their political situations after the Republican-led legislature enacts a new two-district map in the fall.
Rep.

Adam Kinzinger

(R-Ill.) had $3.1 million on hand but may not have a district in which to seek re-election. Illinois Democrats control redistricting, and he would be vulnerable in a Republican primary following his persistent criticisms of Trump's conduct and his vote to impeach Trump over his role in the Jan. 6 attack on the Capitol.
To contact the reporter on this story: Greg Giroux in Washington at ggiroux@bgov.com
To contact the editors responsible for this story: Kyle Trygstad at ktrygstad@bgov.com; Robin Meszoly at rmeszoly@bgov.com