Redistricting Forces Committee Turnover: Ballots & Boundaries
The last of the big-state primaries are underway in New York and Florida. Redistricting has shaken careers in both states.
Some incumbents opted for retirement, some are bracing for November incumbent-versus-incumbent races—Neal Dunn (R-Fla.) and Al Lawson (D-Fla.)—and either House Judiciary Committee Chair Jerry Nadler (D-N.Y.) or House Oversight and Reform Committee Chair Carolyn Maloney (D-N.Y.) will be a lame duck tomorrow.
In another New York City district, Rep. Mondaire Jones (D) may become a lame-duck freshman after most of the people he now represents were put in a district that also happens to include the home of Rep. Sean Patrick Maloney (D-N.Y.). Jones decided to run in a different district and Maloney's challenger got the endorsement of Rep. Alexandria Ocasio-Cortez (D-N.Y.).
It's part of a "beautiful case study" of the fissures within the Democratic party, with several elections revealing differences along lines of race, class, ideology and generations, said John Mollenkopf, director of the Center for Urban Studies at the City University of New York.
READ MORE from Greg Giroux and from Gregory Korte.
(Was this newsletter forwarded? You don't have to rely on a thoughtful friend. SUBSCRIBE here.)
Ballot Issues
KANSAS: STILL UNSATISFIED
Anti-abortion activists are calling for a second recount in a Kansas election that saw voters resoundingly reject an effort to allow new restrictions on abortion access.
The original 'No' vote tally on changing state Constitution was 534,134, or 58.8%. The 'Yes' votes totaled 374,611, or 41.2%, for the Aug. 2 election. The recount ultimately changed the outcome by fewer than 60 votes, the Kansas City Star reported. Anti-abortion activist Mark Gietzen, who funded the recount push, says he wants a court to order a full statewide hand recount. — Kelsey Butler
See also:
Voters kept abortion legal. Kansas clinics can't keep up — Kansas News Service
Opponents, advocates spent $22 million on Kansas abortion vote — Axios
OHIO: BALLOT ADDITIONS
Two Ohio constitutional amendments cleared their last big hurdle before heading to November ballots.
One seeks to change the state's bail system. It follows ruling by a divided Ohio Supreme Court, which said a $1.5 million bond for a Cincinnati man accused of fatally shooting a man during a robbery was too high
The other would prohibit local governments from allowing non-US citizens to vote in local elections. Some communities around the country have begun allowing noncitizen residents to take part in elections on things like local taxes, school boards and who will run their municipal government. — Associated Press

MISSOURI: CANNABIS CHALLENGE
A state court's being asked to take a recreational marijuana legalization proposal off Missouri's November ballot.
The suit alleges that marijuana supporters didn't gather enough valid voter signatures to put the proposal to a vote. — St. Louis Post-Dispatch
More Litigation
MISSOURI: SUFFRAGE CHALLENGE
Voting-rights groups are suing the state of Missouri in an attempt to block parts of a new law that restrict voter registration efforts and absentee voter outreach.
The law, which is to take effect Sunday, is "so vague that the ban on absentee ballot solicitation could be used to criminalize a volunteer who tells a voter that will be out of town on Election Day that they can vote absentee," according to a press release from the plaintiffs, the League of Women Voters of Missouri and the Missouri State Conference of the NAACP. — St. Louis Post-Dispatch
NORTH CAROLINA: BIAS RULING
North Carolina's highest court has opened the door to nullifying a voter ID mandate approved by citizens in 2018.
The reason: the lawmakers who put it on the ballot were elected from districts tainted by illegal racial bias.
However, the opinion said that before taking a step as serious as undoing constitutional amendments approved by voters, the trial court must gather more evidence on whether leaving the amendments in place would allow improperly elected legislators to escape accountability, further exclude voters from the democratic process or amount to continued discrimination — Associated Press
ARIZONA: VOTER REGISTRATION
The legal challenges are mounting against Arizona's new proof-of-citizenship voting law (H.B. 2492), with the latest complaint filed by Asian American and Pacific Islander advocacy groups.
The federal lawsuit argues that requirements to provide additional citizenship documentation to vote in federal elections will disenfranchise naturalized US citizens and people with limited English proficiency. The US Department of Justice alleged National Voter Registration Act violations in its lawsuit against the changes. —Brenna Goth
FLORIDA: BOTH WAYS?
It's possible to expand opportunities for voting while protecting election integrity, according to an amicus brief filed by the District of Columbia and 16 states where the attorney general is a Democrat.
They want the US Court of Appeals for the 11th Circuit to affirm a district court's order requiring preclearance before Florida can enact new laws governing "line warming," absentee ballot drop boxes, and third-party voter registration groups.
"Moreover, there is no real problem with fraud or confidence to address," they wrote, and even if there were, "restricting the use of drop boxes would not help. Instead, those targeted provisions were, as the district court found, aimed at disenfranchising a specific group of voters." —Jennifer Kay
GEORGIA: ELECTION HALTED
Balloting for two seats on Georgia's Public Service Commission won't go forward for now after the US Supreme Court looked at a trial court's finding that Black voting strength has been illegally diluted.
The Eleventh Circuit responded quickly, setting a deadline of today to file briefs so that the case can be reconsidered in line with the high court's ruling. — Kimberly Strawbridge Robinson
Razor's Edge Races
Another in a series spotlighting close congressional contests after redistricting changes.
Today: Virginia's 7th District
Where Is It? Between Richmond and Washington, D.C. Interstate 95 runs through the population centers of Prince William, Stafford and Spotsylvania counties.
Who Drew It? Bernard Grofman, a political scientist at the University of California at Irvine, and Sean Trende, a lawyer who's a senior elections analyst for RealClearPolitics, drew the map as "special masters" appointed by the Virginia Supreme Court after the state's redistricting commission couldn't come up with a plan.
2020 Presidential Vote: Joe Biden 52%, Donald Trump 46%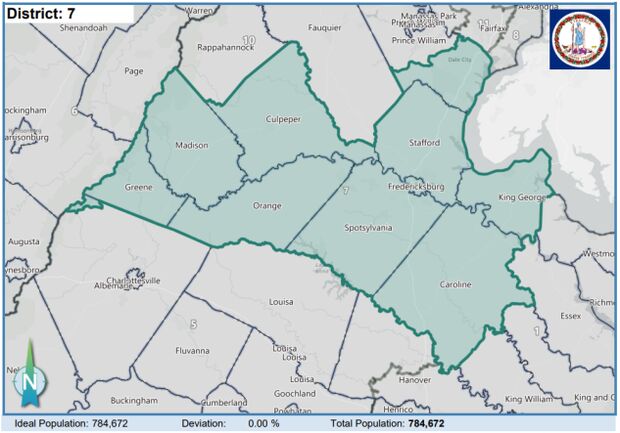 Demographics: 51% White, 20% Black, 17% Hispanic, 5% Asian
Cook Political Report Rating: Toss Up
Nominees: Rep. Abigail Spanberger (D), Yesli Vega (R)
What To Watch: Redistricting shifted the 7th toward metropolitan Washington and away from Spanberger's base in the Richmond area, excising her home county of Henrico. More than 75% of the people in the new 7th aren't Spanberger's current constituents. But her new district is more favorable to Democratic candidates: Biden would have won it by about seven percentage points in 2020, compared with his 1-point win in the 7th before redistricting. Vega, a Prince William County supervisor and former police officer, would be the first Latina elected to Congress from Virginia. Spanberger and Vega disagree on abortion rights.
Next edition: 3rd District of Kansas
Resources
Add Us to Your Inbox
SIGN UP for Ballots & Boundaries, your check-in on ballot initiatives, state voting laws, and redistricting.
To contact the reporter on this story: Greg Giroux in Washington at ggiroux@bgov.com
To contact the editor responsible for this story: Katherine Rizzo at krizzo@bgov.com