Red-State Voters Stuck With Trump's Party in Pricey Senate Races
Senate is heavily aligned with states' presidential preferences
Susan Collins was only senator to cut against partisan grain
Voters in Republican-leaning states resisted splitting their tickets in November, keeping Democratic fundraising dominance from translating to an outright Senate majority.
A Bloomberg Government analysis of campaign finance reports due Dec. 3 to the Federal Election Commission found that Democrats easily topped Republicans in campaign receipts in 10 Senate races Democrats lost by wider-than-anticipated margins. The data underscored the limits of campaign spending when the presidential election dominated voters' attention and was a good predictor of down-ballot election results.
It was the continuation of a clear trend in the polarization of national politics: Depending on the outcome in Georgia, 92 to 94 of the 100 senators in the 117th Congress will be of the same political party as the presidential nominee who carried their state. Either way, it will be another new record for the Senate's alignment with states' presidential party preference, according to data compiled by Gary Jacobson, a political scientist at the University of California, San Diego.
In every state that held a Senate election on Nov. 3, all except Maine — where Sen. Susan Collins (R) won a fifth term — voted the same for president and the Senate.
"We saw that money can't narrow the partisan leans of the state" by much, said Jessica Taylor, the Senate and governors editor for the nonpartisan Cook Political Report. "President Trump did better in many of these states than expected, and that in turn helped Republicans down-ballot too."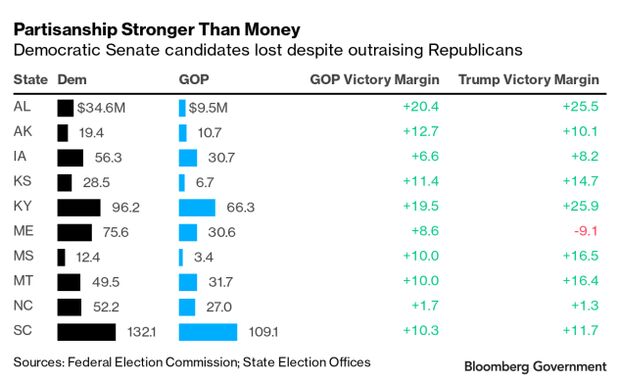 Democrats, now in control of 48 seats, could still organize the Senate as the majority party in the 117th Congress if they win two runoff elections in Georgia on Jan. 5. Vice President-elect Kamala Harris, as president of the Senate, would have a tie-breaking vote in a 50-50 chamber.
But Democrats hoped to already have the majority in hand thanks to President Donald Trump's poor standing in the polls. Though he lost to President-elect Joe Biden, Trump and Republican Senate candidates performed well enough in Republican-leaning states to thwart Democrats' hopes of winning 51 seats.
In South Carolina, former state Democratic Party Chairman Jaime Harrison raised a record $132 million in a bid to unseat Senate Judiciary Committee Chairman Lindsey Graham, who won by 10 percentage points. Trump carried South Carolina by 12 points. Graham also didn't lack for campaign cash — he took in more than $109 million and raised more than Harrison in the waning weeks of the campaign, the reports show.
Amy McGrath (D) raised more than $96 million in a long-shot bid to unseat Senate Majority Leader Mitch McConnell (R-Ky.), a nemesis to many Democratic donors and progressive activists. McConnell romped to a 20-point win, his second-best showing in seven victories, and not far off Trump's 26-point landslide in the state.
Harrison and McGrath together raised more than $228 million.
One of the bitterest defeats for Democrats came in Maine, where state House Speaker Sara Gideon (D) raised more than $75 million against Collins and lost by 9 percentage points. Collins won more ticket-splitters than public polls suggested she would in a state Biden carried by 9 points.
Democratic candidates in Iowa and North Carolina each raised more than $50 million but failed to dislodge Republican incumbents who were re-elected with victory margins similar to Trump's.
Montana Gov. Steve Bullock (D) raised almost $50 million against Sen. Steve Daines (R) despite entering the race at the last minute, in March. Running against a Republican incumbent, Bullock couldn't harness the same partisan crossover appeal as in his two wins for governor, and he lost by an unexpectedly large margin of 10 points in a state where Trump trounced Biden by 16 points.
"It seemed like a 'green wave' could lift Democrats even in traditionally tough states, but in the end that cash flow — largely from out-of-state, enraged, small-dollar donors — may have been a double-edged sword, leaving voters wondering what liberals may want in return for investing so heavily in a race," Taylor said. "So voters reverted to the natural partisanship of the state and didn't split their tickets in a way Democrats would have needed."
With assistance from Christina Brady
To contact the reporter on this story: Greg Giroux in Washington at ggiroux@bgov.com
To contact the editors responsible for this story: Kyle Trygstad at ktrygstad@bgov.com; Bennett Roth at broth@bgov.com