Record US Defense Budget Is Emerging Immune From Congress Cuts
Ukraine war, China rivalry fuel drive to spend on weapons
Partisan fights loom over how to handle growing costs, debt
Bloomberg Government subscribers get the stories like this first. Act now and gain unlimited access to everything you need to know. Learn more.
The Biden administration and Congress are on track to back a record US defense budget, signaling Pentagon spending is untouchable even as Democrats and Republicans squabble over how to reduce the debt burden.
The White House on Thursday is expected to request a Pentagon budget for fiscal 2024 that well exceeds the $816 billion enacted for the Department of Defense this year — the biggest-ever defense budget in nominal terms, and also one of the largest peacetime budgets when adjusted for inflation. Meanwhile, China, the biggest US peer competitor, said its defense spending would grow by 7.2% to $225 billion this year — the fastest pace since 2019 as tensions grow with the US over Taiwan and a range of security issues.
Those who favor cutting defense have so far been drowned out by supporters of ever-higher defense spending to counter Russia's invasion of Ukraine and China's muscle-flexing in the Indo-Pacific.
"There's no appetite among Democrats or Republicans, there is no majority appetite for trimming the overall numbers" for the Pentagon budget, Roger Wicker (Miss.), the top Republican on the Senate Armed Services Committee, said in an interview. "While some people may talk about that, it's not likely to happen."
From spending on the perennially delayed and expensive F-35 Joint Strike Fighter made by Lockheed Martin Corp.,to the new aircraft carriers from Huntington Ingalls Industries Inc.and new munitions and missiles made by Raytheon Technologies Corp.and General Dynamics Corp., the stakes are high for the defense industry and congressional parochial interests. Despite regular calls for rethinking Pentagon priorities amid ballooning costs, the defense budget would make it unlikely that Congress will drastically tackle troubled programs to extract savings.
Read More: Pentagon Dysfunction Reveals Cracks in US War Machine
See also: Pentagon's Budget to Seek Big Increases for Weapons Buying, R&D
Fractured Views
A small contingent of House Republicans wants the defense budget on the cutting board, together with domestic spending, to shrink the growing deficit and the country's debt burden. Speaker Kevin McCarthy (R-Calif) indicated he would be open to some reductions. The Heritage Foundation is convening "top experts in national security and defense to scrutinize the Pentagon's budget, line by line," the conservative group's president, Kevin Roberts, said.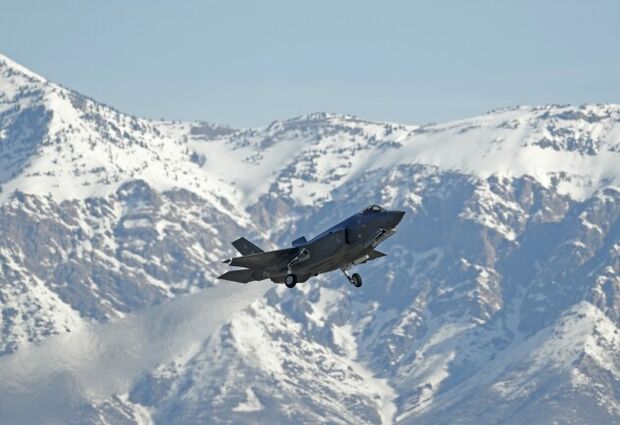 Even so, Republicans such as Rep. Jim Jordan (Ohio) and Sen. Rand Paul (Ky.), who have suggested that defense can be cut, so far have yet to convince defense hawks who say the Pentagon's budget needs to grow 3% to 5% over inflation.
Progressive Democrats for years have pushed for trimming the Pentagon's budget, usually seeking at least $100 billion in cuts. Reps. Barbara Lee (D-Calif.) and Mark Pocan (D-Wis.) last month once again introduced the "People Over Pentagon Act," a bill calling for slashing $100 billion from the Defense Department's account.
Progressives and conservatives alike face another hurdle: Senators are reluctant to cut the defense budget. There's "near unanimity" among Democrats on parity between defense and domestic spending, Majority Leader Chuck Schumer (D-N.Y) said last week.
Senate Armed Services Committee Chairman Jack Reed (D-R.I.) said he wouldn't support cuts to the defense budget and would back Biden's higher Pentagon request.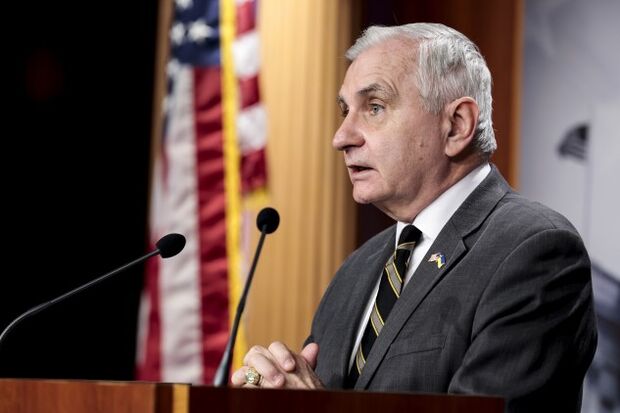 "We have to look very carefully at the threats in the midst of an active support of Ukraine and a very desperate fight that would affect us as well as the Ukrainians," Reed said in an interview. "We have a peer competition with the Chinese and it's something we are going to have to invest in; we're going to have to look at thoughtful investments."
Defense Buildup With Eye on China Drives Senate Armed Services
'Low-Hanging Fruit'
The lawmakers who want to cut the Pentagon's budget suggest considering what Ken Calvert (R-Calif.), the top defense appropriator in the House, has called "low-hanging fruit." Trying to eliminate waste and abuse comes in undefined terms, with few specifics. Any trims would amount to a handful of billions of dollars, paling in comparison with the $100 billion cuts progressive Democrats have suggested for several years.
"We need more defense spending, not less," Sen. Dan Sullivan (R-Alaska) said. "We need to do it efficiently and correctly, no waste, but the challenges that we have right now I think merit an increase."
Pentagon 'Low-Hanging Fruit' Ripe for Cuts, Key Republican Says
To Wicker, the biggest waste comes in the form of stopgap funding—a concern that could materialize if Congress and the White House are gridlocked on debt limit and spending negotiations and resort to continuing resolutions to fund the government. Under stopgap funding, agencies are kept at flat budget levels without being able to shift priorities, start new programs, or ramp up existing ones.
"There are some people who speculate that because of the lack of any agreement, we might have to stay at 2023 levels in the form of a CR; that to me is unacceptable," Wicker said. "There are areas that are ripe for efficiencies and savings. One saving is to avoid as strenuously as possible continuing resolutions because they waste tens and tens of billions of dollars every time you do it."
"The defense of this nation should never be caught in limbo," added Sen. Deb Fischer (R-Neb.), a senior member of the Armed Services panel.
Continuing resolutions prevent the start of any new acquisition programs, wreaking havoc on the armed forces' modernization plans, Mackenzie Eaglen ,a senior fellow at the American Enterprise Institute, wrote in a new report.
"For instance, the latest continuing resolution had delayed the buying of the Air Force's Long-Range Standoff Weapon and Air-Launched Rapid Response Weapon, both of which are expected to begin this fiscal year," she wrote.
Multiyear Contracts
Despite previous challenges, the US Army — the largest military branch — found resources to keep its modernization programs going, said Doug Bush, the service's acquisitions chief. The Army is also planning to present Congress a plan for multiyear contracts from munitions to other weapons in order to show savings, Bush said at an event last week hosted by the Center for a New American Security. The Army feels "really good about the product we are sending to Congress," he added.
"We have to do a careful review," Susan Collins (R-Maine), the ranking member of the Senate Appropriations Committee, said. "I certainly don't think you can do a meat ax, across-the-board cut. Might there be some program that is no longer useful? That's possible, but it's premature."
The largest portion of the defense budget, almost two-thirds, goes towards personnel costs and operations and maintenance — everything from training, war operations, and maintaining weapons — making cuts particularly difficult.
"In personnel and procurement, we can't have cuts," Sen. Tommy Tuberville (R-Ala.) said in an interview. "The one thing I have looked at is all the money we put into research; we put in as much money on research as we do on building machines that we can use."
Cuts to Generals and Bases
Lawmakers such as Jordan are suggesting focusing more money on soldiers, and not having so many generals. "The ratio of general officers to enlisted individuals now is so out of whack," Jordan said on Fox News in January.
Enlistment Woes Spur Senators to Seek More Military Recruits
Calvert, the House Defense Appropriations Subcommittee chair, said he'll train his sights on how the Pentagon manages payroll and inventory, and how it buys weapons. He's also focused on ways to reduce the department's civilian workforce, mostly through attrition, he said. The Pentagon employs more than 700,000 civilians, in addition to 1.3 million active-duty troops, according to Defense Department data.
"Instead of engaging in a debate over topline spending numbers and throwing money at old programs and systems, Congress should insist that every dollar is used to advance military lethality and readiness while saving taxpayers as much as possible," Heritage Foundation's Roberts wrote in the American Conservative.
Roberts is suggesting cuts to the Pentagon's diversity, equity, and inclusion programs as well as non-defense research accounts, such as medical research that lawmakers tuck into the defense bills. He's also making the case for another round of military base closures — a non-starter so far in Congress.
To contact the reporter on this story: Roxana Tiron in Washington at rtiron@bgov.com
To contact the editors responsible for this story: Robin Meszoly at rmeszoly@bgov.com; Chris Anstey at canstey@bloomberg.net; Anna Yukhananov at ayukhananov@bloombergindustry.com
Stay informed with more news like this – from the largest team of reporters on Capitol Hill – subscribe to Bloomberg Government today. Learn more.