Veto-Pen Wielding Wisconsin Governor Runs on Thwarting GOP (1)
Evers is all that stands between abortion, voting law overhaul
Swing state has favored Democrats in statewide elections
(Adds comments from state Sen. Melissa Agard and Wisconsin Right to Life.)
Bloomberg Government subscribers get the stories like this first. Act now and gain unlimited access to everything you need to know. Learn more.
Gov. Tony Evers spent four years outnumbered in the Wisconsin Capitol, where the Democrat's big initiatives were repeatedly thwarted by majority Republicans.
With construction magnate Tim Michels victorious in Tuesday's Republican primary, the general election campaign now begins, and Evers has to figure out how to run on a record of being the barricade who stopped things rather than an executive who accomplished things.
Evers' proposals—such as expanding state health insurance for the poor and lowering prescription drug costs—never became state policy.
Heading into the general election, Evers will need to convince voters that they need him in office to be a check against a GOP legislative supermajority intent on more tightly regulating abortion and ballot access, said University of Wisconsin Whitewater political science professor Eric Loepp.
"What are the things people are actually thinking about leading up to the election? If they are thinking about how it's important to preserve democracy or it's important to preserve reproductive rights, that's good for Evers," he said. "But if the conversation is about, 'Holy cow, look at inflation, look at grocery bills,' that is a huge gain for Republicans."
After President Donald Trump carried Wisconsin in 2016, Democrats won 11 out of 12 statewide races, most by slim margins. President Joe Biden carried the state with 49.4% of the vote in 2020.
Evers won his first term by fewer than 30,000 votes out of more than 2.6 million cast.
"In the last two statewide presidential elections, and Evers' 2018 victory, the margin of victory was so small you could put all the margins together in the Green Bay Packers' Lambeau Field and still have room to spare," Loepp said. "This is going to be close."
Bill Blockade
The Evers campaign is depicting the incumbent as a common-sense choice being challenged by someone who's "too extreme for our state," spokesman Sam Roecker said in an email.
That campaign has spent roughly $4 million on ads touting victories and bipartisan policies advanced despite an opposition-party state Legislature, according to data compiled by AdImpact. That includes a tax cut and putting federal funds toward restaurant relief during the Covid-19 pandemic.
The campaign's most frequently aired commercial features mothers talking about how Evers, a former teacher and superintendent, worked with Republicans to fund Wisconsin schools, which now rank in the Top 10 nationwide.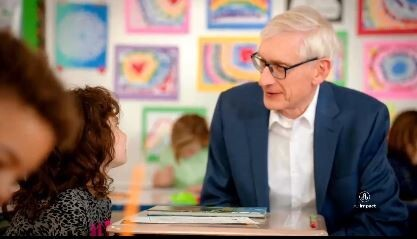 The TV spots don't highlight Evers' biggest impact on Madison—his record-setting veto pen. In this session he killed 126 bills, the most of any Wisconsin governor. He scratched out more than 40 during one day in April, including measures that would have changed election law.
"Tony Evers is a vulnerable incumbent. He just doesn't have an extensive record and he's not particularly charismatic," said commentator Charlie Sykes, editor of a conservative website and for decades the host of a radio talk show.
'Motivated by Roe'
Evers does have one big issue working for him, Sykes said—"the effect of overturning Roe v. Wade."
"The Wisconsin governor's race is now a binary choice. If a Republican wins the governor's race, Wisconsin becomes a state that bans abortion," he said.
Michels wants abortion to be illegal, with no exception for rape or incest. He wouldn't push back against enforcement of the state's abortion ban, enacted in 1849, which Evers and Democratic Attorney General Josh Kaul are challenging in state court.
"The big question is how that will play among swing voters," Sykes said. "We saw in Kansas that swing voters are motivated by Roe and that Republicans are divided."
Access to abortion will be a major issue in all statewide races this year, said state Senate minority caucus vice-chair Melissa Agard (D).
Just as in Kansas, where voters rejected the removal of abortion rights from the state Constitution, "we're going to see that same passion and build on it to ensure we have reproductive justice rights for the people in our state," Agard said.
Gracie Skogman, Wisconsin Right to Life legislative director, said abortion is an issue that could help Michels because Wisconsin voters favor some restrictions on abortion access. "Tim Michels is a powerful advocate for this message, one that can unify a majority of Wisconsin voters who may fall in the middle on the issue of abortion," she said in an email.
GOP Offensive
While Democrats lean into abortion rights, Republicans will try to link Evers to national issues.
Michels, owner of Wisconsin's largest construction firm, spent roughly $6.7 million on TV and digital ads over the last year. The bulk of airtime went towards introducing himself to voters. His campaign didn't immediately respond to requests for comment.
"When President Trump called for a southern border wall, I didn't just agree, I built him a prototype," he says in one ad. His other ads say things like he'll "crack down on election fraud" or "keep schools open five days a week," and the spots frequently end with a reference to Trump's endorsement.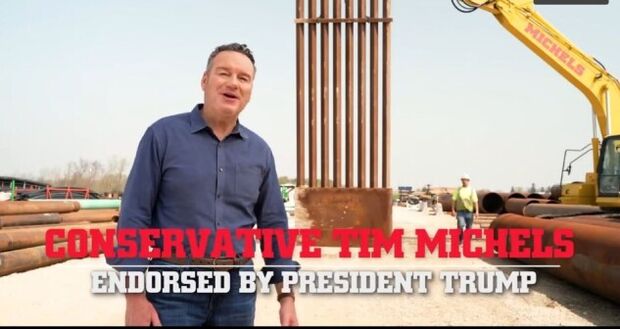 Michels' campaign raised roughly $8 million this year and spent nearly all of it, according to his July campaign finance form. The bulk of that cash was his own.
Now that the primary is over, Michels will have to flesh out his policy proposals and pivot toward increasing attacks against Evers for inflation, said Brandon Scholz, a retired Republican strategist. On inflation, "Evers can't do anything with administrative actions, so he has to point to inaction of the GOP Legislature. He has to use them as a foil, and it's easier for a challenger to say, 'Things are bad, we need new leadership.'"
A June Marquette University poll showed Michels narrowly trailing at that point in a head-to-head matchup against Evers, who outperforms Biden in approval rating among Wisconsinites.
Getting voters to blame Evers for economic problems—or getting voters to dislike Evers at all—could be difficult, Democratic strategist Joe Zepecki said.
"Republicans are going to poke their base with a cattle prod on all the issues that have invigorated the right—be it crime, inflation, Covid, they know how to stoke the fires of the base," Zepecki said. "But if Republicans try to make voters think Tony Evers is worth hating, they're going to have a hard time making that pitch" because "he's this kind, very Wisconsin grandfather type that's trying to do the right thing."
University of Wisconsin political science professor Barry C. Burden gives Evers "a good, maybe better than a 50/50 shot" at re-election due to his personality, statewide name recognition, and his generally high favor-ability during the national turn against Democrats.
"He's portraying himself as a steady hand, a sensible person, not a flashy person, but someone you can trust to do the right thing," Burden said. "The electorate is not happy about much, but Evers does have a favorability rating that's above water, and in times of uncertainty, you might think voters want to stick with the thing they know instead of what they're uncertain about."
Evers prepared for the fall race in part by building some financial reserves. His campaign's July financial statement showed $7.7 million banked after spending nearly $13 million.
"Both sides have really effective operations in terms of knowing where their voters are and who they are along with a vanishingly small amount of swing voters," Zepecki said. "There is no question that this state is on a knife's edge."
To contact the reporter on this story: Alex Ebert in Madison, Wisconsin at aebert@bloomberglaw.com
To contact the editor responsible for this story: Katherine Rizzo at krizzo@bgov.com
Stay informed with more news like this – from the largest team of reporters on Capitol Hill – subscribe to Bloomberg Government today. Learn more.