Record Number of Ads Bombard States With Senate Majority in Flux
Competitive Montana Senate race drawing most political spots
Senate advertising up 170% over same period in 2016 cycle
Television viewers in states with some of the most competitive Senate races are seeing more campaigns ads than ever before, as money pours into the fight for the majority.
Montana leads all states in Senate ad airings, with more than 41,000 individual spots appearing on TV through Aug. 9, according to a study released this month. It's one of 10 Republican-held seats rated as competitive by the Cook Political Report, and Democrats need a net gain of at least three seats to take control of the chamber.
The overall number of Senate ad airings has reached more than 685,000 nationwide, a 170% increase over the same period in the 2016 presidential election cycle. And the $92 million in Senate campaign ad spending is up 19% from the 2016 cycle.
"With so many citizens voting early this year, early advertising may be more critical than usual, particularly for competitive races lower down the ballot where citizens may not know a lot about the candidates," said Erika Franklin Fowler, a professor of government at Wesleyan University in Connecticut and co-director of the Wesleyan Media Project, a nonprofit research organization that released the study.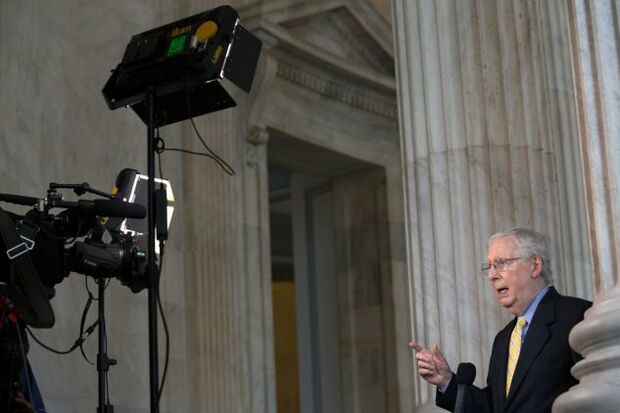 While more Senate campaign ads are being aired in states like Montana and Kansas, with less expensive media markets, more ad money is also going to states with more costly markets, including North Carolina and Georgia. The money is being spent by candidates, super PACs and other groups aligned with leaders of both parties.
Ad spending is set to increase sharply in the run-up to the November elections, according to the ad-tracking firm Advertising Analytics. The most expensive race is in North Carolina, where more than $165 million worth of TV and digital ads have already been purchased or reserved.
Two years after Florida had the first Senate race to top the $200 million campaign spending mark, other states could surpass that level this year, even with the presidential campaign competing for attention and money.
Read More: Record-Setting Senate Race: Florida Contest Topped $200 Million
How this explosion of campaign advertising affects who gets elected in November "depends on the quality of the ad and message, and which side has the wind at their backs," Democratic media consultant Steve Murphy said in an email. He added that Democrats have gained ground this year in seeking to flip Republican Senate seats.
"Without a qualitative advantage for one side, though, it does degenerate into MAD," said Murphy, using the nuclear warfare acronym for mutually assured destruction.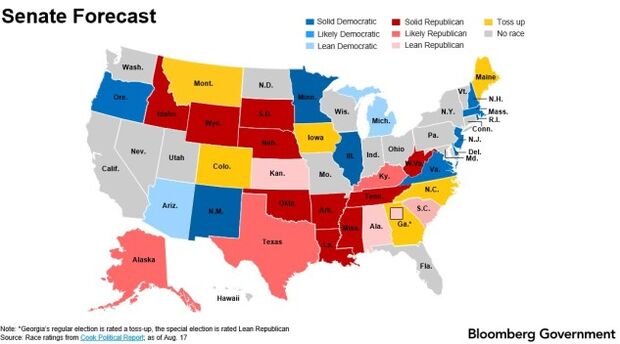 'Lowest Unit' Rule Change
While Senate campaign ads are up, the pandemic stifled demand for commercial broadcast airtime, as advertisers including car makers and dealers, restaurants, and other businesses slowed or halted their advertising buys earlier this year. Demand for advertising "fell off a cliff" in March and April, Steven Passwaiter of Kantar/CMAG said. His firm tracks campaign and commercial ads and provides data to the Wesleyan Project.
ISpot.tv, another firm that measures TV ads, said in a recent report that TV ad revenue was down nearly 10% in the first half of the year, even with viewership up sharply as people quarantined at home. As commercial ads dwindled, there was a 122% increase in airings of ads related to politics and government, including public service messages and campaign ads, the firm said.
Broadcasters found it easier to make money from political ads this year thanks to a little-noticed move in late March by the Federal Communications Commission. The FCC issued an unprecedented waiver of a legal requirement known as "lowest unit charge" that links political advertising rates to the best rates broadcasters offer to commercial customers.
The move, made at the request of the National Association of Broadcasters and major owners of TV and radio stations, allowed broadcasters to offer free ads to commercial customers without lowering rates for political advertisers. "Many commercial customers are canceling their advertising contracts with broadcast radio and television stations," the FCC said in a notice granting the request. "To fill excess inventory and build goodwill, broadcasters are seeking to air free advertisements for merchants."
The policy allowing free commercials without affecting political ad rates remains in effect indefinitely as the November elections approach, according to FCC spokeswoman Anne Veigle, who said in an email: "We have not announced any next steps."
To contact the reporter on this story: Kenneth P. Doyle in Washington at kdoyle@bgov.com
To contact the editors responsible for this story: Kyle Trygstad at ktrygstad@bgov.com; Bennett Roth at broth@bgov.com