Record-Breaking Race in North Carolina Was 2020's Most Expensive
Four races topped $200 million in candidate, outside spending
Super PACs dominated House, Senate expenditures
At more than $271 million, North Carolina's high-stakes Senate race was the most expensive congressional contest in a record-shattering year — and its result was one of a handful still outstanding Wednesday with the majority remaining up for grabs.
It was only one of numerous eye-popping fundraising figures that were a significant story line in the fight for control of the Senate. To what end is a mixed bag so far.
Republicans won four and Democrats won two of the most expensive races that were called, while the winners in North Carolina, Maine, Michigan, and Georgia's regularly scheduled election remained unknown.
The totals include spending by outside groups, campaign committees, and the candidates themselves, and it will assuredly increase when candidates file post-election campaign finance reports early next month.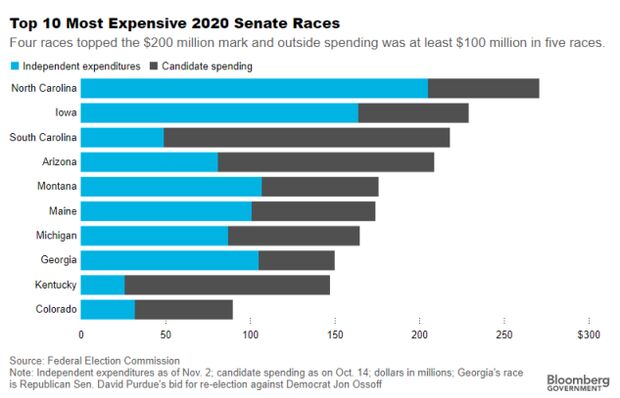 Sen. Thom Tillis (R-N.C.) and challenger Cal Cunningham (D) accounted for less than a quarter of the total spending, about $66 million combined, according to the most recent reports filed with the Federal Election Commission, which covers activity through Oct. 14.
As in most other top Senate races, the bulk of the money in North Carolina came from super PACs — especially the ones aligned with party leaders Mitch McConnell (R-Ky.) and Chuck Schumer (D-N.Y.).
North Carolina was one of at least four states in 2020 with Senate races topping $200 million in overall spending, according to FEC reports. That mark was surpassed only once before, in the 2018 midterms, thanks to self-funded Sen. Rick Scott (R-Fla.).
This year's list included states that at the beginning of the cycle were unlikely hosts to such a deluge, particularly Iowa and South Carolina, where Sens. Joni Ernst (R) and Lindsey Graham (R) were re-elected by comfortable margins despite polls that had shown tighter races. Graham's challenger, Jaime Harrison (D), was the first Senate candidate ever to raise more than $100 million.
McConnell's challenger, Amy McGrath (D), raised $90 million and lost. In far more competitive Arizona, which Democratic presidential nominee Joe Biden carried, Mark Kelly (D) raised the same and defeated Sen. Martha McSally (R-Ariz.).
A gusher of cash from wealthy individuals, companies, unions and secretive nonprofits poured into super PACs and other groups that intervened in key races. Total non-candidate spending in Senate races exceeded $1 billion. That's nearly double the $548 million in outside spending in Senate races in 2018, the previous record year, according to an analysis of FEC reports by the nonprofit Campaign Finance Institute.
In House races, outside spending of $592 million was up only moderately from 2018, but the top 10 House races tell a similar story to Senate races: Outside money in each exceeded the amount spent by the candidates' campaigns. Many of the races remained uncalled Wednesday, though Republicans won all four with results in — in New Mexico, Florida, South Carolina, and Texas' 21st District.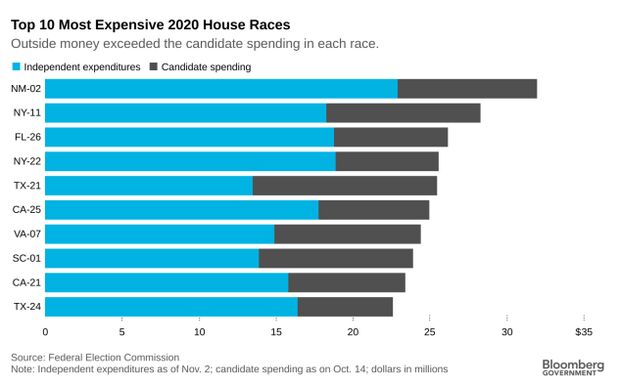 Outside Influence
Outside spending surpassed $100 million in at least five Senate races, according to FEC figures through Nov. 2. Only one previous Senate race, Sen. Pat Toomey's (R) 2016 re-election, had ever eclipsed that figure.
The four largest super PACs, aligned with party leaders in the House and Senate, led all other spending groups, with a combined total of $720 million. On top was the Senate Leadership Fund, the Republican super PAC linked to McConnell, which spent $240 million trying to close a gap in candidate fundraising opened up by Democratic candidates.
The $14 billion in federal campaign spending this election cycle estimated by the Center for Responsive Politics was double the price tag of the 2016 cycle. It was driven partly by online, small-dollar contributions, which went mostly to Democrats, as well as unlimited contributions to outside groups in amounts that in some instances reached into the tens of millions of dollars.
To contact the reporter on this story: Kenneth P. Doyle in Washington at kdoyle@bgov.com
To contact the editors responsible for this story: Kyle Trygstad at ktrygstad@bgov.com; Bennett Roth at broth@bgov.com