Record $13 Billion Raised for 2020 Elections Spurs Ad Avalanche
Opposition, support of Trump driving donations, analyst says
Political ad overload could bury messages of some candidates
The 2020 election has generated a record $13.3 billion in federal campaign contributions, funding a barrage of political advertising that strategists say risks blurring candidate messaging.
The unprecedented outpouring of campaign cash raised through Sept. 28 is more than 75% above what was donated during the same period in the 2016 election, according to a cumulative total of disclosure reports filed with the Federal Election Commission. It comes amid a high-stakes fight for control of the White House and the Senate that has been intensified by the battle over the replacement of the late Supreme Court Justice Ruth Bader Ginsburg.
Support for and opposition to President Donald Trump is driving both small-dollar donors enabled by the internet and big donors empowered through a largely deregulated campaign finance system, said Sarah Bryner, a campaign finance researcher at the Center for Responsive Politics. The donors seem unfazed by the pandemic and economic downturn, Bryner said in a phone interview.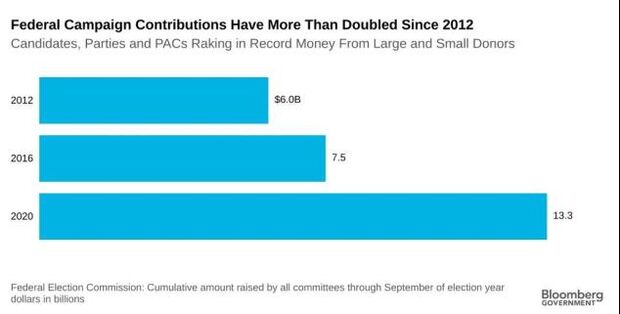 Blanketed by Ads
The contributions counted in the total include those to presidential and congressional candidates, parties, and political action committees. It doesn't include most candidate fundraising in the third quarter, which ends on Sept. 30. Campaign spending of more than $6.6 billion so far is up 35% from the same point in 2016, according to the FEC.
The increased cash has led to a four-fold boost over 2016 in the number of campaign ads being aired in congressional races, according to the nonprofit Wesleyan Media Project, which has studied campaign advertising for more than a decade. A Wesleyan report released this month said the number of ads in Senate races reached nearly 100,000 per week in late August.
"The small number of markets with major races and persuadable voters is shrinking, so some markets are already wall-to-wall" in being blanketed by TV, radio and digital campaign ads, Republican media consultant Casey Phillips said.
Phillips and others said strategists have to come up with creative ads to cut through the clutter and move voters.
"I'd bet 90% of campaign ad dollars are wasted — the messages never seen or consciously registered," said GOP media consultant Fred Davis, who's worked on numerous presidential and congressional campaigns.
They also have to reach voters who may already be turned off by the onslaught.
"We have to acknowledge that most people are actively avoiding political ads," Democratic media consultant Martha McKenna said.
But candidates and other advertisers have plenty of money to spend and will keep trying to get their messages out, she said. Strategies are changing this year because of increased early voting and voting by mail due to the coronavirus pandemic. Voting has already begun in some states and will continue until Nov. 3.
"We have six weeks of Election Day," McKenna said, noting that in the past the days right before an election included the most intense period of advertising. She said she expects to see more positive ads and direct appeals from candidates in an effort to break through a relentless onslaught of negative advertising by outside groups.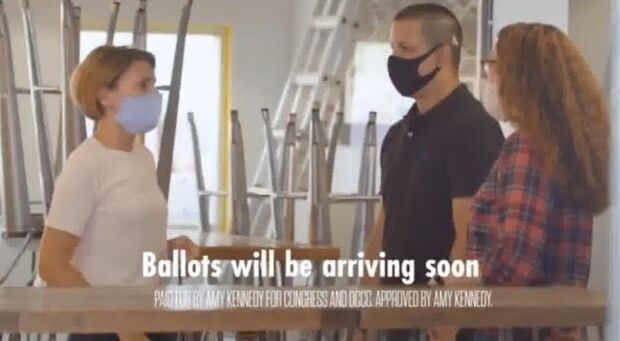 Big and Small Donors
ActBlue, the Democrats' internet fundraising platform, said it processed a record $3 billion through August from contributions averaging less than $35 each. That total is more than five times greater than it was in 2016 and nearly three times more than in the 2018 midterm elections, when small-dollar donors helped Democrats flip control of the House.
Except for candidates who self-fund their campaigns, individual donors to federal candidates are limited to giving $2,800 per-election. Contributions to super PACs are unlimited and often come from wealthy individuals, companies, and unions, as well as from nonprofits that keep their donors secret.
PACs, including super PACs, which are independent-expenditure-only organizations that can't coordinate with candidates or parties, have collected nearly $7 billion for the 2020 election so far, according to FEC figures — more than candidates and parties combined. Major super PACs aligned with both parties routinely receive contributions of $1 million or more, and their biggest donors in this year's election have given up to $50 million each.
Read More: Adelson's Latest $25 Million Infusion Fuels Senate PAC Cash Race
Fred Wertheimer, president of the nonprofit Democracy 21 who's tracked campaign fundraising since the Watergate era, said in a phone interview the fundraising this year is more than "anything we've seen in our lifetimes."
Outside groups can focus money on the most competitive races, and the result, he said, "is a campaign finance system dominated by influence-seeking billionaires and millionaires" who fund super PACs aligned with the leaders of both parties.
Bradley Smith, a former Republican FEC commissioner who heads the nonprofit Institute for Free Speech, said money from billionaires doesn't buy elections — it pays for messages they hope will resonate with voters.
Campaign money has skyrocketed in 2020 not because of greater efforts to buy influence, he added, but because "a lot of people seem to think on both sides that this in an extremely important election."
To contact the reporter on this story: Kenneth P. Doyle in Washington at kdoyle@bgov.com
To contact the editors responsible for this story: Bennett Roth at broth@bgov.com; Kyle Trygstad at ktrygstad@bgov.com