Realtors' Clout Tested in Crowded North Carolina House Primary
Democrats Ocasio-Cortez, Omar featured in GOP campaign spot
Special election called following absentee ballot fraud probe
Republican voters in the North Carolina district where the 2018 election was rescinded will soon pare a field of 10 candidates seeking to oppose the well-funded Democrat who ran last time.
The primary is testing the clout of the National Association of Realtors, which has spent more to aid its preferred candidate than all 10 candidates have together raised in campaign funds.
Leigh Brown, who owns a real estate brokerage and helped run the group's political operation, is the beneficiary of the $1.3 million independent spending campaign ahead of the May 14 election in the 9th District, Federal Election Commission reports show.
Brown "is running for Congress to take on Washington" and "will fight for policies that keep neighborhoods safe by promoting homeownership," according to a NAR television ad that aired 317 times over a 16-day period, according to Advertising Analytics. Independent campaign spending can't be controlled by a candidate or it could be an illegal campaign contribution.
With so many Republicans running, there's a good chance no one will win the 30 percent needed to avoid a Sept. 10 runoff between the top two finishers. The special general election would then be held on Nov. 5. If no runoff is needed, the special general election would be held on Sept. 10.
Ballot Scandal
Dan McCready, a Marine Corps veteran and solar-energy businessman, is the only Democrat seeking the district, a Republican-leaning area that hugs the South Carolina border as it runs from Charlotte east past Fayetteville. President Donald Trump carried North Carolina's 9th by 54 percent to 42 percent in the 2016 election, according to data compiled by Bloomberg.
McCready was the Democratic nominee in a close November 2018 election the North Carolina elections board invalidated after an investigation showed a political operative for Republican candidate Mark Harris illegally tampered with absentee ballots.
Brown reported raising $249,000 through April 24, much of it from realtors all over the U.S. She's from Cabarrus County, a Charlotte suburb in the adjacent 8th District. Members of Congress aren't required to live in their districts.
Her top competitors include Dan Bishop, a state senator and lawyer from Charlotte. His $506,000 in campaign receipts included a $250,000 loan from the candidate and donations from the National Association of Home Builders and colleagues in the North Carolina legislature.
"I am the right Dan; he's the wrong Dan," Bishop said of McCready at a candidate forum last month. "I'm conservative Dan."
Bishop appeared in a television ad that linked McCready to prominent Democrats, including Reps. Alexandria Ocasio-Cortez (N.Y.) and Ilhan Omar (Minn.) and Sen. Elizabeth Warren (D-Mass.) and called them "crazy liberal clowns." Watch the ad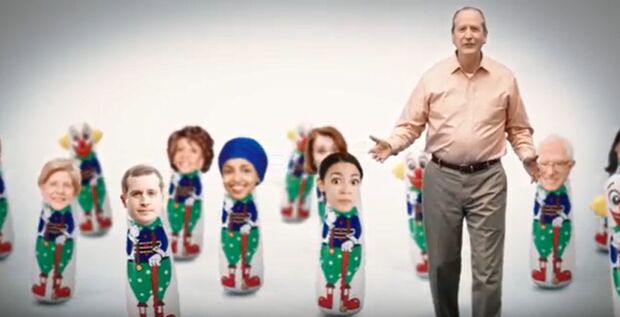 Source: Dan Bishop campaign
Political ad by Republican Dan Bishop in North Carolina special House election primary
No other Republican candidate raised more than $100,000, according to FEC filings.
While the district favors Republicans, "with a condensed campaign season, a crowded primary field, and perhaps some Republican voters being turned off from the ballot fraud surrounding the Harris campaign, this could be a seat Democrats can pick up," said Sarah Treul, a political scientist at the University of North Carolina at Chapel Hill.
"McCready probably has an advantage in name recognition given he just ran for office, but if voters are looking for someone completely new this could also hurt him," she said in an interview.
Brown said her background as a 19-year realtor, a non-politician, and mother of two children in middle school provides a favorable contrast with McCready.
"It's going to take an outsider to defeat McCready in this race" and a "successful conservative businesswoman brings a perspective that McCready will never see coming," she said at the candidate forum.
The major Republican candidates align with Trump on major policy, including his demand to build more fencing on the southern U.S. border.
Matthew Ridenhour, a former Mecklenburg County (Charlotte) commissioner and a Marine Corps veteran, said curbing illegal immigration and improving Veterans Affairs' health-care services are his top priorities.
Some candidates are highlighting their opposition to abortion after the Republican-controlled state legislature passed, and Gov. Roy Cooper (D) vetoed, a measure that would hold doctors liable if they don't provide medical care to a child that survives an abortion procedure. Republicans in Congress are promoting similar legislation.
Stony Rushing, an elected commissioner in Union County next to Mecklenburg, suggested a $100,000 reward for arresting those doctors on murder charges. Stevie Rivenbark Hull, who has a health-care background and is from the eastern part of the district, said her first priority is overturning Roe v. Wade, the 1973 Supreme Court ruling that legalized abortion.
Rushing also gained notice for a campaign video of him in a swamp, with a gun in one hand and a snake around his neck. Rushing has been endorsed by the former GOP candidate Harris.
The Republican field also includes Fern Shubert, who's emphasized her previous service in the state House and state Senate.
Trump Ratings
Awaiting the GOP winner is McCready, who had $1.6 million in campaign cash-on-hand on April 24. His donors include VoteVets, a Democratic-leaning PAC that supports military veterans running for office.
Trump's image in the district is a more important metric. according to B.J. Rudell, associate director of the Center for Political Leadership, Innovation, and Service at Duke University.
"McCready's fortunes likely will come down to whether President Trump's approval in the district rises or falls in the coming months," Rudell said in an e-mail.
He noted McCready outspent Harris by a 3-1 ratio in the 2018 election.
North Carolina's 9th District accounts for one of three vacancies in the House, where Democrats have a majority of 235 to 197. There's a special election May 21 in Pennsylvania's 12th District, formerly held by Tom Marino (R). North Carolina's 3rd District, formerly held by the late Walter Jones (R), has a Republican runoff on July 9 and a special election on Sept. 10.
To contact the reporters on this story: Greg Giroux in Washington at ggiroux@bgov.com; Andrew M. Ballard in Raleigh, N.C. at aballard@bloomberglaw.com
To contact the editor responsible for this story: Bennett Roth at broth@bgov.com