Rail Strike Risks Stoking Inflation; Biden Touts EVs in Detroit
The looming US rail strike threatens to push inflation even higher across the country after prices jumped more than expected last month.
About 125,000 workers could walk off the job if a deal isn't reached by Friday's deadline, with talks between rail companies and unions not showing signs of progress. The stoppage would be the largest of its kind since 1992, and it would snarl a wide range of goods transported by rail, from food to metal and auto parts. The White House is considering an emergency decree to keep key goods flowing.
A strike would place new strains on US supply chains and add to price pressures that aren't easing as much as forecasters had hoped. A government report on Tuesday showed consumer prices unexpectedly climbed in August, with annual inflation at 8.3%. Food prices, which are vulnerable to a holdup in rail deliveries, were one of the main contributors to the headline rate, while prices for clothing and new cars also advanced from the previous month.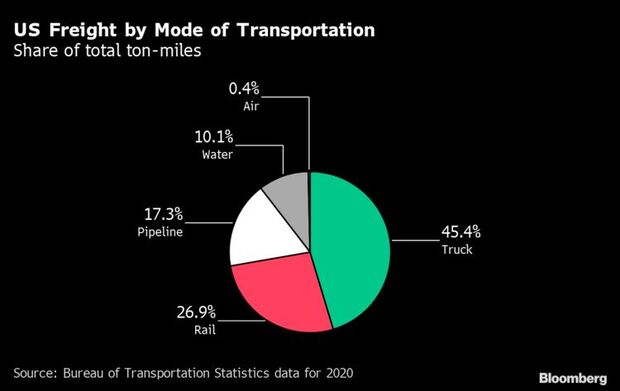 The railway work stoppage would cost $2 billion a day, depending on how long it lasts, according to the Association of American Railroads. That could be a setback for US supply chains that are only now recovering from the global turmoil caused by the pandemic, a key driver of the past year's wave of inflation as companies scrambled to get their goods to factories and consumers.
The economic effects of a potential strike would also spread beyond the rail industry—which carries more than a quarter of goods transported within the US—to upend other modes of freight transport. The American Trucking Association has already called on Congress to help resolve the dispute, warning that the stoppage would require nearly half a million more trucks and 80,000 more drivers—which aren't available—to fill the gap. Read more.
Amtrak canceled all long-distance trains starting as White House-led talks between freight-rail companies and unions continued. "Such an interruption could significantly impact intercity passenger rail service, as Amtrak operates almost all of our 21,000 route miles outside the Northeast Corridor on track owned, maintained, and dispatched by freight railroads," the company said in a statement.
MORE ON THE LOOMING STRIKE
Also on Lawmakers' Radars
Republicans grilled President Joe Biden's nominee to lead the highway agency about how it is carrying out the infrastructure law. The Federal Highway Administration has been one of several agencies within the Transportation Department without a Senate-confirmed head under Biden, which several senators criticized as far too long.
The Senate confirmed Rhode Island Public Defender Lara Montecalvo to the US Court of Appeals for the First Circuit, marking Biden's sixth confirmed circuit judge with a public defense background.
The Senate Foreign Relations Committee was set to take up a bill today to boost ties with Taiwan and give it more military hardware to deter a Chinese invasion, though the final measure will need to address White House objections if it has any chance of becoming law.
A House panel endorsed the Department of Homeland Security's reorganization of its health functions and work on countering weapons of mass destruction.
A Senate labor panel will consider two labor nominees next week for roles that have lacked confirmed officials for the entirety of the Biden administration.
Former Twitter and Facebook executives on Wednesday told a Senate panel that the biggest social media companies can do more to rein in extremism and misinformation, but won't unless forced to by regulation.
The House passed a bill requiring private Medicare Advantage plans to establish an electronic prior authorization process that provides faster and more standardized decisions for routinely requested items and services.
A group of 14 Democratic state and city public finance officials are resisting Republicans' war with Wall Street over their environmental and social policies.
Elections, Politics & Probes
There's a flashy electric car at seemingly every turn of the Detroit auto show. Much harder to find is a model that will actually qualify for new consumer incentives. Fewer than a dozen of the EV and plug-in hybrid models among the hundreds of vehicles on display at the industry confab Wednesday would be eligible for tax credits of as much as $7,500, according to an analysis by Bloomberg.
The perks, recently signed into law, are seen as essential to getting the average carbuyer to consider going electric. That isn't stopping President Joe Biden and a parade of fellow politicians from swinging through town to celebrate the passage of the Inflation Reduction Act, a sweeping set of changes designed in part to spur investment in domestic EV production.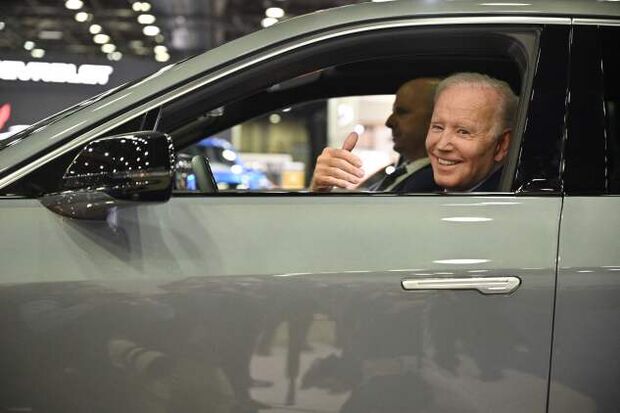 In a webinar today, Bloomberg Government reporters Zach C. Cohen, Greg Giroux, and Emily Wilkins provided an overview of the midterm election dynamics and issues at play. They also reviewed the 10 most competitive races and other longer-shot contests that could help shape who runs the chamber starting next year.
Two House Democrats want details of efforts to protect federal workers amid "a surge" of threats following the FBI's search of former President Donald Trump's Florida residence and recent passage of increased IRS funding.
The US midterm elections stand to be a tightly contested struggle for control of Congress, and analysts and election security experts expect some of that vitriol to trickle down to local races. Threats and harassment at elected officials have skyrocketed since 2020.
Retired Army Brigadier General Don Bolduc won the GOP Senate primary in New Hampshire, setting up a November general race between the far-right election denier and Democratic incumbent Maggie Hassan.
MORE IN ELECTIONS & POLITICS
Defense & Foreign Affairs
The extraordinary speed and success of Ukraine's northern counteroffensive is raising possibilities that few entertained when Russia invaded Ukraine in February: That its military could be defeated, or that it might even collapse. A rapid meltdown remains unlikely; Russia still controls about a fifth of Ukrainian territory, dwarfing even the 3,000 square kilometers Ukraine says it retook this month.
Nonetheless, for Russian and western military observers alike there was little doubt that the latest offensive marks a turning point in the largest armed conflict Europe has seen since World War II, at a minimum disrupting President Vladimir Putin's stated goal of capturing all of Ukraine's eastern Donbas region.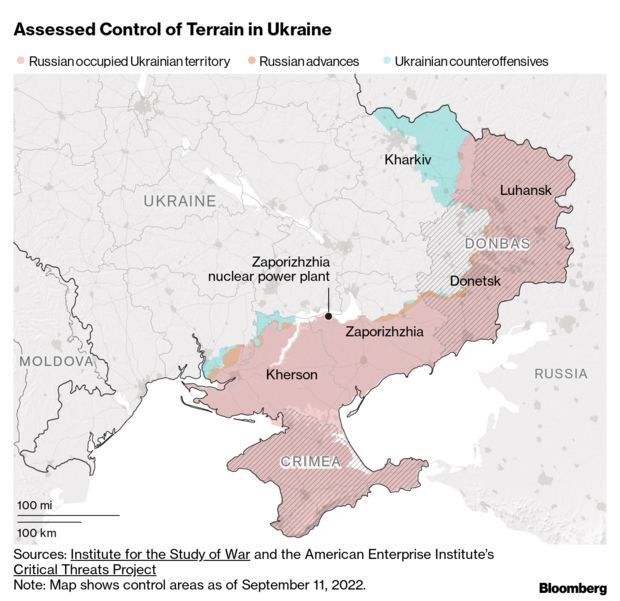 The US will put $3.5 billion in Afghanistan's central bank reserves under the control of a Swiss-based oversight board to pay for limited financial services in the country while ensuring the Taliban regime doesn't get access to the money, the Treasury said.
Software companies doing business with the US government such as Microsoft and Cisco will have to attest that their products comply with new national cybersecurity standards under White House rules published Wednesday.
MORE IN FOREIGN AFFAIRS
Around the Administration
Biden's announcement that he will cancel up to $20,000 in federal student loans for qualified borrowers could help score him points with progressives and young voters while fulfilling a promise he made when running for office.
The Biden administration on Wednesday issued oil and natural gas leases to companies that nabbed the Gulf of Mexico drilling rights in a government auction later invalidated by a federal court.
The biomedical innovation center envisioned by Biden can now move forward in building its scientific agenda, even as influential lawmakers continue to press for changes in the agency's setup.
With years still left on the clock, states have allocated two-thirds of the $199.8 billion in federal pandemic relief aid from the White House's landmark stimulus to fund a wide variety of their own priorities—from building homes and expanding broadband access.
WHAT ELSE TO KNOW TODAY
To contact the reporter on this story: Brandon Lee in Washington at blee@bgov.com
To contact the editors responsible for this story: Andrew Small at asmall@bgov.com; Giuseppe Macri at gmacri@bgov.com