Rail Fights Primed as House Passes Funding Bump, Safety Mandates
House highway bill's rail funding tops Senate proposals
Freight railroads protest bill's safety, labor requirements
Bloomberg Government subscribers get the stories like this first. Act now and gain unlimited access to everything you need to know. Learn more.
Rail looms as a sticking point in transportation negotiations as lawmakers split over how much money to spend, and over how tightly to regulate freight trains.
The House voted Thursday along near-party lines to approve a five-year surface transportation and water bill (H.R. 3684). House Democrats aim to use it in talks with the Senate and White House over President Joe Biden's signature infrastructure package.
The House adopted several amendments from Democrats to upgrade high-speed trains, including creation of an authority for rail in New England. Congress is working to reauthorize surface transportation programs while also negotiating the broader infrastructure plan Biden wants. Progressives are demanding sizable funding for passenger rail as more climate-friendly than relying on cars.
"Rail is climate infrastructure," Rep. Alexandria Ocasio-Cortez (D-N.Y.) told a rally on June 16. "As seriously as we take climate is going to show how seriously we are taking high-speed rail and infrastructure."
House Passes First Infrastructure Test With Highway, Water Bill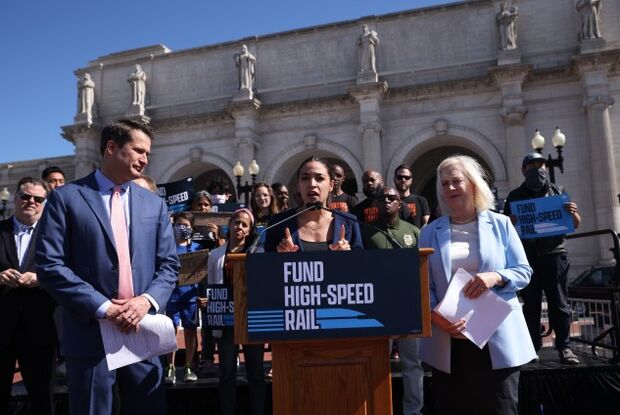 Rail groups lauded the bill's funding, but freight groups oppose manufacturing, safety, and labor provisions they say are unwarranted. The Senate highway measure's portion dealing with rail (S. 2016) includes less money and omits those policy mandates.
Transportation and Infrastructure Chair Peter DeFazio (D-Ore.) said he could see common ground between his plan and a separate infrastructure deal between the White House and a bipartisan group of senators, which proposed $81 billion in baseline and new spending for rail over five years. The House bill's total for rail would be closer to $100 billion over that period.
"The Senate bipartisan deal is an outline and it has good numbers, except I find them deficient on rail, but they are within shouting distance," DeFazio said earlier this week.
Billions for High-Speed Rail
The House adopted an amendment from Seth Moulton (D-Mass.) to increase Passenger Rail Improvement, Modernization, and Expansion grants by $1 billion annually to about $6 billion per year. The new grants would fund projects that improve high-speed and intercity rail performance and connectivity.
Andy Kunz, president and CEO of the U.S. High Speed Rail Association, said the increase was "exactly a result of our efforts" but that far more money is necessary. Three high-speed projects based in Texas, Oregon, and New England would cost almost $200 billion alone, he said.
He said "$5 billion doesn't make a dent in anything," adding: "China's spending $110 billion every year on new high-speed rail systems."
New York to Boston
The House also endorsed Rep. Tom Suozzi's (D-N.Y.) proposal to create an authority over rail in the congested Northeast.
The proposed North Atlantic Rail Network would span seven states and coordinate across rail agencies to increase mobility in New England. It could also oversee creation of additional high-speed rail between New York and Boston.
Rick Crawford (R-Ark.), ranking member on the House Transportation and Infrastructure subcommittee that oversees rail, said the spending would be superfluous.
"This bill wants to force Americans off the roads and into transit and passenger rail," he said during floor debate Wednesday. "The issue is not whether America must lead the world in high-speed rail but whether Americans actually want high-speed rail."
Take a Cross-Country Road Trip of Crumbling U.S. Infrastructure
'Misguided' Policies
While passenger rail advocates lauded the big boost in funding, the freight rail portion of the legislation received pushback from a major trade group as well as Republican lawmakers who say its mandates would be expensive and hurt the industry.
"Freight rail is a unique animal because we are privately financed, we aren't seeking significant sums of money," Association of American Railroads President and CEO Ian Jefferies said in an interview after the bill passed. "It's rather ironic that we're the ones who are being hammered with a bunch of backwards looking operational mandates that are going to undermine our ability to compete."
The AAR backs the Senate rail bill. The House measure contains "misguided, divisive policies," Jefferies said in a statement.
The legislation would require freight locomotives by 2030 to have a manufacturing date of 2008 or later and would modify their emissions standards.
Crawford said the freight rail title in the bill "reveals complete ignorance of the industry." The measure would require replacing some locomotives with new fossil-fuel burning ones, a policy he said "locks the industry into utilizing internal combustion engines for decades."
"This would cost the industry tens of billions of dollars," Crawford, who voted against the legislation, said on the House floor.
Not all stakeholders oppose the freight rail title. The Transportation Trades Department, AFL-CIO praised the bill for what it called "significant freight rail safety improvements," including mandating two crew members on most freight trains and putting in place a national plan to improve grade crossing safety. The AAR opposes the two-person rule, saying it isn't justified.
"What this provision does is in perpetuity mandates the presence of two people physically located in the cab of the locomotive permanently, but only for freight railroads, not for passenger railroads," Jefferies said, calling the disparity "a little eyebrow raising."
To contact the reporters on this story: Nicole Sadek in Washington at nsadek@bloombergindustry.com; Lillianna Byington in Washington at lbyington@bloombergindustry.com
To contact the editors responsible for this story: Sarah Babbage at sbabbage@bgov.com; Robin Meszoly at rmeszoly@bgov.com
Stay informed with more news like this – from the largest team of reporters on Capitol Hill – subscribe to Bloomberg Government today. Learn more.