QAnon Supporter Wins Georgia Runoff and Likely Seat in Congress
A QAnon conspiracy theory supporter with a history of racist and anti-Islamic remarks will likely head to Congress next year after winning the Republican nomination Tuesday in a deep red corner of Georgia.
Marjorie Greene had nearly 60% of the vote as of Tuesday evening in a primary runoff against neurosurgeon John Cowan, though not all votes had been tallied.
Her victory all but guarantees Greene will win the open seat in the state's 14th District in November and replace retiring Rep. Tom Graves (R). It also gives Democrats ammo to use against other Republicans in a state loaded with competitive races, including the presidential election, two Senate contests, and a pair of House seats.
Greene came under national scrutiny following her June primary win when videos were reported that showed her making several troubling statements, such as equating neo-Nazis to Black Lives Matter protesters and claiming Muslims wanted to rise above other Americans.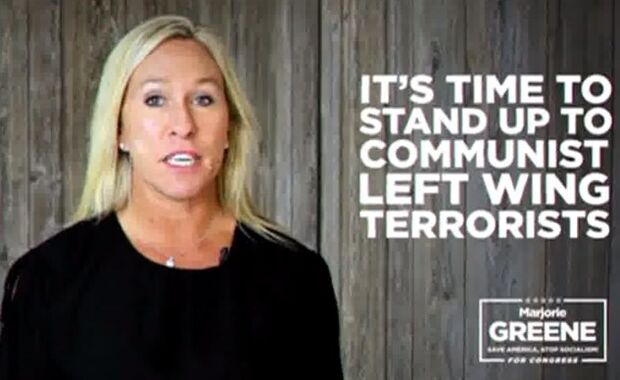 Some Republicans from the district worried Greene's ability to move legislation in Congress will be limited. Rep. Steve King (R-Iowa) was stripped of his committee assignments last year after asking why terms like white supremacist and white nationalist were offensive, and he lost re-election in the June primary after being criticized for his ineffectiveness.
Republican leaders in Congress have already distanced themselves from Greene. A spokesman for House Minority Leader Kevin McCarthy (Calif.) called her comments "appalling," and Whip Steve Scalise (La.) threw his support behind Cowan, saying Greene's remarks "don't reflect the values of equality and decency that make our country great."
Greene appeared to welcome the outsider status. In a series of tweets, she called out "the GOP Establishment," including Scalise, for not supporting Trump and "running the country into the ground."
"I'm sorry my future colleagues are unable to stand up to the pressure and fight back," she said.
To contact the reporter on this story: Emily Wilkins in Washington at ewilkins@bgov.com
To contact the editors responsible for this story: Kyle Trygstad at ktrygstad@bgov.com; Loren Duggan at lduggan@bgov.com