Puerto Rico's Path to Statehood Divides Democratic Lawmakers (1)
Competing bills debated at House committee hearing
DOJ issued report on constitutionality of legislation
(Updates with comments by Grijalva in last two paragraphs. A previous version corrected the name of Puerto Rico's delegate in the fourth paragraph.)
Bloomberg Government subscribers get the stories like this first. Act now and gain unlimited access to everything you need to know. Learn more.
Internal Democratic Party divisions over two separate bills that aim to give Puerto Rico the option to become a state have stalled progress on both.
Some lawmakers are hoping that impasse may come to an end soon after the release of a Justice Department report that assessed the bills' constitutionality. It was requested by Rep. Raúl M. Grijalva (D-Ariz.), chair of the House Natural Resources Committee, which on Wednesday dedicated a second hearing this year to the competing pieces of legislation.
Yet the report seemed to only firm up the split between the two sides. At the hearing, witnesses gave conflicting statements about whether it was constitutional for Puerto Rico to have more options beyond statehood or independence, while lawmakers slammed each other's bills.
Puerto Rico's delegate, Jenniffer González-Colón (R-P.R.), said legislation with more options put forward by Rep. Nydia Velázquez (D-N.Y.) "blatantly ignores the will of the voters and has constitutional flaws."
Velázquez in turn said legislation backed by González-Colón that focuses on statehood was misleading and one-sided.
At the center of debate is whether Puerto Ricans must choose between statehood and independence, or whether another option could be offered.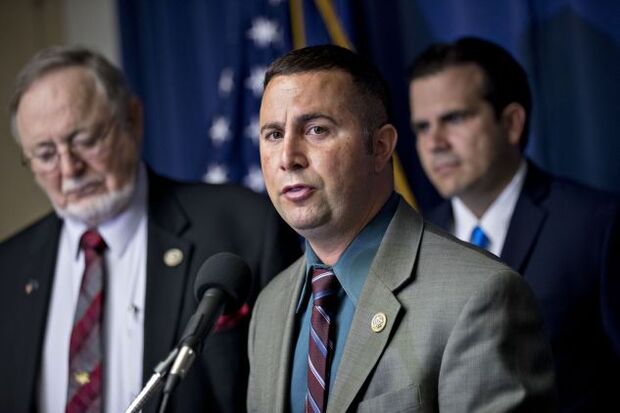 Rep. Darren Soto (D-Fla.), the first House member of Puerto Rican descent from Florida and who represents the most Puerto Rican Hispanics of any mainland lawmaker, sponsored the bill (H.R. 1522) that would allow Puerto Rico to become a state if citizens chose to do so in a yes-no vote. His bill has 52 Democratic and 17 Republican cosponsors.
He said in an interview that a November 2020 vote in which a majority of Puerto Ricans voted for statehood should be respected, as they "did so against the backdrop of Hurricane Maria, fiscal cuts, coronavirus, earthquakes, a recession," and a population decline. If the bill is enacted, they would vote again to ratify statehood or reject it.
"They need our help," he said prior to the hearing. "Puerto Rico is simply too big to be a territory."
Justice Report
The Justice Department suggested several changes to Soto's bill, including changing the name of the bill to make it more clear it doesn't guarantee statehood as voters could decide to reject it.
But the report suggested a larger change for the proposal (H.R. 2070) sponsored by Velázquez, the first Puerto Rican woman to serve in Congress. The bill sets up a process that allows a group of elected delegates to come up with several choices for the island's future and present them to voters. Congress would then approve the voters' decision.
The options would include statehood, independence, or an agreement allowing the island to have a relationship with the U.S. but also aspects of a sovereign nation. The bill has 76 cosponsors, all Democrats, as well as support among Democratic senators.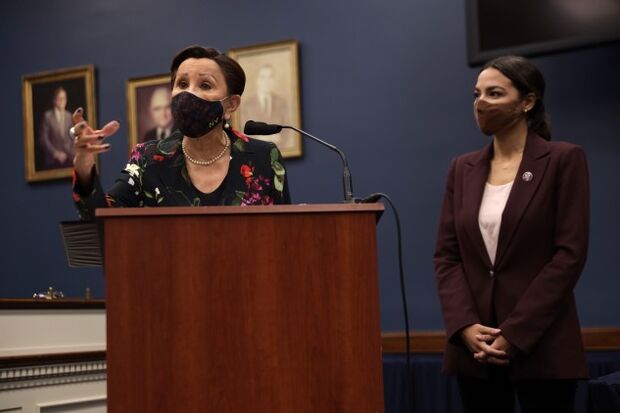 The Justice Department report said only three constitutional options can be offered to Puerto Ricans: statehood, independence, or remaining a territory.
During the hearing, Velázquez defended the validity of her legislation offering Puerto Ricans the ability to determine their own future. She asked one of the witnesses testifying in support of her bill if "free association" — another option for the relationship between U.S. and Puerto Rico — would be possible.
Rafael Cox Alomar, constitutional law professor at the University of the District of Columbia, said the Justice Department report wasn't binding or controlling on Congress, and lawmakers could allow Puerto Ricans to consider options beyond statehood or independence.
Christina Ponsa-Kraus, constitutional law professor at Columbia University, said while she agreed with Cox Alomar that there were different forms of free association, all involved independence.
"Anything between independence and statehood is territorial under the U.S. constitution," Ponsa-Kraus said.
'Further Dialogue'
Speaker Nancy Pelosi (D-Calif.) refused to choose between the two bills when asked in April. Majority Leader Steny Hoyer (D-Md.) is a cosponsor of Soto's bill.
Soto said Hoyer plans to sit down with him and Velázquez next month. The Florida Democrat said he hopes a bill can get out of committee by the end of the year.
Soto said the limited options bode well for his bill. As currently written, the vote wouldn't provide for options other than statehood, but Soto said he would be open to amending his bill to provide for the option of independence which, according to the Justice Department report, could allow for either complete independence or for Puerto Rico to maintain a relationship with the U.S. similar to the Marshall Islands. The Republic of the Marshall Islands is a sovereign nation but under an amended compact the U.S. has assumed responsibility for the defense of the islands.
"I am for now and in the future willing to negotiate in good faith," Soto said. "Now the U.S. Department of Justice has come down on a few constitutional realities, that it will help motivate further dialogue."
Grijalva said there was uncertainty around whether either bill could be approved in committee or passed on the floor, but he was "committed to moving this process forward."
"The committee is approaching a decision-making point," said Grijalva.
To contact the reporter on this story: Emily Wilkins in Washington at ewilkins@bgov.com
To contact the editors responsible for this story: Kyle Trygstad at ktrygstad@bgov.com; Bennett Roth at broth@bgov.com
Stay informed with more news like this – from the largest team of reporters on Capitol Hill – subscribe to Bloomberg Government today. Learn more.