Puerto Rico Aid Bill Passed by House Despite Veto Threat (1)
Bloomberg Government subscribers get the stories like this first. Act now and gain unlimited access to everything you need to know. Learn more.
(Updates with Finance Chairman Grassley's reaction in fifth paragraph. A previous version corrected the total spending in the bill to reflect amendments adopted on the floor.)
Lawmakers passed an almost $5 billion disaster aid package Friday aimed at helping Puerto Rico and other areas recover from natural disasters, despite opposition from Republicans and President Donald Trump's administration.
The House voted 237-161 to pass the measure, with 17 Republicans joining Democrats in favor. The White House has threatened to veto the measure, and its success in the Republican-controlled Senate is unlikely after GOP opposition in the House. The measure includes $4.89 billion in appropriations and $16.1 billion in tax provisions, largely aimed at helping Puerto Rico recover from earthquakes earlier this year.
Trump designated Puerto Rico a major disaster area on Jan. 16 after a series of earthquakes shocked the bankrupt island, damaging power plants, school buildings and homes. A 6.4-magnitude earthquake struck Puerto Rico on Jan. 7, causing widespread blackouts and setting off a series of aftershocks.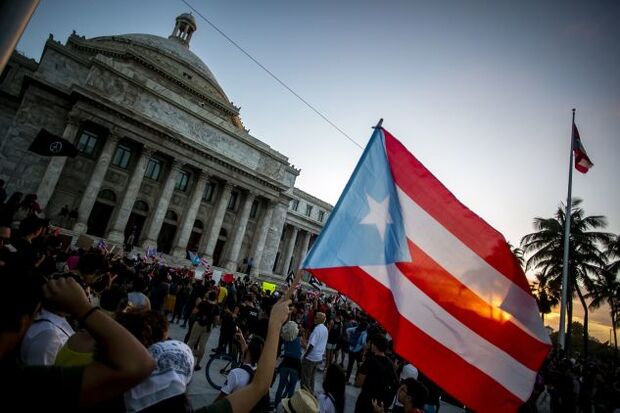 The White House Office of Management and Budget called the bill (H.R. 5687) "misguided" in a statement of administration policy, panning Puerto Rico's "long history of inadequate financial controls over regular government operations" and "ongoing political instability." The federal government has appropriated $44 billion but has yet to obligate half of the funds.
Senate Finance Chairman Chuck Grassley (R-Iowa) "generally agrees" with the White House, Michael Zona, Grassley's spokesman, said in a statement. "Unfortunately, Senate Finance Committee Republicans were not consulted as House Democrats hurriedly cobbled together their bill."
Democrats say Trump has held a grudge against Puerto Rico and the administration's objections have little to do with the substance of the bill. Trump has openly feuded with San Juan Mayor Carmen Yulin Cruz, calling the mayor "incompetent" and the territory "one of the most corrupt places on earth."
"Anything that comes from the White House about Puerto Rico is probably headed from the top, by the president's prejudice, and his relentlessly negative attitude toward Puerto Rico," Rep. David Price (D-N.C.), chairman of the House Appropriations Transportation-HUD Subcommittee, told reporters Thursday.
"Life is at stake," said Rep. Marcy Kaptur (D-Ohio), chairwoman of the House Appropriations Energy and Water Subcommittee. "Human beings are suffering. We have to care for them. These are our fellow citizens."
Republican Opposition
Senate Republicans have yet to take a stance on the bill. Senate Appropriations Chairman Richard Shelby (R-Ala.) said he agrees with the administration's concerns about corruption in Puerto Rico, but also said the territory clearly needs the federal government's help.
"We'll do whatever it takes," Shelby said. "This is serious, serious, serious business."
Given the veto threat, House Republicans are confident the measure will only go as far as the Democratic-controlled House.
"This bill isn't going anywhere," Rep. Tom Cole (R-Okla.), ranking member of the House Appropriations Labor-HHS-Education Subcommittee, said at a House Rules Committee hearing Wednesday. "Let's just be blunt. It's not going to be picked up by the Senate. It's not going to be signed by the president."
Aid Details
The Trump administration was previously rebuked for its insistence Puerto Rican officials can't manage federal aid. Housing and Urban Development Department Inspector General Rae Oliver Davis sent HUD Secretary Ben Carson a letter in September 2019 saying officials were incorrect when they told congressional staff an investigation into Puerto Rican housing officials "would have serious or significant findings." Davis did not recommend withholding funds for Puerto Rico, the letter says.
The bill would provide $3.3 billion in HUD Community Development Block Grant funds, $1.3 billion in Federal Highway Administration funds and $101 million in Department of Education funds, among other smaller provisions. Of the CDBG funds, $2 billion is for any state or territory that has had or will have a major disaster in 2020, House Appropriations Chairwoman Nita Lowey (D-N.Y.) said, meaning much of it may go to Puerto Rico but some could be used for any future disasters. The other $1.3 billion is for additional states and territories that experienced disasters in 2018 and 2019.
In addition to the spending, the bill also includes measures on the child tax credit, the earned income tax credit, low income housing tax credit, new markets tax credit and distilled spirit taxes. Overall, the tax provisions would add $16.1 billion to the debt from fiscal 2020 to 2030, according to a Congressional Budget Office projection.
BGOV Bill Summary: H.R. 5687, Puerto Rico Aid, Territory Tax
The child tax credit measure would allow full-time residents of Puerto Rico to use rules for taxpayers with three or more children to calculate tax credit refundability. That provision would add $6.6 billion to the debt over a decade.
The earned income tax credit provision, which would require the Treasury Department to make payments to territories beginning in 2021, would increase the debt by $6.9 billion from 2020 to 2030. The distilled spirits measure, which would repeal a limit on the "cover over" payments of distilled spirit taxes that the federal government pays to Puerto Rico, would increase the debt by $1.7 billion over that time.
The House also voted Friday to add six amendments to the bill that would boost funding for Hurricane Harvey recovery in Texas, for Puerto Rico nutrition assistance, for a study on natural disasters' disruption of education on the island, for electrical grid recovery, to prioritize funds for renewable energy projects, and to ensure that information about grants is disseminated to those with limited English proficiency.
Some House Republicans questioned why the measure included more than $1 billion for other states and territories through the CDBG program, but Price said he was hopeful the bill's breadth could win more support.
"There are a lot of people who understand that this is essential for Puerto Rico with the earthquake, but that it's also backfilling some aid to other states, the CDBG money, that otherwise there's likely to be a shortfall," Price said. "So I think a lot of people understand the need for this."
With assistance from Alex Ruoff
To contact the reporter on this story: Jack Fitzpatrick in Washington at jfitzpatrick@bgov.com
To contact the editors responsible for this story: Zachary Sherwood at zsherwood@bgov.com; Giuseppe Macri at gmacri@bgov.com
Stay informed with more news like this – from the largest team of reporters on Capitol Hill – subscribe to Bloomberg Government today. Learn more.