Progressives Look to Washington State for Next Primary Win (1)
(Updates with TV ad supporting Strickland in 21st paragraph. A previous version corrected when the CPC TV ad began airing, when the PAC picked up its fundraising, and that Reeves is no longer a state lawmaker.)
House progressives are seeking their next major win in Washington state, where a candidate backed by their caucus is running to advance in a crowded top-two primary.
The Congressional Progressive Caucus PAC began running an ad in the district last month for state Rep. Beth Doglio, an environmental activist representing Olympia. The PAC helped Doglio outraise the field as of mid-July and snag high-level endorsements from Sens. Bernie Sanders (I-Vt.) and Elizabeth Warren (D-Mass.).
But with 19 candidates on the ballot in the open 10th District, including two other strong Democrats, the splintered vote muddles which two will advance to November. Two Democrats would extend the competition, but any Democrat would be heavily favored if a Republican moves on to the general.
"This is a tough race, and we're not gonna leave anything on the table," said CPC Co-Chair Pramila Jayapal (D-Wash.), whose Medicare for All PAC also ran an ad supporting Doglio.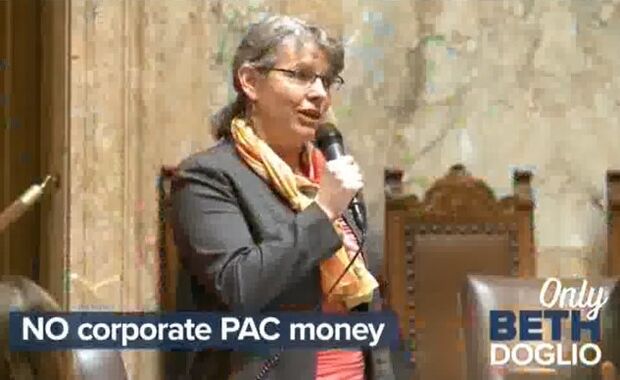 The CPC's campaign arm has picked up several wins including in New York's 17th District with Mondaire Jones and Candace Valenzuela in Texas's 24th. The PAC has stepped up its fundraising in recent years for its endorsed candidates and this cycle began an independent expenditure program.
Jayapal said Doglio would be a key addition to the progressives in Congress.
"I am really looking forward to having a progressive who is willing to not just stand up for the values or sign on to bills but do the organizing on the inside that you need if you're going to move these policies forward," she said. "I really do believe Beth is exceptionally skilled at that."
Progressive Leaning
Doglio said in an interview she's seen the 10th District become more progressive on health care in recent years, moved by Republican efforts to end the Affordable Care Act, as well as the coronavirus pandemic taking away jobs and the insurance that came with them.
"People are really coming to understand that having your health care tied to employment has got to go," she said.
Doglio isn't the only candidate who ran as a progressive in the race to replace Rep. Denny Heck (D), who is running for lieutenant governor. Former state Rep. Kristine Reeves (D) highlighted the importance of federal assistance programs through her story as a foster care youth who was homeless for part of high school.
Reeves applied for the Congressional Progressive Caucus' endorsement, but Jayapal said Reeves didn't align with their values as she accepts corporate PAC money and backs fixing the Affordable Care Act rather than Medicare for All.
Reeves calls herself a "pragmatic" progressive. Being Black, she said, prevents her from being able to over-promise and under-deliver.
"It's not about progressive or not progressive, it's about someone with a proven track record," she said.
A similar argument was made by former Tacoma Mayor Marilyn Strickland (D), a pro-business Black candidate who stepped down as head of the Seattle Metropolitan Chamber of Commerce to run.
Voters, she said, are "more concerned about 'this is what I stand for, and here is what I need, so how are we going to get people elected who can work with all people, even across the aisle," Strickland said.
Ideology may not matter in the primary, said Victor Minjares, chair of the Thurston County Democrats. His group backed Doglio because of her legislative accomplishments, but the key to winning will be name recognition, he said.
"There are too many people in the primary, it's too divided up," for it to be about ideology, Minjares said. "It might be that way in the general. Once you have two candidates, I think it's going to divide up like that."
More than a half-dozen Republicans are also running. Near the top, in terms of fundraising, are Jackson Maynard, an attorney, and Nancy Dailey Slotnick, an Army veteran who runs a security business.
A Full Field
Washington's 10th District includes Olympia and Tacoma. Hillary Clinton won it 51%-40% in 2016.
If Doglio, Strickland and Reeves split the majority of the Democratic vote, it would leave an opening for a Republican to break into the top two. The three raised similar amounts and expanded their name recognition through ads.
Strickland or Reeves would make history as the first Black members of Congress from the state. Both also have outside group help. Strickland is backed by the Collective PAC, which works to increase the number of Blacks in elected office. It ran an ad in the district touting her work in increasing the minimum wage in Tacoma and helping bring business to the city's downtown. Reeves was endorsed by the Congressional Hispanic Caucus' BOLD PAC.
The vote could further be split by Heck's former district director Phil Gardner (D) and Joshua Collins, a 26-year-old long-haul truck driver and socialist, whose resume has received some national attention and whose party preference is listed on the ballot as Essential Workers.
While unlikely, it's possible no Democrat advances out of a heavily splintered primary. It happened in the 2016 state treasurer race when two Republicans got a higher vote share than three Democrats.
To contact the reporter on this story: Emily Wilkins in Washington at ewilkins@bgov.com
To contact the editors responsible for this story: Kyle Trygstad at ktrygstad@bgov.com; Bennett Roth at broth@bgov.com