Progressive Head Jayapal Contributes to Centrist Democrats (1)
Leadership PACs donated to members in tough elections
Jayapal is exploring a potential bid for House leadership
(Updates with Jayapal comments in the two paragraphs above Comprehensive List subhead. A previous version corrected the name of the political action committee in the 7th paragraph.)
House Democratic moderates facing some of the toughest races next year in swing districts are getting help from the chair of the Congressional Progressive Caucus, whose members have occasionally butted heads with their more centrist colleagues.
Rep. Pramila Jayapal(D-Wash.) has donated tens of thousands of dollars to almost all members in competitive districts identified as frontliners. She also started hitting the campaign trail with these vulnerable incumbents, appearing at a fundraiser earlier this month.
Jayapal said her donations to these members serves a dual purpose: helping Democrats keep control of the House and building alliances across the party to pass parts of the progressive agenda.
"Part of our success as the Progressive Caucus over the last year has been that ability to build relationships across the Democratic caucus," she said in an interview.
The donations could also be a factor if Jayapal runs for a position in House leadership next year. Jayapal said she's been "discussing different positions," though it isn't clear which, if any, spots in the Democratic caucus will be open.
"There might be an opportunity for me to provide leadership skills, and I'm interested in that potentially if that comes about," she said.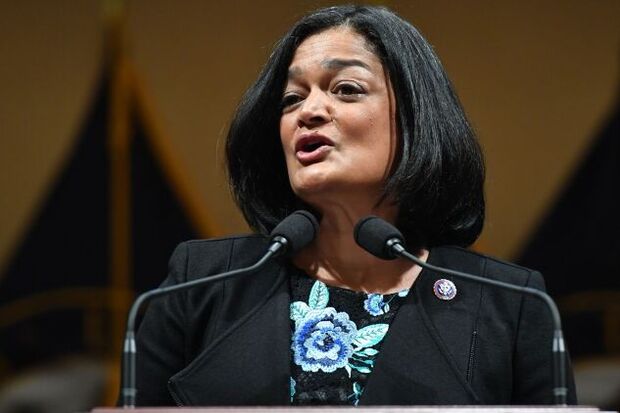 Jayapal has two leadership political action committees. One called "Build Our Movement" has given more than $60,000 to frontliners so far this cycle, and another called "Medicare For All" has supported members who have signed on to Jayapal's Medicare for all legislation (H.R. 1976), according to filings with the Federal Election Commission. The second PAC has also donated to frontliners who support the bill, including Reps. Susan Wild(D-Pa.), Matt Cartwright(D-Pa.) and Jahana Hayes (D-Conn.).
Jayapal is also hitting the campaign trail and spent a recent Saturday at a virtual fundraiser with five frontliners. One attendee, Rep. Katie Porter(D-Calif.) is deputy chair of the Progressive Caucus. The other four, who aren't in that caucus, were Wild and Reps. Cindy Axne (D-Iowa), Sharice Davids (D-Kan.), and Lauren Underwood (D-Ill.).
The event raised $334,000 for the frontliners and $100,000 for the House Democrats' campaign arm, the Democratic Congressional Campaign Committee. Jayapal said she plans to do other events this cycle and has already gotten some requests from members.
While Jayapal's donations won't make or break her bid for leadership, a key responsibility of leading the party is raising money to help members with their re-elections, said John Lawrence, a former chief of staff for Speaker Nancy Pelosi. When members consider who they want in leadership, Lawrence said, they "are going to look at people and say, 'Who is going to help me if I need it, or help other members of the party?'"
"If it's somebody who isn't active in demonstrating they have the ability to raise money and target it appropriately, that's going to hurt their candidacy for leadership," he said.
Jayapal said the perception outside of Washington that Democrats are often at odds with each other overlooks compromises and agreements forged between moderates and progressives this year.
"The coverage tends to be about fights within the Democratic party and much less so about the work that we do together," she said.
Comprehensive List
Jayapal also donated to moderate incumbents facing tough elections in the 2020 and 2018 elections. But this year the list is more comprehensive. It includes Reps. Jared Golden (Maine) Carolyn Bourdeaux (Ga.), and Vicente Gonzalez (Texas), three of the nine Democrats who urged Pelosi to hold a vote last year on the bipartisan infrastructure legislation (Public Law 117-58) before Democrats agreed on legislation to boost spending for domestic social programs.
At the time, Jayapal demanded the House consider the infrastructure and Build Back Better social spending bill at the same time. The House eventually passed the infrastructure measure while the social spending package has languished.
The donations from Jayapal's PAC were made last year, before the DCCC revised their frontliners' list to remove Gonzalez, who switched districts to a safer seat and Bourdeaux, who because of redistricting now faces a primary challenge from Rep. Lucy McBath (D-Ga.).
"We are going through the list and reassessing every time," Jayapal said. "If people need it then I'd like to try to help."
Progressive Pramila Jayapal is Disciplining Democratic Party's Left- Wing Caucus
To contact the reporter on this story: Emily Wilkins in Washington at ewilkins@bgov.com
To contact the editors responsible for this story: Bennett Roth at broth@bgov.com; Robin Meszoly at rmeszoly@bgov.com