Progressive Democrats See Opportunities in GOP-Held Districts
Progressive candidates vying for seats in Nebraska, Texas
Lawmakers say wins would help push their policies in 2021
Progressive Democrats in Congress are optimistic that the handful of allied candidates running competitively in Republican-held districts can help advance their legislative agenda next year.
A favorable national political environment may push them to victory and expand the party's House majority. But progressives see their potential success in swing districts as an indication that liberal policies can gain momentum among the mainstream.
Congressional Progressive Caucus Co-Chair Pramila Jayapal (D-Wash.), who also co-chairs the group's political arm, said voters can see the appeal of progressive ideas because they're seeking change from the status quo.
"Donald Trump in many ways highlighted all the things that were wrong before by taking some things to a whole new level," she said. "And then COVID really highlighted how unequal we were to start with."
In 2018, as more liberal candidates such as Rep. Alexandria Ocasio-Cortez (D-N.Y.) won safe seats, moderates helped Democrats take control of the House. Many have since distanced themselves from their progressive colleagues. Democratic presidential nominee Joe Biden publicly rejected progressive-backed proposals including "Medicare for All" and the Green New Deal.
But progressives say despite the conventional wisdom, embracing such policies aren't a death knell among independent voters.
Dana Balter, the Democrat challenging Rep. John Katko (R) in New York's 24th District, said voters are realizing the issues they care about are the same ones progressives champion.
"We are running against candidates who are trying to paint us as out of touch with the mainstream, but nothing could be further from the truth," Balter said at a recent virtual event hosted by the Progressive Change Campaign Committee.
"The most effective way to get voters out to is re-frame the conversation to remind them that our priorities are their priorities," she added.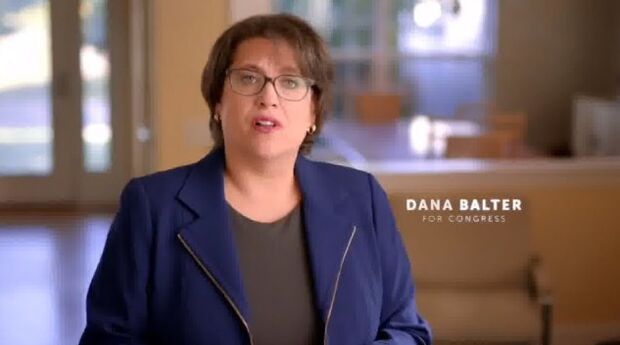 Progressive candidates running in races rated as Toss-ups by the Cook Political Report include Balter, Candace Valenzuela in Texas' open 24th District, and Kara Eastman, who's challenging Rep. Don Bacon (R) in Nebraska's 2nd District.
Republicans are highlighting their support for liberal proposals, accusing them of glossing over those issues, and contrasting them with the more moderate Biden. Recent Republican ads tag Eastman as a "socialist" and say "she's hiding from her support for socialist policies, like AOC's radical Green New Deal." A spot airing against Balter says "we can't afford her costly liberal agenda."
Other notable progressive candidates are Jon Hoadley in Michigan's 6th District and Mike Siegel in Texas' 10th, whose races are rated Lean Republican, as well as Pam Keith in Florida's 18th and Julie Oliver in Texas' 25th.
Six of the progressive candidates backed by the Congressional Progressive Caucus' PAC are being supported by the House Democratic campaign arm. Democratic Congressional Campaign Committee Chair Cheri Bustos (D-Ill.) said regardless of ideology, all Democratic candidates tout the importance of health care, an issue that's done well with voters in previous elections.
"The common theme is Democrats are the party of health care," Bustos said. "I would say that is why you can be a progressive candidate in a district that is a tough district or a swing district."
Legislative Effects
Progressive lawmakers said their legislative agenda has been held back by fears that it could cost Democrats crucial swing seats.
That may not change in 2021 if Democrats control Congress and the White House — the president's party historically loses seats in midterms. And Medicare for All and other progressive issues for now lack support among both their more moderate House colleagues and enough Senate Republicans to move legislation through that chamber.
But if progressives also came from swing districts, that would give their initiatives more leverage, said Rep. Jamie Raskin (D-Md.).
"Often times we hear, 'We can't do' you fill in the blank — it might be a $15 minimum wage, it might be strong anti-trust legislation — because of Democrats who are in the most vulnerable swing districts," he said.
If more progressive lawmakers are elected in those districts, Raskin said they'll be able to say, "On the contrary, it's precisely because of those people that we have to act forcefully so they can keep their promises."
To contact the reporter on this story: Emily Wilkins in Washington at ewilkins@bgov.com
To contact the editors responsible for this story: Kyle Trygstad at ktrygstad@bgov.com; Bennett Roth at broth@bgov.com