Private Insurers to Be Covered Under Democrats' Drug Price Caps
Millions of Americans could access cheaper drugs under bill
Wyden finalizes drug plan as Democratic agenda bill narrows
Caps on drug price increases will extend to private, employer-sponsored insurance plans under Democrats' drug pricing legislation, Senate Finance Chairman Ron Wyden (D-Ore.) said Tuesday.
Requiring drugmakers that increase their prices faster than inflation to pay back that excess amount to the federal government has widespread support among Democrats, Wyden said. Extending the policy to private plans would mean tamping down price hikes for millions more Americans, he said.
"A lot of my colleagues very much like the anti-price gouging provisions that we've put out," Wyden said. "We figured out a way to extend that to the private sector."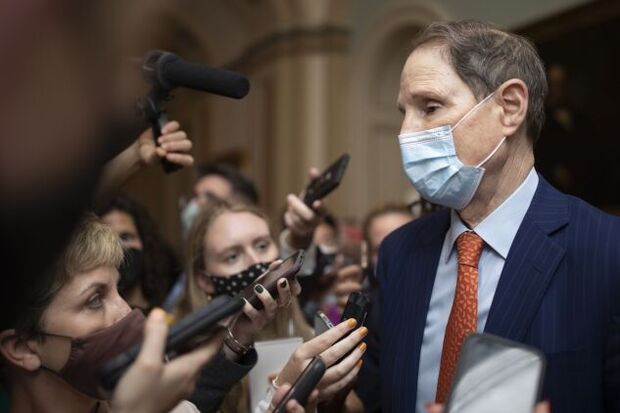 Having a broad tool for controlling price increases and collecting money from drugmakers could boost the savings for a drug pricing bill that appears to be narrowing in order to win support from all 50 Democrats in the Senate.
Democrats Mull Dropping Expanded Medicare, Medicaid in Unity Bid
Democratic leaders are discussing whether to enable the government to negotiate with drugmakers on the prices on medicines, but only for products that could have a generic or biosimilar competitor.
Inflation Cap
The inflation cap was central to a bipartisan drug pricing deal struck between Wyden and then-Finance Chairman Chuck Grassley (R-Iowa). That agreement didn't extend the caps to private plans.
Sen. Bob Menendez (D-N.J.), who has opposed drug price negotiation bills in the past, said Tuesday he supported inflation caps as part of that Grassley-Wyden deal. He cautioned he won't take a stance on Wyden's proposals until he sees all the details.
"I've had a lot of input from him in the last few days, so we'll see what he comes up with," Menendez said.
The issue has divided companies and employers.
James Gelfand, executive vice president of public affairs for the ERISA Industry Committee, or ERIC, which represents large employers, said his group fears that if caps weren't applied to private plans then drugmakers would raise prices on them to make up for not being able to do so with public plans such as Medicare.
Groups including the U.S. Chamber of Commerce have opposed Democrats' drug pricing proposals and warned extending price controls to private plans could hurt the pharmaceutical industry.
Drug Price Bill to Be 'Practical,' Phased in, Senator Says
Senate Rules
Democrats have wavered on whether major parts of their drug pricing legislation, advancing as part of their domestic policy bill, could apply to private plans, fearing a challenge on procedural grounds.
Finance Committee staff have written the provision to survive scrutiny from the Senate parliamentarian, Wyden said. That deliberate drafting is necessary because Democrats are trying to pass their policy bill using the budget reconciliation process, which allows legislation to pass the Senate by a simple majority but requires provisions to meet specific rules.
"Obviously the parliamentarian will have to rule but we've been doing considerable research and believe we have a good case to make," Wyden said.
To contact the reporter on this story: Alex Ruoff in Washington at aruoff@bgov.com
To contact the editors responsible for this story: Sarah Babbage at sbabbage@bgov.com; Loren Duggan at lduggan@bgov.com