Pricey Paid Leave Proposal Forces Democrats to Fine-Tune Plans
Program won't be cut from spending bill, sources say
Advocates rallying to keep medical leave in program
Bloomberg Government subscribers get the stories like this first. Act now and gain unlimited access to everything you need to know. Learn more.
Deliberation over a paid leave proposal in Democrats' broad spending bill is intensifying as negotiators are facing a potential $300 billion price tag while the White House and lawmakers push for a robust new entitlement program.
Conversations are ongoing over how levers can be pulled to ratchet down the cost, perhaps by prioritizing parental leave over other components, according to a source familiar with the negotiations. Other options are to reduce the number of paid-leave weeks or lower benefits for higher-income workers. All options could be in play, the source said.
Talks have advanced beyond entirely jettisoning paid leave from the broader spending plan, according to the source, a point echoed by paid leave supporters who have been pressing members of Congress on the issue.
House leaders have said they won't proceed with the bipartisan infrastructure bill, which has already passed in the Senate, until a deal is reached with the expansive tax and social spending bill. That's forcing the talks on how paid leave—and other vulnerable components of President Joe Biden's sweeping domestic agenda—might have to be cut roughly $2 trillion, as moderate Senators Joe Manchin (D-W.Va.) and Kyrsten Sinema (D-Ariz.) are requesting.
After meeting with the president on the reconciliation package Tuesday, Rep. Pramila Jayapal (D-Wash.), chair of the Congressional Progressive Caucus, said progress is being made on reaching an agreement over the coalition's key priorities, including paid leave.
Paid leave supporters said the most effective options to hold down the paid leave program's 10-year cost include lowering the number of weeks available at first—possibly to four or six instead of 12 weeks—and lowering the maximum monthly benefits available to higher-income workers. But they insist the program should cover all purposes and should be made permanent, not limited to parental leave nor given a sunset date.
'Keystone' of Package
A House Ways and Means Committee plan, championed by Chair Richard Neal (D-Mass.), would make 12 weeks available annually from the start and is estimated to cost approximately $500 billion over 10 years. The Committee approved that proposal Sept. 9.
Sen. Kirsten Gillibrand (D-N.Y.), joined by a cohort of Democratic senators, wrote a letter dated Oct. 19 to the president, House Speaker Nancy Pelosi (D-Calif.) and Senate Majority Leader Chuck Schumer (D-N.Y.) imploring them to preserve the entitlement program in the spending package. More than 100 House Democrats also said on Tuesday that they "cannot ignore" the economic benefits of paid leave in a letter written to the president.
Neal independently circulated a letter to colleagues on Oct. 15 reiterating that the paid leave "must remain a keystone" of the spending package, which would be allowed to pass without Republican votes via the budget resolution process.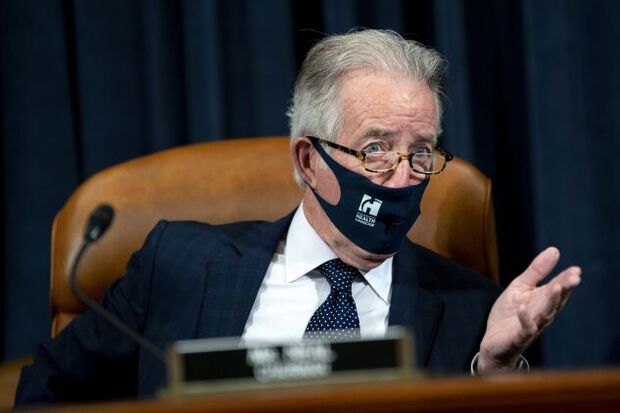 "We do think this is possible to do a strong program with certain changes to the Ways and Means proposal" while staying under $300 billion, said Sherry Leiwant, co-founder of the paid leave advocacy group A Better Balance.
The White House also called for a hefty paid leave program in a fact sheet Oct. 18. President Joe Biden offered his own paid leave plan in April that would have slowly scaled up the number of weeks available until it got to 12 in year 10. That plan had an estimated cost of $225 billion. The White House didn't immediately respond to a request for a comment on negotiations.
The Senate hasn't yet unveiled its proposal for a paid leave program, but a spokeswoman for Finance Committee Chairman Ron Wyden (D-Ore.) said in an email, "the funding level for the program is all dependent on the top line number for the entire package."
Cost-Control Options
Care-giving advocates are also pushing for paid leave to be made available for patients with serious conditions and their loved ones. The American Cancer Society Cancer Action Network, UsAgainstAlzheimer's, and other groups are rolling out advertisements over the weekend in Manchin's home state of West Virginia urging Congress—and the Senate moderate—to keep medical leave in the overall proposal.
Manchin's office didn't immediately respond to a request for comment on the paid leave proposal or efforts to pare it back.
Advocates agreed that they haven't heard talks of the entire proposal being nixed, and they'd like to see it apply to as many workers as possible and be a permanent program.
"Everyone we talk to assures us it will be in the package," Leiwant said. Her group and its allies are calling for a full paid family and medical leave program that provides time off from work for the birth or adoption of a new child, a worker's own serious medical condition, and to care for a sick family member. "It isn't final until it's final. We are just continuing to try to make the case that this is essential."
Limiting the program to just parental leave isn't a palatable option for paid leave advocates, said Vicki Shabo, a senior fellow focused on policy at the New America think tank, partly because parental leave accounts for only about a quarter of the paid leave used annually.
"If you were to preference new parents, you would leave out 75% of people who need paid family and medical leave," she said.
Effective ways to hold down the cost of the program would be offering fewer weeks of benefits at first and then scaling up over time, as well as lowering the maximum monthly amount of benefits that higher-income workers could receive, Shabo said.
The program should start with at least four to six weeks of benefits, Leiwant said.
"Anything less than four [weeks] is more like sick leave. It's not really enough to serve the purpose" of parental leave or leave for other caregiving needs or a serious medical condition, she said.
To contact the reporters on this story: Paige Smith in Washington at psmith@bloomberglaw.com; Chris Marr in Atlanta at cmarr@bloomberglaw.com
To contact the editor responsible for this story: Andrew Harris at aharris@bloomberglaw.com
Stay informed with more news like this – from the largest team of reporters on Capitol Hill – subscribe to Bloomberg Government today. Learn more.