Potential Shutdown Threatens National Parks in Peak Fall Season
GAO ruled Trump move illegal to keep sites open in 2019
Funding flexibility exists but reduced services hurt public
Bloomberg Government subscribers get the stories like this first. Act now and gain unlimited access to everything you need to know. Learn more.
For outdoor recreation outfitter Dave "DMAC" McGlashan, the prospect of Congress failing to pass legislation funding the government this month brings up a painful flashback: Ten years ago a shutdown closing national parks landed his company in debt and disappointed dozens of teenagers excited to hike in the Great Smoky Mountains and experience the scenic Blue Ridge Parkway.
A client paid about $40,000 in 2013 to Adventure Treks, where McGlashan is now executive director, to lead 60 people on a five-day trip through America's most-visited national park during peak leaf season in North Carolina and Tennessee. The shutdown during President Barack Obama's second term deprived McGlashan from using his permit to enter and lead a tour through federal lands because the administration closed the national parks.
"We spent triple the money we were going to to find a private landowner who allowed us to operate on their land," he said. The client was unhappy, but everyone made do, McGlashan recalls. "You're not going to get the views, the incredible places we promised you," he told them. "You'll still get an experience, but not the one we sold you."
Washington is bracing anew for a potential partial government shutdown when the fiscal year ends Sept. 30, with House Republicans' far-right flank expected to withhold votes for a short-term funding measure over spending concerns. Republicans have a 10-seat advantage currently over Democrats, so Speaker Kevin McCarthy (R-Calif.) could need votes from across the aisle to keep most government agencies open.
A continuing impasse risks shuttering most national parks, upending America's annual $800 billion outdoor recreation economy, and harming small businesses.
The Trump administration finessed a 35-day shutdown from 2018 to 2019, the longest in US history, keeping some parks open to the public with limited services and reduced staffing using recreation fees. California's Joshua Tree and Sequoia National Parks, as well as the National Mall in Washington, remained open for part of that time with federal funds. The Government Accountability Office later deemed the move illegal.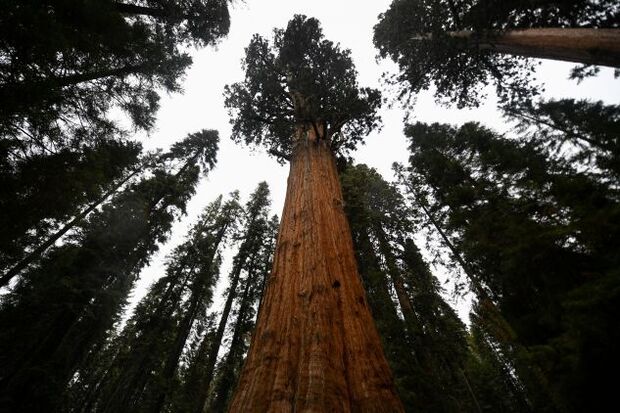 States, including Arizona, Utah, and New York, also shouldered the financial burden temporarily of keeping popular federal sites open during the Trump-era shutdown.
Such a scenario likely won't happen again this fall if another shutdown occurs, said Kristen Brengel, senior vice president of government affairs at the National Parks Conservation Association. "The idea of closing parks is not something anyone wants to do," said Brengel. Nevertheless, "I don't see a way for them to get around it," she added, citing GAO's September 2019 opinion.
Federal agencies now are updating shutdown contingency plans, which go to the Office of Management and Budget for review per OMB guidance. Both OMB and the Interior Department declined to answer multiple questions about shutdown planning, or the status of national parks during a possible fall 2023 closure.
Long Love Affair
Americans have long treasured national parks, a love affair that intensified during the Covid-19 pandemic when many people headed outdoors for respite.
"A government shutdown would be hugely damaging to the National Park Service's mission to protect our parks and benefit their surrounding communities," said Rep. Chellie Pingree (D-Maine), ranking member of the House appropriations subcommittee funding the Interior Department, in a statement to Bloomberg Government. Maine is home to Acadia National Park.
The closure of popular outdoor recreation sites and natural wonders is among the most visible impacts of congressional inaction.
"It's not good for the government staff, public lands and waters, or Americans who want to visit these places in September when the weather gets a little better," said Jessica Turner, president of the Outdoor Recreation Roundtable.
'Knowing and Willful'
The Trump administration's decision to keep some national parks open during the December 2018 to January 2019 shutdown sparked criticism. Interior used recreation fees under the Federal Lands Recreation Enhancement Act to collect trash and maintain restrooms at sites that visitors could access during part of the shutdown.
GAO in September 2019 concluded that the department violated law when it shifted money from the law during the shutdown for maintenance activities typically funded through the National Park Service's appropriations. The government watchdog also found Interior had defied the Antideficiency Act when it spent money for activities funded through appropriations during a funding lapse. Agencies are required to report violations of the law to Congress and the president when they occur.
"We will consider such violations in the future to be knowing and willful violations of the Act," GAO wrote in its legal opinion, which congressional Democrats had requested.
Consequences for officials violating the Antideficiency Act include fines of up to $5,000, imprisonment for up to two years, or both. No one at the department was prosecuted. GAO is a legislative branch agency, and its legal opinions aren't binding on the executive branch, the reporting requirements for law violations say.
Interior's legal defense of the decision to use recreation funds to keep sites open during the shutdown was solid, however, given the broad definition of what those funds are intended for, said Greg Zerzan, who helped craft the analysis and was deputy solicitor and principal deputy solicitor at the department from 2019 to 2021.
"If the current administration decides they can't use FLREA funds to keep the parks open, that is very clearly a choice they have made," said Zerzan, now general counsel and chief administrative officer for enCore Energy Corp. "Legally, we've demonstrated the department can use FLREA fees to continue public access even during a shutdown."
Zerzan said Democrats, now in charge of the administration, are in a political bind because of their criticism of the Trump administration for the use of recreation fees during the 2018-2019 shutdown. "It is a policy choice not to keep the parks open, because we have shown that it can be done," he said.
'Talk Radio on Garbage'
The Forest Service, housed in the Agriculture Department, cited in an August 2020 contingency plan recreation fees collected under FLREA as an option to pay for some staff and to keep agency-operated campgrounds and other recreation sites open during a shutdown.
Interior and NPS superintendents have flexibility when it comes to keeping individual parks partially open for a limited time during a shutdown, including using donations from states and private entities, the Congressional Research Service reported in October 2019. The report also mentioned Interior's use of recreation fees during the Trump shutdown and cited GAO's opinion of it.
Still, Brengel said she would be "surprised" if Interior tried to make a case for keeping the parks open during a government shutdown considering GAO's 2019 opinion. "Anyone who has a background in law, who fully understands the Antideficiency Act, won't breach that."
Trash piled up, especially on Washington's National Mall, and sanitation issues arose at some of the sites that remained open during the last shutdown, Brengel said. "I did more talk radio on garbage than I ever have in my entire life," she said.
Statue of Liberty Jobs
Outdoor Recreation Roundtable's Turner said keeping some sites accessible to the public "might work out well for some places, businesses, and communities and it might not work out well for others." She cited overrun bathrooms, trash pile-up, vandalism, and cost burdens on states during a lapse in federal funding. "There's not a blanket, good policy. If there was, we'd be touting it the loudest," she said.
Many federal employees who work at parks and other public lands don't make a lot of money, and a shutdown threatens their financial security, Turner said. Those workers care about public lands, she said: "It's not for money and it's not because they have this great bank account to rest on, necessarily."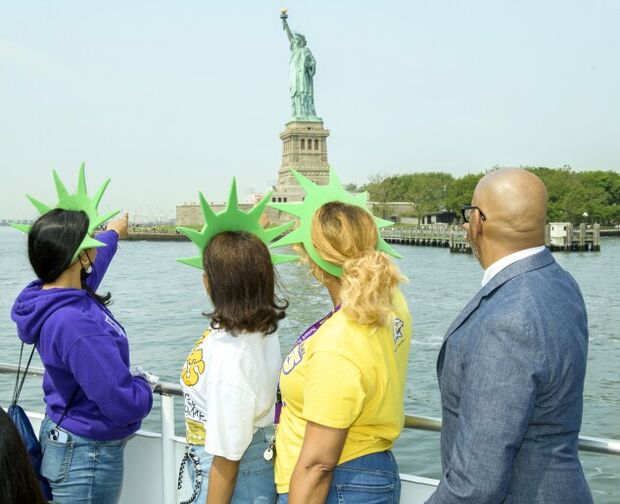 While Congress historically has passed legislation to provide back pay to federal workers after a shutdown, policymakers aren't required by law to do so. Many people live paycheck to paycheck, making even a few weeks' of closure untenable, Turner added. Gateway communities, or towns close to popular national parks and public lands, are often expensive to live in.
The costs and loss of revenue to many outdoor recreation and transportation-related businesses during a government shutdown are eye-popping. For instance, more than 900 jobs at the Statue of Liberty and Ellis Island in New York—major tourist attractions—are at risk during a shutdown, according to statistics from Statue Cruises, a subsidiary of San Francisco-based Hornblower Yachts Inc.
The federal government would lose roughly $67,000 a day in concession fees, while New York state and city would forfeit more than $14,000 per day in sales tax for every day of closure. New York City isn't a gateway community but Battery Park, a city park, is a doorway to the Statue of Liberty and Ellis Island, replete with vendors and nearby hotels and restaurants.
"Maybe people choose not to come to New York at all because the statute is closed," said Michael Burke, the chief operating officer for concessions and park services at Statue Cruises & Alcatraz Cruises. It doesn't take long for the ripple effect of those decisions to be felt throughout the economy, he added.
A shutdown hurts public- and private-sector workers in outdoor recreation, Turner said.
"You can't just recoup" that lost revenue for people and businesses who run lodges, campgrounds, or marinas next to public lands, said Turner. "A shutdown does not make people whole, and it continues to diminish the emphasis that Americans have clearly put on public lands and waters."
To contact the reporter on this story: Kellie Lunney in Washington at klunney@bloombergindustry.com
To contact the editors responsible for this story: Robin Meszoly at rmeszoly@bgov.com; Michaela Ross at mross@bgov.com
Stay informed with more news like this – from the largest team of reporters on Capitol Hill – subscribe to Bloomberg Government today. Learn more.