Pot Legalization Boosted as Schumer Makes Issue a Top Priority
Majority leader says he'll unveil new pot measure in April
Plan faces opposition from some senators in both parties
Bloomberg Government subscribers get the stories like this first. Act now and gain unlimited access to everything you need to know. Learn more.
Senate Majority Leader Chuck Schumer is bolstering the prospects for marijuana initiatives on Capitol Hill by throwing the weight of his office behind them.
The Democrat recently said while back in his home state of New York that he'll formally unveil legislation as soon as April that would legalize marijuana and set tax and banking rules to oversee the burgeoning industry. It could be ready for floor action before this fall's midterm elections.
"As majority leader, I can set priorities. This is a priority for me," Schumer said at an event with advocates for federal legalization of marijuana.
Schumer's personal push doesn't remove the significant hurdle of needing 60 senators to support it in the 50-50 Senate. But his endorsement thrusts the marijuana issue into the spotlight as his party seeks to energize its core supporters, including younger people who may be less inclined to turn out in a non-presidential election year.
There's an urgency to it for advocates, as legalization efforts would likely be doomed if Republicans win control of one or both chambers.
Schumer publicly committed to the issue earlier this month, after the House passed legislation (H.R. 4521) to enhance U.S. competitiveness with China that included language to make banking services available to the cannabis industry. Schumer said that while he supported that change, he wants Congress to undertake a comprehensive rewrite of marijuana laws much as New York did in 2021.
Senate Finance Committee Chairman Ron Wyden (D-Ore.) said Schumer tapped him to take the lead on legislation that also could impose a federal tax on marijuana products and use revenue to help disadvantaged communities participate in the cannabis industry.
Sen. Cory Booker (D-N.J.) said that revenue could also be used on restorative justice initiatives helping those long incarcerated for nonviolent marijuana-related crimes.
"At the beginning I was laughed at with a bill like this," Booker said in an interview. "And now we're getting closer and closer."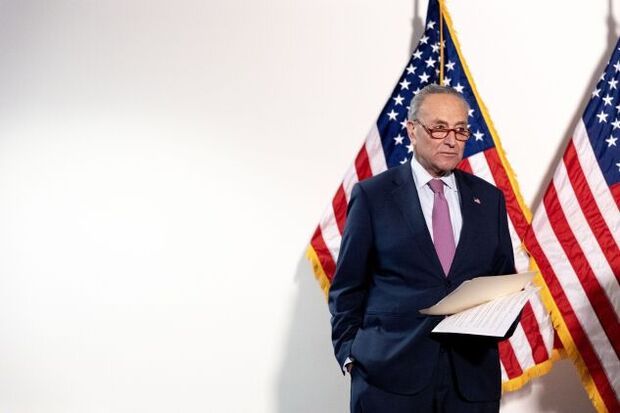 'Reefer Madness'
Wyden said in an interview that federal treatment of marijuana still reflects the stereotypes promulgated by a 1936 propaganda film, "Reefer Madness," which portrayed the drug as a threat to the American way of life.
"The federal system is a mess," Wyden said.
Advocates for federal legislation that addresses legalization, as well as banking and tax rules, argue that states have created a mismatched patchwork of laws legalizing cannabis, and that they did little to give the emerging industry access to federally regulated banking services.
But even with support from top leadership, interviews with several senators made it clear the plan faces a climb to getting 60 votes in the Senate, where many Republicans and even some Democrats are wary of making marijuana more accessible.
A number of Democratic senators, particularly those representing states ravaged by the opioid epidemic, aren't on board with broad legalization. They include Joe Manchin (D-W.Va.), Maggie Hassan (D-N.H.), who's up for re-election this year, and Jeanne Shaheen (D-N.H.), chair of a panel overseeing Justice Department drug programs.
"I'm not interested in seeing another way for people to misuse illegal substances," Shaheen said.
Brookings Institution senior fellow John Hudak said the prospects of getting a comprehensive pot plan passed aren't bright.
"They see this as a real politically winning issue not just for themselves but also for the party as they approach the midterms," Hudak said of Democrats. "But the challenge, even for the idea of bringing the bill up for debate, is that the votes just aren't there."
One Republican who favors full legalization, Sen. Rand Paul (Ky.), said a scaled-back plan addressing banking and revenue issues is more realistic than a comprehensive bill.
"The Democrats need to get their act together, quit doing stuff that's not going to work, and try to pass some things that we should get done," Paul said.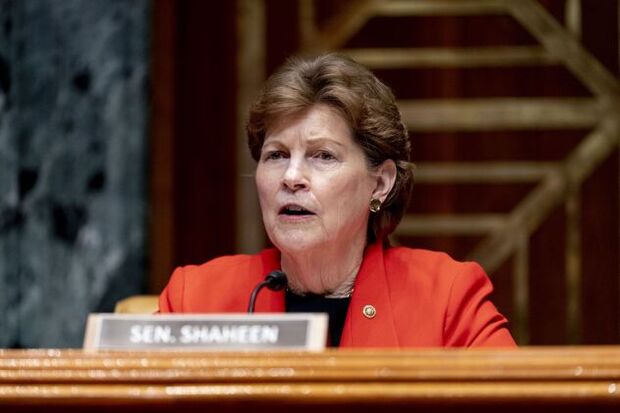 Path Forward
Marijuana advocates say the public and state legislatures have been ahead of Washington politicians on this issue. More than 90% of U.S. adults say either marijuana should be legal for medical and recreational use, or that it should be legal for medical use only, according to a Pew Research Center poll.
According to the National Conference of State Legislatures, all but three states—Idaho, Nebraska, and Kansas—have some form of a state regulatory cannabis program.
"It's basically something the American people have been voting consistently for over the years," said Sen. Gary Peters (D-Mich.), chairman of the Democratic Senatorial Campaign Committee.
But in looking for some progress federally, lawmakers are debating whether to separate pot banking issues from legalization.
Rep. Ed Perlmutter (D-Colo.) convinced House members to include in the competitiveness bill his plan (H.R. 1996) allowing banks to work with cannabis firms. Perlmutter's office confirmed he's talked with Schumer about including that provision in the competitiveness bill's final version, which is being negotiated by the House and Senate.
But Schumer said he still wants to push a comprehensive, "equity driven" bill modeled on New York's Marijuana Regulation and Taxation Act. Besides legalization, that law calls for expunging prior convictions and allowing people to petition for resentencing.
Sen. Jon Tester (D-Mont.) said he prefers legislation that would focus on extending banking services to the cannabis industry. "I'm not a big fan of pot, but the bottom line is, it's silly to put people in these positions where they have to deal in cash," Tester said.
Sen. Kevin Cramer(R-N.D.) said most GOP senators don't support broad marijuana legalization legislation efforts but that libertarian-leaning Republicans—who are a growing segment of the party's base—do. He echoed Tester in saying he'd support a banking bill.
"An unbankable industry is designed for corruption if you ask me, and I don't know why we would facilitate that," he said.
To contact the reporter on this story: Nancy Ognanovich in Washington at nognanov@bgov.com
To contact the editors responsible for this story: Bennett Roth at broth@bgov.com; Kyle Trygstad at ktrygstad@bloombergindustry.com
Stay informed with more news like this – from the largest team of reporters on Capitol Hill – subscribe to Bloomberg Government today. Learn more.