Pot-Banking Roadblock Dims Hopes in State Where Weed is Legal
Sen. Cory Gardner (R-Colo.) said he's hoping the Trump administration and other lawmakers can help him salvage a plan to provide banking services for the burgeoning marijuana industry that's increasingly critical to his home state.
Gardner, facing a tough re-election bid in 2020, said he's evaluating changes Senate Banking Committee Chairman Mike Crapo (R-Idaho) said must be made to a pot banking bill (H.R. 1595) that Gardner pushed for with Republicans and Democrats in both chambers.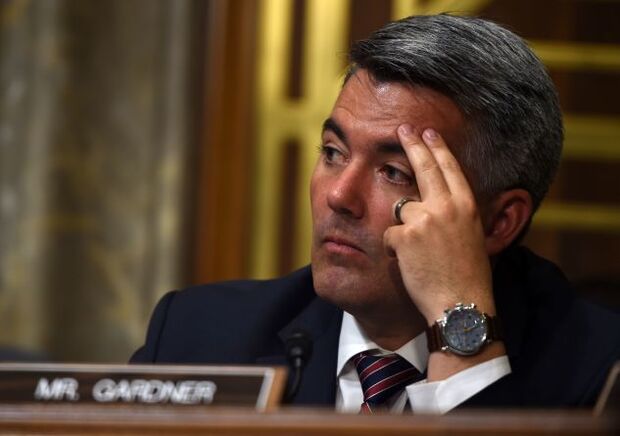 But Crapo's statement Wednesdaythat he has "significant concerns" with the House-passed measure indicates Gardner's path won't be easy.
"Hopefully the administration will weigh in a little more with it," Gardner said in an interview Wednesday about the prospects for the Senate version of the bill (S. 1200)to move before he stands for re-election next fall. "Crapo could either refine our legislation or come up with his own proposal, but whatever product it is, we'll work to negotiate something that the industry and Congress can support."
Gardner's race is considered critical to Majority Leader Mitch McConnell's (R-Ky.) bid to retain Senate control next year. Gardner is running in a state Trump lost in 2016 and where recreational marijuana use has been legalized.
Long Road Ahead
The SAFE Banking Act, which would allow state-authorized cannabis businesses to stop operating as cash-only and get access to the federally regulated banking system, is an example of the bipartisan bills Gardner has been sponsoring with Republicans and Democrats as he works to appeal to swing voters in his state.
Gardner said the bill has a long road ahead and that he's nowhere close to having the number of votes required to show McConnell the measure can survive a filibuster.
"I think the challenge is some agreement on language," Gardner said. "It's very difficult to come up with the 60 votes we need."
Still, Gardner said there's a chance a revised measure might get Crapo's support.
"I'm against legalizing marijuana," Crapo said in an interview, "but we have issues related to money laundering and basically cartel activity in the United States, and we have the issues related to marketing to children."
Crapo said he has no timeline in mind and that he's not undertaking efforts to move legislation to help Gardner gain a second term.
"I'm just requesting input from stakeholders to see if we can find an agreeable path forward," Crapo said.
To contact the reporter on this story: Nancy Ognanovich in Washington at nognanov@bgov.com
To contact the editors responsible for this story: Kyle Trygstad at ktrygstad@bgov.com; Bennett Roth at broth@bgov.com