Ponying Up for Remap-Threatened Colleagues: Ballots & Boundaries

Get redistricted into an incumbent-vs-incumbent primary and you'll quickly learn who your friends are. Read on for Greg Giroux's highlights from the first quarter of sudden-death-match fundraising.
Meanwhile, more redistricting court arguments are on tap in New York this week, and Florida committees will gavel in this afternoon to push another congressional remap toward fast floor votes.
They'll take up a map submitted by Gov. Ron DeSantis's staff.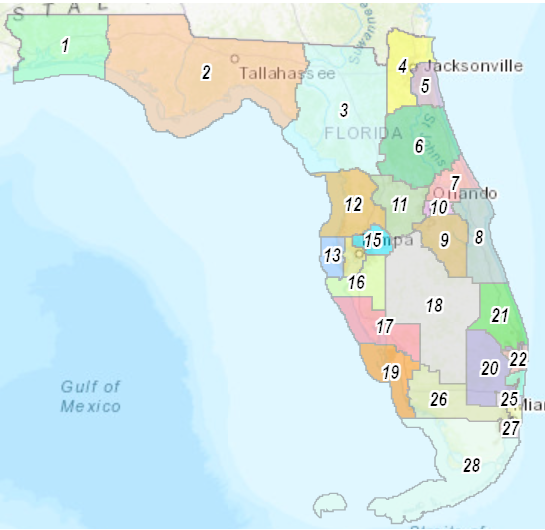 It's an aggressive reimagining that would almost certainly result in four more Republican members of Congress.
As our Jennifer Kay explains, that configuration of seats could be a two-fer or even three-fer — a partisan advantage for the majority party in Florida, an avenue for courts to narrow the state's anti-gerrymandering constitutional amendment, and perhaps also a way to provoke a court review of what's left of the federal Voting Rights Act.
Read more: Florida's DeSantis Sparks Fight With Map Hurting Black Lawmakers
(Was this newsletter forwarded to you? It's free. SUBSCRIBE )
Back in Washington, we're watching five contests in which sitting members of Congress are running against each other in primaries and couldn't help but notice whose political committees already picked sides.
GEORGIA: Sen. Cory Booker(D-N.J.) and Reps. Ayanna Pressley (D-Mass.), Marilyn Strickland (D-Wash.), Terri Sewell(D-Ala.) and Joe Neguse (D-Colo.) are among the first-quarter donors of Rep. Lucy McBath, who's up against Rep. Carolyn Bourdeaux in a Democratic primary in Georgia. Bourdeaux's donors included the PAC of the Blue Dog Coalition of Democrats who emphasize fiscal restraint.
ILLINOIS: Rep. Katie Porter (D-Calif.) put her PAC's money behind Rep. Sean Casten, a member of the Financial Services Committee who's far outpacing Rep. Marie Newman. Newman's first-quarter receipts included backing from Reps. Ilhan Omar (D-Minn.) and Kai Kahele (D-Hawaii).
Rep. Bob Good (R-Va.) chose sides in both of the Republican incumbent matchups. His PAC gave to fellow freshman Mary Miller over five-term Rep. Rodney Davis. Miller also got help from the PAC of Reps. Marjorie Taylor Greene (R-Ga.).
MICHIGAN: Rep. Haley Stevens drew donations from California Reps. Tony Cardenas and Eric Swalwell for her Democratic primary against Rep. Andy Levin. The Congressional Progressive Caucus and Rep. Barbara Lee (D-Calif.) are banking on Levin.
WEST VIRGINIA: Good and Lauren Boebert (R-Colo.) donated to Rep. Alex Mooney over Rep. David McKinley. McKinley's financial backers include former House Republican Conference Chair Cathy McMorris Rodgers (Wash.)
Here's how much the paired incumbents had left to spend as April began, according to reports filed with the Federal Election Commission:
Georgia's 7th District: McBath $2.9 million, Bourdeaux $2.1 million
Illinois' 6th: Casten $2 million, Newman $553,000
Illinois' 15th: Davis $1.9 million, Miller $511,000
Michigan's 11th: Stevens $2.8 million, Levin $1.5 million
West Virginia's 2nd: Mooney $1.4 million, McKinley $1.1 million — Greg Giroux
NEW YORK: ORAL ARGUMENTS
Appeals court oral arguments are scheduled to be heard tomorrow, with the fate of New York congressional and state legislative maps at issue.
Appellate Division Justice Stephen K. Lindley had granted a stay of a lower court's decision to throw out the maps. Then the state Supreme Court made arrangements for what to do if the maps are thrown out, beginning with the hiring of a special master who'll have until May 24 to draw a nonpartisan congressional map.
Anyone who wants to give the special master some suggestions has to submit their proposed lines by this Friday. — Keshia Clukey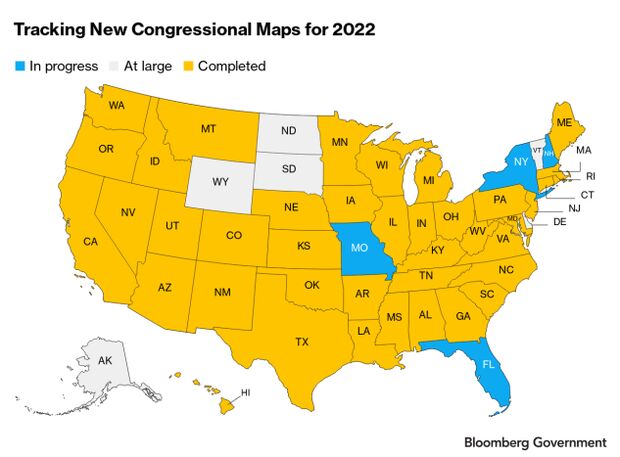 ARKANSAS: SEEKING DISMISSAL
Arkansas Republicans are asking a federal judge to dismiss a Democratic lawsuit against a GOP-drawn congressional map.
Democrats allege the map unlawfully diluted the voting power of Black voters by shifting some of them out of the mildly Republican 2nd District in and around Pulaski County (Little Rock) and into the more heavily Republican 1st and 4th Districts.
Arkansas Republican Attorney General Leslie Rutledge's office explained the shifts like this: "District 2 was overpopulated, Districts 1 and 4 were underpopulated, and Pulaski County was the only county in District 2 that bordered both District 1 and District 4 (specifically at the county's southeastern border)," according to the filing with the U.S. District Court for the Eastern District of Arkansas.
Lawyers for Sen. Tom Cotton (R-Ark.) weighed in with an amicus brief. "If Democratic politicians wish to draw Arkansas's congressional map — as they previously did for decades – they should win elections instead of making a baseless allegation of racial gerrymandering." — Greg Giroux
KANSAS: RULING DEADLINE
Wyandotte County, Kan., District Judge Bill Klapper said he'll decide by April 25 whether to block a new congressional district map that Democrats argue is partisan gerrymandering designed to harm the re-election prospects of Rep. Sharice Davids, the state's only Democrat in Congress.
The state argues that Davids would still be in a competitive seat. Regardless of what he decides, Klapper acknowledged that the case is destined for the Kansas Supreme Court. — The Associated Press
MISSISSIPPI: CITIZENS ONLY
An extra step will be added to processing voter registrations in Mississippi to verify that applicants are U.S. citizens, under a law (H.B. 1510) signed by Gov. Tate Reeves (R).
Non-citizens have been prohibited from voting in federal elections since 1996, and state law already requires U.S. citizenship to vote in Mississippi. The new law also allocates more state funding to counties for their elections operations. — Jennifer Kay
Finished Maps
Alabama|Arizona | Arkansas | California| Colorado |Connecticut |Georgia |Hawaii| Idaho | Illinois | Indiana | Iowa | Kansas | Kentucky |Louisiana| Maine | Maryland | Massachusetts | Michigan | Minnesota | Mississippi |Montana | Nebraska | Nevada | New Jersey | New Mexico |New York | North Carolina |Ohio| Oklahoma | Oregon | Pennsylvania | Rhode Island |South Carolina |Tennessee| Texas | Utah | Virginia|Washington | West Virginia | Wisconsin
More Resources
Add Us to Your Inbox
Click HERE to sign up for Ballots & Boundaries, your check-in on redistricting, state voting laws, and initiatives.
To contact the reporters on this story: Jennifer Kay in Miami at jkay@bloomberglaw.com; Greg Giroux in Washington at ggiroux@bgov.com; Keshia Clukey in Albany, N.Y. at kclukey@bloomberglaw.com
To contact the editors responsible for this story: Tina May at tmay@bloomberglaw.com; Katherine Rizzo at krizzo@bgov.com