Politics, Legal Fights Bedevil DeVos Doling Out Covid Aid (1)
(Updated with further comment starting in the 19th paragraph.)
Bloomberg Government subscribers get the stories like this first. Act now and gain unlimited access to everything you need to know. Learn more.
Education Secretary Betsy DeVos faces legal challenges and political pushback over her handling of $2 trillion in coronavirus relief. The disputes threaten to slow aid to students and schools.
Restrictions that blocked assistance to undocumented and international students have landed the Education Department in court. And some states are refusing to carry out guidance that directs them to boost the share of pandemic relief to private schools.
DeVos says she has clarified how schools should comply with the CARES Act (Public Law 116-136). Critics say she has ignored the intent of Congress and is advancing ideological agendas with federal funds.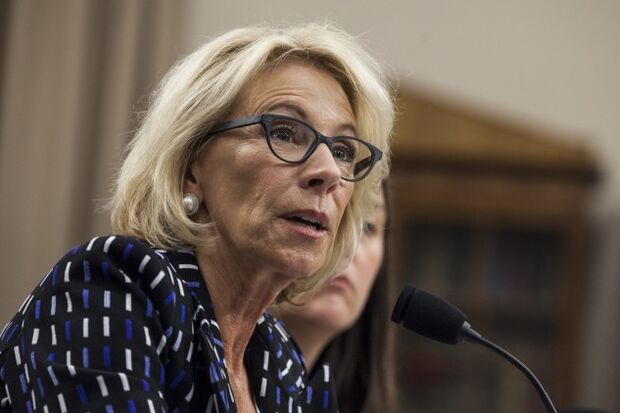 DeVos has turned to formal rulemaking to counter the pushback over the Education Department's guidance on pandemic aid. An interim final rule set to take effect Wednesday blocks emergency coronavirus grants to students who aren't eligible for federal Title IV funds such as student loans and Pell Grants.
That leaves out undocumented and international students, as well as those with certain drug convictions. The agency has signaled a separate rule is coming soon to enforce its policy steering more money to private schools as well.
DeVos incorrectly interpreted the law on both questions of student aid eligibility and funding for private schools, House Education and Labor Committee Chairman Bobby Scott told the secretary in a letter June 12.
"Without impugning motive, it is impossible to ignore the fact that these interpretations are consistent with the publicly espoused political positions of the Department," Scott (D-Va.) wrote.
`Responsibility to Taxpayers'
DeVos said the stimulus law was clearly written to help Americans recover from the pandemic.
"Today's action helps erase any uncertainty some institutions have expressed and helps make sure we can support America's students facing the greatest needs," she said June 11 after unveiling the new rule. "We have a responsibility to taxpayers to administer the CARES Act faithfully, and that's exactly what we're doing."
That interpretation has already run into setbacks in separate court battles, including two judicial injunctions. A federal judge in Spokane on June 12 blocked the new rule in Washington state, allowing CARES Act money to go to students who otherwise aren't eligible to get federal aid, although undocumented students can still be excluded. And on Wednesday, a federal judge in California halted enforcement of the DeVos rule against California community colleges in another lawsuit.
Angela Morabito, a spokeswoman for the Education Department, said two federal judges in the same circuit were split over the issue and that the department expects to prevail on appeal.
Eloy Oakley, chancellor of California Community Colleges, said the DeVos eligibility requirements would exclude 800,000 community college students in the state from federal assistance.
"The department has crafted an extraordinarily complicated and unnecessarily difficult regulatory environment for institutions at an extremely difficult time for their students," said David Baime, senior vice president for government relations and research at the American Association of Community Colleges.
For many colleges, those complications arise because they have little way of determining which students qualify for Title IV aid absent a Free Application for Federal Student Aid, or FAFSA. The Congressional Research Service meanwhile found in May that there was little legal basis for excluding students who aren't eligible for Title IV aid. Among them: youths brought to the U.S. as children and covered by the Obama-era Deferred Action for Childhood Arrivals protection from deportation.
The Trump administration's restrictions meant about 100 DACA students at Trinity Washington University in Washington, D.C. were cut off from pandemic relief at a time when many are dealing with tight finances, said Patricia McGuire, the school's president.
Trinity Washington responded by raising private funds for those students, mostly from alumni.
"The money is going out the door to both kinds of students. The problem is I have to raise more funds," McGuire said. "We're running out of private funds."
A survey of campus financial aid administrators released this week found that more than half of colleges had released a majority of student aid funds. Those who hadn't cited confusing and inconsistent guidance from the Trump administration.
Initially, the department had said it would grant broad flexibility to schools before it later issued restrictions on student aid, said Dan Madzelan, assistant vice president, government and public affairs, at the American Council on Education.
"For the past couple of months, it's been one barrier after another preventing colleges from fully utilizing grant funding the law provided," he said.
Private Schools
A separate fight over aid to K-12 schools means public and private campuses can't count on the amount of federal coronavirus relief money they'll get as they make plans to reopen in the fall.
Federal Title I money goes out to local school districts each year based on their share of students in poverty. They pass on a portion to private schools in their areas serving low-income students.
DeVos surprised even GOP lawmakers by telling public schools that money allocated to private schools should be based on the total number of students on those campuses, not just low-income students. That would cost public education millions of additional dollars in some states.
Education leaders in Indiana, Maine and Pennsylvania said they won't follow the DeVos instructions, while states including Texas and Tennessee have told districts to comply. M. Ann Levett, superintendent of Savannah-Chatham Public Schools in Georgia, said the CARES Act provided local schools a lifeline as they dealt with new expenses from the pandemic.
"Now, based on this guidance, that lifeline has been cut more than a few feet short," she said. "We did not count on that."
The district stands to lose an estimated $879,000 in federal funds to private schools under the Education Department's instructions, Levett said.
The Pennsylvania Catholic Conference has asked DeVos to bypass the state to send additional funds directly to schools. Dale McDonald, director of public policy at the National Catholic Educational Association, said several other private school groups have appealed states' decisions to ignore the guidance.
Federal aid for emergencies like Hurricane Katrina had been awarded based on total student numbers and coronavirus relief should work the same way, McDonald said.
"It's important that we get some kind of a resolution," she said. "In some cases, schools open mid-August. We need to know what we're dealing with in terms of what schools can afford to do."
Democrats Seek to Tie Secretary's Hands
David Sciarra, executive director at the Education Law Center, said Congress intended the CARES Act money to be shared based on Title I formulas. The group, along with other public education advocates, has urged states to reject DeVos's guidance. More legal challenges likely will follow if she issues a binding rule to comply, Sciarra said.
Public schools "need every dollar they can get right now," he said. "This is an all-hands-on-deck situation."
A new round of coronavirus stimulus legislation that the Democratic-controlled House passed in May includes language that would bar the Education Department from dictating student aid eligibility for additional coronavirus relief. The bill (H.R. 6800) would also clarify that distribution of pandemic aid should follow the traditional Title I formula.
The GOP-controlled Senate has yet to start negotiations over additional stimulus legislation, said Justin Draeger, executive director of the National Association of Student Financial Aid Administrators.
"Nothing's really moving until July," he said.
To contact the reporter on this story: Andrew Kreighbaum in Washington at akreighbaum@bgov.com
To contact the editors responsible for this story: Paul Hendrie at phendrie@bgov.com; Robin Meszoly at rmeszoly@bgov.com
Stay informed with more news like this – from the largest team of reporters on Capitol Hill – subscribe to Bloomberg Government today. Learn more.