Political Focus Shifts to Redistricting After Divvying of Seats
GOP holds narrow advantage in line drawing
Process slowed by Census data release delay
The Census Bureau's release of congressional seat apportionment figures shifts the spotlight to the intensely political process of drawing the district lines.
Redistricting, performed by state legislatures or independent commissions, will set up the fight for the House for the next decade, starting with the first midterms under President Joe Biden.
"The real drama has yet to come — when the ink starts to dry on the maps that we actually see," said Ian Russell, a consultant and former deputy executive director at the Democratic Congressional Campaign Committee. "What happens in places like Georgia, Texas, Florida — big states that have Republican cartographers?"
Republicans are in a stronger position than Democrats in determining the makeup of districts thanks to the party's 2020 performance. Despite losing the White House and the Senate, the GOP unexpectedly almost won control of the House while also thwarting Democrats from picking up a single Republican-held state legislative chamber.
They intend to parlay that advantage into winning a majority in 2022, needing a net gain of only five seats.
"Redistricting alone isn't going to deliver Republicans a House majority," said Michael McAdams, communications director for the National Republican Congressional Committee. "We are focused on running competitive and well-funded races all across the country, and look forward to retiring Speaker Pelosi for good."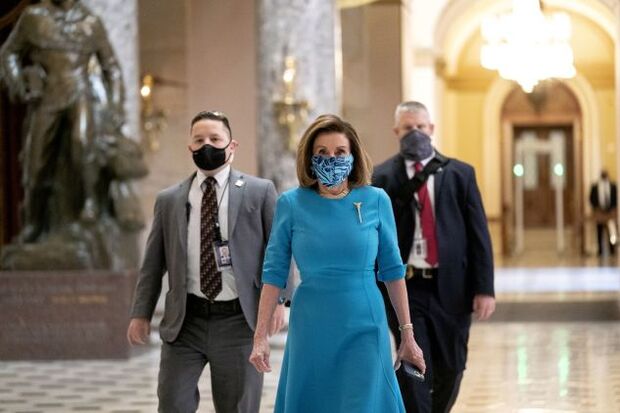 The reapportionment of seats, announced Monday, provided a boost to Republican-leaning states at the expense of Democratic-friendly states, though it wasn't as large as projected.
The nonpartisan Cook Political Report now projects a Republican advantage of 3 to 4 seats in redistricting, which would put House control in even closer reach.
Republicans control the line-drawing process in states with a cumulative 187 districts compared with 75 districts for Democrats. In states with a total of 157 districts, redistricting responsibilities will either be shared by the two parties or handled by commissions. There's no redistricting in the six states that will have one statewide at-large district.
The GOP controls redistricting in Texas, which will have 38 seats after gaining two in reapportionment, and in Florida, which went up to 28 seats from 27. Strategists in both parties were surprised Texas and Florida didn't gain more seats.
"Across the country, it's mostly a wash, but I think Texas and Florida would be disappointments," Adam Kincaid, executive director of the National Republican Redistricting Trust, said after the reapportionment results were released. Nonetheless, he said, Republicans "will be in a great spot to take back the House majority in 2022."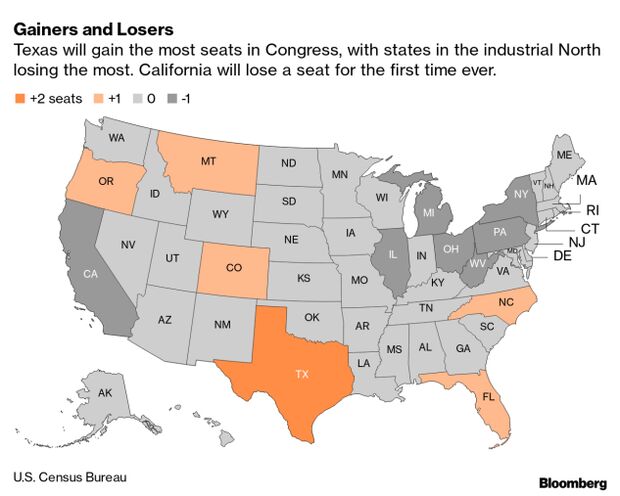 No Guarantees
Redistricting doesn't guarantee results. Incumbent retirements, candidate recruitment, campaign quality, and Biden's approval rating will affect the outcome of the 2022 elections.
Still, Eric Holder, a former U.S. attorney general who leads the National Democratic Redistricting Committee, said Republicans will seek to "manipulate the redistricting process to lock in their power."
"By increasing the number of safe Republican seats and decreasing the number of districts where Democratic candidates can compete, they are hoping to manufacture an illegitimate majority in the U.S. House of Representatives in 2022 and beyond," he said in a statement.
States where Democrats control redistricting include Illinois, where lawmakers may try dismantling Rep. Adam Kinzinger's (R) district while also targeting Rep. Rodney Davis (R) and shoring up Reps. Cheri Bustos (D) and Lauren Underwood (D) following their narrow re-election victories in 2020.
A commission in New York, which lost one of its 27 seats in reapportionment, has initial authority to redraw lines, though Democratic supermajorities in the state legislature could supersede that map with one of their own. Democrats currently hold 19 seats there.
Just Getting Started
It will be some time before congressional maps are final. Because of the pandemic, state legislatures and redistricting commissions won't receive the granular, block-level redistricting data they need to draw official maps until the late summer — months later than at a comparable point in the 2011 redistricting cycle.
Candidates looking to run for Congress will have to wait to see what the district lines look like. Litigation over maps could also impede the process.
"It's going to be a dramatic fall and winter," Russell said.
To contact the reporter on this story: Greg Giroux in Washington at ggiroux@bgov.com
To contact the editors responsible for this story: Kyle Trygstad at ktrygstad@bgov.com; Bennett Roth at broth@bgov.com