Political Ads Plummet as Campaigns Reassess Message During Virus
Political advertising for the 2020 elections dropped sharply in March amid the coronavirus pandemic, as congressional campaigns searched for the right messages and primaries were delayed.
Total weekly spending in House and Senate races rose through the year until peaking at $21.5 million during the week before the Super Tuesday primaries on March 3, according to the firm Advertising Analytics, which tracks political ad spending. Since then, ad outlays have steeply declined, reaching a low of $5 million in the last week of March.
The virus has "put a check on everything, and political advertising is no different," Ken Goldstein, a University of San Francisco politics professor who's studied political ads for decades, said in a phone interview.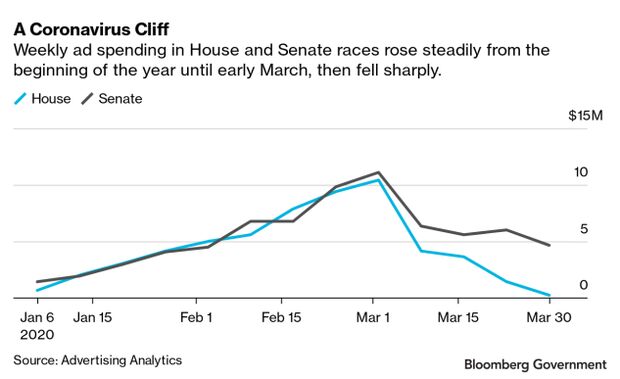 More than 40 states still haven't held congressional primaries yet, and much of the spending in those races, even this far from November, has been aimed at the general election. Super political action committees linked to Republican and Democratic Senate leaders are already gearing up for the fall campaign by reserving nearly $140 million in TV air time in a handful of battleground states. But for now, candidates and their allies appear uncertain what to say, and those that continue to run ads have taken differing tacks.
Ad expenditures in the presidential race, which had already eclipsed $1 billion nine months before the November election, also slowed to a trickle after former Vice President Joe Biden swept most of the March 3 Super Tuesday primaries. His big victories that day, along with in South Carolina on Feb. 29, prompted most other contenders to drop out, including former New York City Mayor Michael Bloomberg, who shelled out just under $580 million for TV and digital ads, according to Advertising Analytics.
Michael Bloomberg is the majority owner of Bloomberg Government's parent company. He endorsed Biden on March 4.
Republican political consultant Fred Davis predicted spending will "return to record levels closer to the actual voting times, but in a highly compressed fashion." Davis, whose firm, Strategic Perception, created ads for presidential candidates including George W. Bush and John McCain, as well as numerous congressional candidates, said in an email that some campaigns are increasing their social media advertising now, "but that doesn't have the same impact as television."
Democratic media consultant Rich Davis said some Senate campaigns and allied groups still are spending on advertising despite all the uncertainty surrounding the coronavirus. He also noted that all types of consumer advertising, such as car dealers, restaurants and others, are pulling back on TV ads, which provides an opportunity for campaign ads to get better rates and reach more people.
"One thing that's clearly up during this crisis is TV viewership, especially local TV news," Davis said. "So, TV stations are experiencing a sudden deficit in consumer ad revenues, yet a simultaneous surplus of viewers. Like so many things about this horrific pandemic, that's something few of us have ever seen before."
McConnell Attacks
Senate Majority Leader Mitch McConnell's (R-Ky.) re-election campaign was among the few addressing the pandemic head on in a TV ad touting McConnell's leadership in passing recent coronavirus relief legislation (Public Law 116-136). The contrast ad accused McConnell's likely Democratic opponent, Amy McGrath, of lying about his efforts to address the pandemic. McConnell "is at the center of the battle to rush aid to Americans," while McGrath "fuels fear," the ad's announcer says. He released a positive ad Wednesday that reinforced the message about the steps he took to secure an economic rescue package.
McGrath, a former Marine Corps fighter pilot who lost a race for Congress in 2018, took a different approach in a new ad, saying she would address the pandemic by "helping families and seniors throughout Kentucky" and that people who need help should contact her campaign.
One of the most vulnerable Republicans, Sen. Susan Collins of Maine, said she would suspend electioneering because of the pandemic. Her re-election campaign has continued to air ads, including a new ad praising health care workers and others as the "real heroes of the coronavirus crisis."
Sara Gideon, the leading Democratic contender to challenge Collins, was spotlighted in an ad focused on her role as the Maine state House speaker. The ad by the pro-Democratic group Majority Forward said Gideon passed "sweeping measures" to deal with health and the economy during the pandemic while "Washington was foot-dragging."
With assistance from Jodie Morris
To contact the reporter on this story: Kenneth P. Doyle in Washington at kdoyle@bgov.com
To contact the editors responsible for this story: Bennett Roth at broth@bgov.com; Kyle Trygstad at ktrygstad@bgov.com