Police Overhaul May Get Boost as Congress Crafts Spending Bills
Bloomberg Government subscribers get the stories like this first. Act now and gain unlimited access to everything you need to know. Learn more.
The push to change policing policies across the country could gain new urgency in Congress as Democrats and Republicans, currently at an impasse, must negotiate legislation to keep the government running after Sept. 30.
The parties have been at odds over how to reduce police violence as widespread protests continue over the death of George Floyd, an unarmed Black man, while in Minneapolis police custody in May. Both parties aim to increase police accountability and training, and want a federal database to track state and local officers' use of force.
They differ over how to address police chokeholds and no-knock warrants in drug cases. Democrats also would end qualified immunity—which prevents people from suing individual police officers accused of violating their constitutional rights—a poison pill for the White House and some Senate Republicans.
"This is a matter of life and death for countless black people in America every day," Barbara Lee (D-Calif.), a member of the House Appropriations Committee and former Congressional Black Caucus chairwoman, said in a statement to Bloomberg Government. "I'm committed to using every tool at our disposal, including the appropriations process, to bring about crucial reform."
The House passed Democrats' George Floyd Justice in Policing Act (H.R. 7120) on June 25, but Senate Majority Leader Mitch McConnell (R-Ky.) called it a "non-starter" in his chamber. Senate Democrats on June 24 blocked from floor consideration a GOP law enforcement measure, the JUSTICE Act (S. 3985), from Sen. Tim Scott (R-S.C.).
BGOV Bill Summary: H.R. 7120, Democrats' Policing Policy Bill
BGOV Bill Summary: S. 3985, Republicans' Policing Policy Bill
Since then, Scott and Rep. Karen Bass (D-Calif.), the chairwoman of the Congressional Black Caucus and sponsor of the House police bill, have had one conversation, but Bass said there have been no negotiations; she wants the Senate to take up her bill.
House Democrats, meanwhile, have packed their annual spending bills with language to put in place portions of their police overhaul legislation. Talks with the Senate could force bipartisan, bicameral negotiations on policing language even if the senators omit such language from their appropriations bills.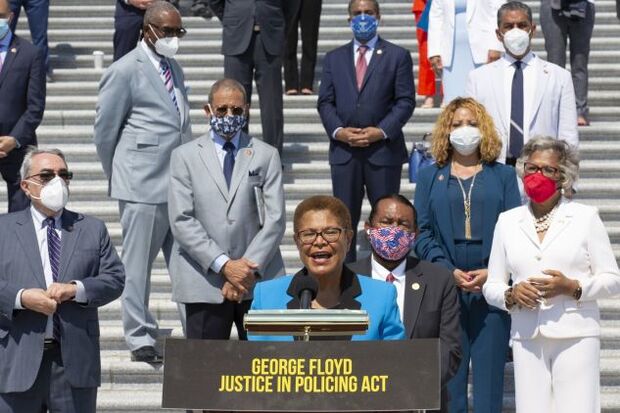 Spending Is the Teeth
Most authority over policing lies with state and local governments, limiting Congress's influence. Lawmakers hope to use federal funding to compel state and local law enforcement agencies to act, although federal grants account for only a portion of police departments' budgets, and not every police department applies for or receives grants. The biggest grant program—Edward Byrne Memorial Justice Assistance Grants—received $547 million in fiscal 2020.
Most of the Democrats' policing provisions appear in the House Commerce-Justice-Science fiscal 2021 spending bill, part of a package (H.R. 7617) slated for a Thursday floor vote. That measure would limit Justice Department grants to police agencies unless they ban chokeholds.
BGOV Bill Summary: H.R. 7617, Fiscal 2021 Defense Funding
"The legislation reinforces the reforms within the George Floyd Justice in Policing Act by funding pattern and practice investigations, enforcement of consent decrees, a police misconduct registry, body-worn cameras and other measures that are designed to address abuse in police departments and promote racial justice," Rep. Debbie Wasserman Schultz (D-Fla.) said during a committee hearing about the CJS bill.
The defense section of the bill would block funds from being used to transfer Defense Department firearms, explosives, and other property to law enforcement agencies, as outlined in the Justice in Policing bill. Lawmakers havecriticized transfers of surplus equipment to state and local law enforcement for deepening the divide between police and communities, and for treating neighborhood streets like war zones.
House Democrats are also using the CJS bill to exert authority over federal law enforcement. The measure would require the Justice Department to establish a training program on use of force, de-escalation, and racial profiling. Committee reports for other funding measures would direct the federal government's various law enforcement agencies to also adopt the training, and to submit information on use-of-force incidents to an FBI database.
"Systemic racism is front and center in America right now. We are in a moment of reckoning. I've always made it my commitment on the Appropriations Committee to consider every piece of legislation through a lens of racial equity and justice, and will continue to do so," Lee said.
Senate Outlook
The Senate has yet to release its appropriations bills.
Senate Appropriations Chairman Richard Shelby (R-Ala.) pulled back on scheduling markups for July because Patrick Leahy (D-Vt.), the ranking member on the committee, wouldn't commit to keeping his members from offering amendments related to racial justice or the coronavirus, a Senate Democratic aide said.
Senate Republicans don't believe Democrats want to have a constructive debate on policing during the appropriations process given the way they blocked the GOP policing bill, a Senate Republican aide said. Republicans are unlikely to address elements of their own law enforcement measure or Democrats' police overhaul efforts in their spending bills, preferring to leave those policy discussions and the politics that come with them outside of the appropriations process, the same aide said.
Another Senate Democratic aide said to watch how the two parties, two chambers, and the White House negotiate a new coronavirus relief bill to measure the chances of the Senate marking up its own appropriations bills this fall and thereby providing an opening for more talks on racial justice matters.
"Since the Senate, unfortunately, has expressed a bewildering unwillingness to even consider the Justice in Policing Act, I hope we can move some of these urgent reforms through the appropriations process," Wasserman Schultz said.
With assistance from Naoreen Chowdhury, Danielle Parnass, Michael Smallberg, and Adam M. Taylor
To contact the reporter on this story: Shaun Courtney in Washington at scourtney@bgov.com
To contact the editors responsible for this story: Sarah Babbage at sbabbage@bgov.com; Robin Meszoly at rmeszoly@bgov.com
Stay informed with more news like this – from the largest team of reporters on Capitol Hill – subscribe to Bloomberg Government today. Learn more.