Cop Disciplinary Records Would be Public Under New York Bill (1)
(Updated throughout after passage of police bodycam bill.)
Bloomberg Government subscribers get the stories like this first. Act now and gain unlimited access to everything you need to know. Learn more.
Police disciplinary records in New York would be made public under a bill the state Legislature passed on Tuesday.
The legislation (S.8496/A.10611) would repeal section 50-a of the state's civil rights law, which provides protections for the personnel records of police officers, firefighters, and correction officers, and has been interpreted to include disciplinary records.
The state Senate passed the measure 40-22, and the Assembly passed it 101-43.
The Legislature also approved a bill (S.8493/A.8674A) that would require State Police to wear body cameras in certain situations. The state Senate pass the measure 61-0, and the Assembly passed it 143-1.
The bills, along with five other criminal justice-related measures the Legislature passed on Monday, now head to the desk of Gov. Andrew Cuomo (D), who has said he would sign them.
"It is a great step forward because people see progress, people see action," Cuomo said of the bill package at his daily briefing on Tuesday. "Government is supposed to do things. It's supposed to make changes. Often government moves too slowly, but not in New York, and we're proud of that."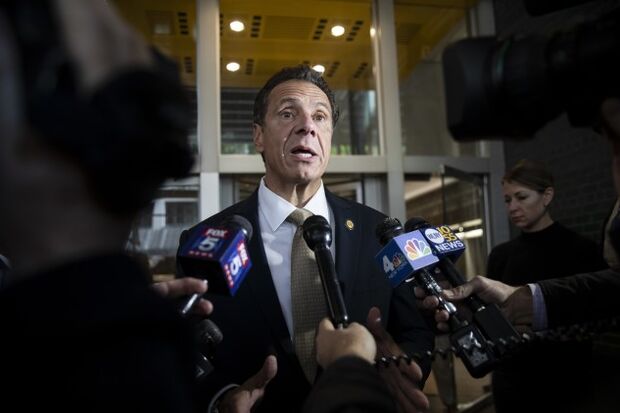 Legislative leaders this week said they also plan to act on a bill that would allow the state Attorney General's office to prosecute any incident involving a person whose death was caused by a police or peace officer.
The state Senate and Assembly are expected to continue voting on bills in the criminal package on Wednesday.
The legislative actions come as protests continue across the United States following the May 25 death of George Floyd, a 46-year-old black man who died while in the custody of Minneapolis police. His death has sparked a larger national debate about race and police violence.
'Pro-People,' not 'Anti-Police'
"This is the moment, we are tired. There has been no consequence for the brutality against our people," Sen. Zellnor Myrie (D) said in voting in favor of the police disciplinary record bill.
The legislation would make public complaints, allegations, charges, and the transcript of any disciplinary trial or hearing. The records would be subject to the state's Freedom of Information Law requests, but still would protect personal information, including home addresses and medical records, which would be redacted.
Myrie and Assemblywoman Diana Richardson (D) were pepper-sprayed by New York City Police last month while protesting at Brooklyn's Barclays Center in their home district.
"To this day I don't know if the officer who sprayed me or my colleague in the Assembly has a history of an excessive use of force. That is what this bill is about, it is about the history," Myrie said. "We have seen the brutality go unanswered. This isn't an attack, this is accountability. This isn't targeting, this is transparency. This isn't anti-police, this is pro-people."
Some lawmakers expressed concern about the potential for unsubstantiated claims being included in the records and then being made available to the public.
"There's a fundamental unfairness here," Assemblyman Michael J. Fitzpatrick (R) said during the floor vote.
"I appreciate what you do," he said, directing his response to members of law enforcement, firefighters, and corrections officers. "Like you, I condemn the bad apples, but what's happening here today to you is wrong." He voted against the bill.
Bodycams, Medical Attention
State Police would be required to wear body cameras while on patrol, in an effort to increase accountability, according to the measure lawmakers passed. The cameras would be required to record situations including all uses of force, arrests, any crime in progress, and searches of people and property.
The bill also would allow the state Attorney General to investigate any instance where body cameras fail to record the events outlined in the legislation.
"As one of the largest state police agencies in the country, the New York State Police should be one of the first agencies to set an example, to show others how to properly use body cams to deliver transparency and accountability to the public," Assemblywoman Latrice Walker (D), the bill's Assembly sponsor said in a news release. "This legislation will help bring to light when excessive force is used, and hopefully ultimately reduce the number of 'use of force' incidents and take a critical first step in repairing the trust between law enforcement and the communities they serve."
Lawmakers recognized that the State Police may need funding to purchase the cameras. The effective date would be April 1, 2021, after the state budget is passed and when the new fiscal year begins.
The Legislature on Tuesday also approved a measure (S.6601B/A.8226) that would require law enforcement and peace officers to attend to the medical and mental health needs of those being arrested or otherwise in custody. The Assembly passed the bill 108-35, and the Senate approved it 57-2.
To contact the reporter on this story: Keshia Clukey in Albany, N.Y. at kclukey@bloomberglaw.com
To contact the editors responsible for this story: Tina May at tmay@bloomberglaw.com; Meghashyam Mali at mmali@bloombergindustry.com
Stay informed with more news like this – from the largest team of reporters on Capitol Hill – subscribe to Bloomberg Government today. Learn more.