Personal Skeletons, Lack of Candor Often Sink Cabinet Nominees
Increased polarization has made Biden's nominations a target
Unpaid taxes, womanizing allegations hurt previous nominees
Bloomberg Government subscribers get the stories like this first. Act now and gain unlimited access to everything you need to know. Learn more.
President-elect Joe Biden's hope for the smooth Senate confirmation of his Cabinet choices depends on the nominees' candor about their personal lives, at least according to recent history.
The path to filling the top ranks of his administration — unlike any of his recent predecessors — could also be complicated by the Senate floor being controlled by the opposing party, depending on what happens in a pair of Georgia runoffs next month. And Republicans have already voiced concerns about some of Biden's selections.
But since George H.W. Bush's 1989 inauguration, it was the unexpected disclosure of politically disqualifying personal skeletons that marred the honeymoon of each new president and torpedoed at least one Cabinet nomination. Confirmation-killing revelations included unpaid taxes, public drunkenness and womanizing, alleged domestic abuse, and employment of undocumented immigrants.
"Presidential appointees — like all of us, I suppose — tend to believe that some things will remain secret, but it's almost never the case," said Paul Light, a New York University political scientist who studies transitions and government service.
Most Cabinet nominees have traditionally won Senate approval. Only three were rejected in Senate votes in the last century and none since former Sen. John Tower's (R-Texas) unsuccessful nomination for Defense secretary. Tower's drinking and womanizing were cited by opponents.
But increased polarization on Capitol Hill has turned nominations into another political battleground. Democrats were often united in their opposition to President Donald Trump's cabinet picks, and among the GOP criticisms of Biden's choices are the social media taunts of Republicans by Neera Tanden, who was nominated to head the Office of Management and Budget.
"There is a kind of retribution factor" over Senate confirmations ever since Senate Democrats blocked the Supreme Court nomination of Robert Bork in 1987, said Kathryn Dunn Tenpas, who studies presidential politics and appointments at the Brookings Institution. "It just seems to be getting uglier and uglier."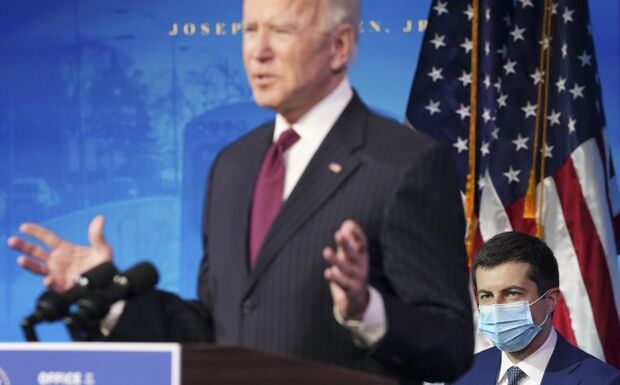 Experts say the president-elect's 36 years as a senator should stand him in good stead for those confirmation fights. But a nominee's failure to disclose unpleasant facts from their personal lives can provide the opposition party the political ammunition to block confirmation.
Vetting teams for incoming presidents "always ask whether there is anything that might create a problem, but it's up to the nominee to come clean," Light said. Most prospective nominees whose backgrounds don't pass muster quietly withdraw before any announcement is ever made. "It's always ugly" when previously undisclosed facts come to light during a nominee's confirmation process, he said.
"Biden does not get a bye on this," Light said. "I expect Republicans to go hammer and tong" to find nominees' vulnerabilities.
Domestic employment of undocumented immigrants or the failure to pay Social Security taxes scuttled Bill Clinton's first two choices for attorney general, Zoe Baird and Kimba Wood, a federal judge in Manhattan.
Trump's nomination of a fast-food executive to be Labor secretary faced widespread criticism from Senate Democrats over his opposition to raising the minimum wage. But Andrew Puzder's admission that he employed an undocumented household worker along with domestic-abuse allegations that surfaced in his divorce case subsequently were what forced his withdrawal from Senate consideration.
'Scare Document'
White House aides haven't been shy about blaming a candidate's failure to come clean for a nomination's failure.
Clinton White House aides were quoted anonymously by the New York Times as saying Wood had failed to mention employing an undocumented immigrant, even after a similar issue had recently derailed Baird's nomination.
Wood said in a statement that she accurately told Clinton aides that she didn't have a "Zoe Baird problem" because she hired the babysitter before it was illegal to employ undocumented immigrants and the woman later became a legal resident.
President George W. Bush's transition team gave prospective nominees a "scare document" warning them that "if you don't tell us everything we will throw you to the wolves without hesitation and without remorse," said political scientist Terry Sullivan, executive director of the White House Transition Project.
That tactic still didn't insulate Bush from confirmation embarrassment when Linda Chavez, his announced choice for Labor secretary, withdrew after it was disclosed an undocumented woman had lived in her home and did occasional domestic chores.
President Barack Obama's first choice to run Health and Human Services, former Senate Majority Leader Tom Daschle (D-S.D.), withdrew after his $140,000 in back taxes came to light.
"Things that the candidate believes are not disqualifying are the things that other people would find disqualifying," Sullivan sad. "Nominees don't get to make the decision for the president what is important and what isn't."
To contact the reporter on this story: James Rowley in Washington at jrowley@bgov.com
To contact the editors responsible for this story: Kyle Trygstad at ktrygstad@bgov.com; Bennett Roth at broth@bgov.com
Stay informed with more news like this – from the largest team of reporters on Capitol Hill – subscribe to Bloomberg Government today. Learn more.