Pentagon Weighs Mandating Troop Vaccines Pending FDA Decisions
Discussions underway as FDA weighs approval of shots
About 69% of personnel have at least one vaccine dose
Pentagon officials are discussing whether to require troops to take Covid-19 vaccines as the Food and Drug Administration moves toward full approval of the shots, top military spokesman John Kirby said Tuesday.
Inoculation remains voluntary for 2.9 million military service members and civilian personnel because Pfizer Inc.-BioNTech SE, Moderna Inc., and Johnson & Johnson vaccines have only been granted federal emergency use authorizations, which allowed a quick rollout to combat the pandemic.
Pentagon officials decided the emergency use doesn't provide the legal authority to mandate vaccinations. That could soon change as vaccine makers have applied for full federal approval, and the military looks to boost its current vaccination rates.
"Should the FDA approve it, then I am certain that Pentagon leadership will take a look at what our options are going forward, including the potential option of making it mandatory," Kirby told reporters at a briefing.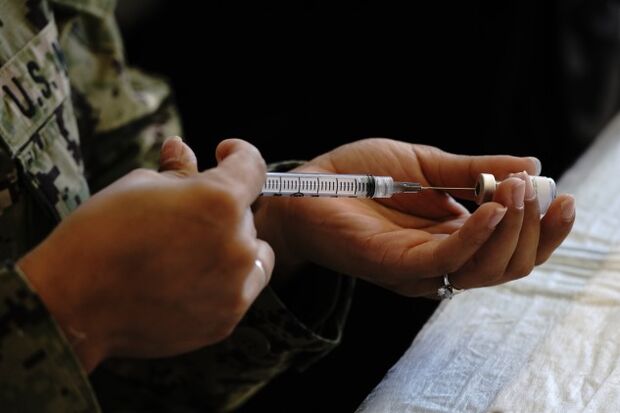 About 69% of Defense Department personnel on Tuesday had received at least one vaccine shot, he said. The first doses of vaccine began reaching troops in December and are now available throughout the department.
Kirby called the inoculation rate "healthy" but said "we've got work to do, clearly."
Pentagon Wary of Forced Shots Even After 161,000 Cases of Covid
The Pentagon and uniformed military leaders have so far relied on public encouragement to get troops and personnel to take the shot. In the meantime, the voluntary vaccinations have met some resistance among the ranks just as they have in the general U.S. population, where safety concerns linger.
"We're a planning organization, I don't think that should surprise anybody that we're trying to think about what the implications would be and how we would react to that," Kirby said about an FDA decision on full approval of vaccines.
To contact the reporter on this story: Travis J. Tritten at ttritten@bgov.com
To contact the editors responsible for this story: Robin Meszoly at rmeszoly@bgov.com; Sarah Babbage at sbabbage@bgov.com