Pentagon Wary of Forcing U.S. Troops to Get Coronavirus Shots
Shots are voluntary because of emergency-use authorization
Biden could compel with waiver, but may prompt legal challenge
Bloomberg Government subscribers get the stories like this first. Act now and gain unlimited access to everything you need to know. Learn more.
President Joe Biden and Pentagon leaders are reluctant to compel U.S. troops to receive coronavirus vaccines, even as about one-third of service members have declined shots so far.
Keeping the inoculation voluntary is puzzling some medical experts and lawmakers becausethe military deploys and trains in close quarters and is assisting with the pandemic response. At the same time, others warn that mandating vaccines could backfire with the public.
The president, with the counsel and backing of the defense secretary, could require the vaccines by issuing waivers in the interest of national security. The U.S. military so far has had more than 161,000 Covid-19 infections, with 24 deaths. Last month, three sailors on USS Theodore Roosevelt aircraft carrier tested positive for the virus, almost a year after more than 1,200 sailors on the same ship also tested positive.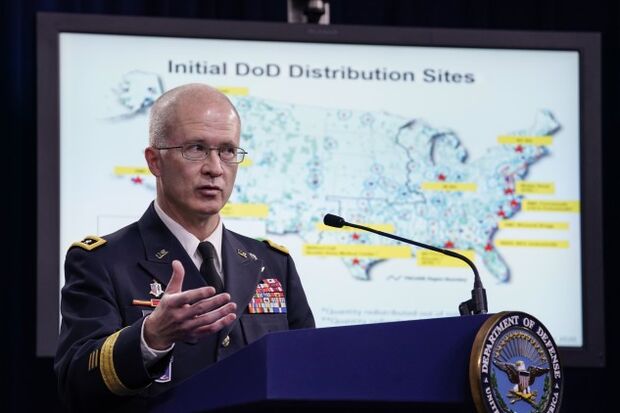 "It is the wrong choice not to mandate now," said Arthur Caplan, a professor of bioethics at the New York University Grossman School of Medicine.
"The military has long taken the view that vaccines are good, they help to make sure that the military's missions are fulfilled," Caplan said in a telephone interview. "They can still mandate right now. Given the refusal rates that they report, I would argue they should."
Biden, before the inauguration, said that he wouldn't make vaccines mandatory for the U.S. population. "I'll do everything in my power as president of the United States to encourage people to do the right thing," he said. Pentagon officials have signaled to Congress they have yet to consider mandating the vaccine.
"Part of our obligation here, and the secretary spoke to this, is to provide enough information" so that service members can make the most informed decision, Pentagon spokesman John Kirby said at a press conference Monday. "We are not in a mandatory place right now, the secretary understands that, and because it is voluntary we want to make sure that people have the right context."
Must-Have Shots
The Pentagon would have some high-level congressional backup if leaders decide on a mandate. Adam Smith (D-Wash.),chair of the House Armed Services Committee, would support a waiver to mandate the Covid-19 vaccine, committee spokeswoman Monica Matoush told Bloomberg Government.
Requiring vaccinations isn't new for the Department of Defense. Active-duty and selected reserve personnel must receive the seasonal influenza immunization each year, as well as at least a dozen other inoculations such as against measles and tetanus.
One-Third of U.S. Troops Decline Covid-19 Vaccine, Pentagon Says
Troops were also required to receive the anthrax and smallpox jabs amid prevailing fears of biological warfare. The anthrax vaccine was initially given to military members "off label," without full Food and Drug Administration approval, to protect against inhalation anthrax. Some military service members who faced adverse reactions from the vaccine then sued, claiming the anthrax shot couldn't be mandated. The FDA later said using the drug to prevent inhalation anthrax wasn't inconsistent with the drug's license. The military still requires it for some service members.
Caplan, the NYU professor, said the anthrax vaccine situation is "very, very different" from the coronavirus shot. The Covid vaccines have been "built on a lot more research, efficacy, and understanding than we had for anthrax," he said.
Emergency Use
The FDA approved the Pfizer Inc., Moderna Inc., and Johnson & Johnson Covid-19 vaccines for emergency use, and it could take at least two years for the vaccines to be fully authorized.
"Unless waived by the President of the United States, COVID-19 vaccine(s) under emergency-use authorization or expanded-access status are not a mandatory medical readiness requirement," according to the U.S. Army's Public Health Center.
J&J Covid Vaccine Could Protect Millions — If They Take It
Pentagon officials have told lawmakers that the department has never had to mandate an emergency use shot before.
"They cannot mandate, without informed consent, an emergency FDA vaccine, which is the current status," Jack Reed (D-R.I.), the chairman of the Senate Armed Services Committee, said during a coronavirus response hearing. "Once it becomes fully approved by FDA, then the Department of Defense can mandate."
Gen. Gus Perna, the chief operating officer for the federal Covid-19 response for vaccines and therapeutics, said the Pentagon's own research backs up that scenario.
Waivers in Statute
Informed consent is designed to ensure that individuals are informed of an option to accept or refuse administration of a product. The president can waive such informed consent if he determines that complying with such a requirement isn't in the interests of national security.
If the vaccine is mandated, and "if a service member refuses to follow a commander's order to accept the vaccine in this circumstance, commanders may issue clear, specific, and narrowly drawn orders for service members under their respective command to receive the vaccine," wrote Army Judge Advocate Major Whitney Wiles in a blog post for Duke University.
Vaccine Doubts Threaten U.S. Rollout in Marginalized Communities
Soldiers who willfully disobey such orders risk punishment. "Ensuing litigation would be somewhat analogous to cases involving mandatory anthrax vaccinations," she wrote. "Spoiler alert: orders to receive the COVID vaccine would very likely be upheld as lawful."
Any decision on requiring the coronavirus vaccines will be made in consultation with Defense Secretary Lloyd Austin, White House spokeswoman Jen Psaki said last week.
Push for Mandate
Some outside experts have pressed the White House and Pentagon to mandate the vaccine.
The refusal rate so far among military members "boggles the mind, given the role members the armed forces have in keeping the United States safe, not just from the threat of the pandemic but from most threats to our safety and security," wrote Captain Michael Sinclair, a federal executive fellow at the Brookings Institution think tank.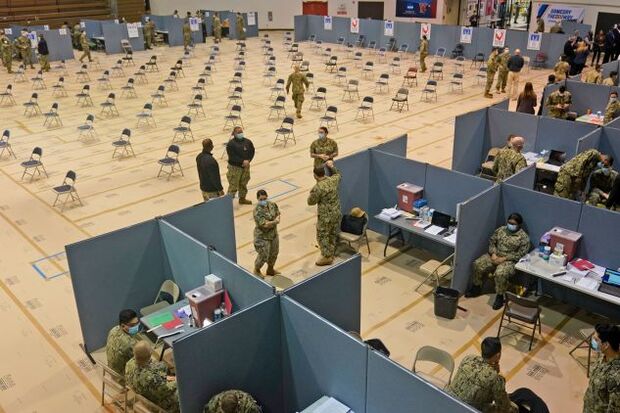 "Our soldiers, sailors, marines, airmen, coast guardsmen and guardians can't keep America safe if they are sick," he wrote in a blog post, arguing that compelling the vaccine should be on the table if efforts and incentives to receive the vaccine don't drive up acceptance rates.
NYU's Caplan added that the military population is already used to restrictions on personal liberty and choice, from wake-up time to haircut regulations and medical examinations. "The military is just a community where group and community best interest dominate individual choice," he said, suggesting that the vaccine be mandatory.
Misinformation
Laura Ochoa, a spokeswoman for the Pentagon's Covid-19 Task Force, said once the Covid-19 vaccine is formally licensed by the FDA, the military may require it for "military personnel or personnel in specific fields, as is the case for the influenza vaccine."
"The Secretary is focused right now on making sure the entire workforce has at their disposal all the information they need to make informed decisions about taking the vaccine," Kirby said in an e-mail.
The Defense Department has been relying on a public awareness campaign to encourage vaccination.
"There is a lot of misinformation out there about the vaccine," said Robert Salesses, who's performing the duties of assistant secretary of defense for homeland defense and global security. "The vaccine is safe. We need to ensure that we have the right level of education and awareness."
Can I Be Required to Get Vaccinated Against Covid-19?: QuickTake
Within the Defense Department, commanders have started providing vaccine education forums and town halls for reluctant units, Salesses told the Senate Armed Services Committee.
Defense chief Austin, who received the shot himself, said, "I believed it was the right thing to do." He urged troops last week to accept the shots when they are offered because they have been determined to be safe and effective.
Setting an Example
The military's voluntary approach could make sense, Matthew Motta, an assistant professor of political science at Oklahoma State University, said.
Members of the military, once they choose to vaccinate, could serve as an example for the public by promoting the Covid-19 vaccine's benefits on social media and other venues, he said.
"The public, especially ideological conservatives, tend to be very receptive to messages that come from military service members," said Motta, whose research focuses on politics, public opinion and science communication.
Some Nursing Home Staff Shunning Vaccine as Many Get 2nd Dose
He also pointed to research that indicated service members skew more conservative, a potential reason for hesitating to receive the vaccine—though he said vaccine skepticism in the military is also in line with the views of most Americans, with about 70% choosing to vaccinate.
"If we make the vaccine mandatory for the military to say that, you know, military service members are getting a shot when they're required to do so could potentially rub some members of the public the wrong way," Motta said.
To contact the reporter on this story: Roxana Tiron in Washington at rtiron@bgov.com
To contact the editors responsible for this story: Anna Yukhananov at ayukhananov@bloombergindustry.com; Robin Meszoly at rmeszoly@bgov.com
Stay informed with more news like this – from the largest team of reporters on Capitol Hill – subscribe to Bloomberg Government today. Learn more.