Pentagon Tops $2 Trillion in Costs to Field Major Arms Programs
Increased expense driven by higher quantities, timing changes
Report about four months late due to late Army submission
The total projected costs to field major U.S. military weapons systems topped $2 trillion in 2018, as the Pentagon planned to boost key missile and aircraft programs, according to the Defense Department's latest annual assessment.
The new estimate puts the costs, including money already spent, in the pipeline and expected to be spent in the future, almost equal to 10% of the U.S.'s $21.3 trillion annual gross domestic product. The report looked at 87 of the Pentagon's top weapons programs, up four from the previous year.
Quantity, scope changes and revised estimates account for most of the increases to $2.01 trillion in 2018 from $1.9 trillion in 2017, according to the summary of Selected Acquisition Reports released today.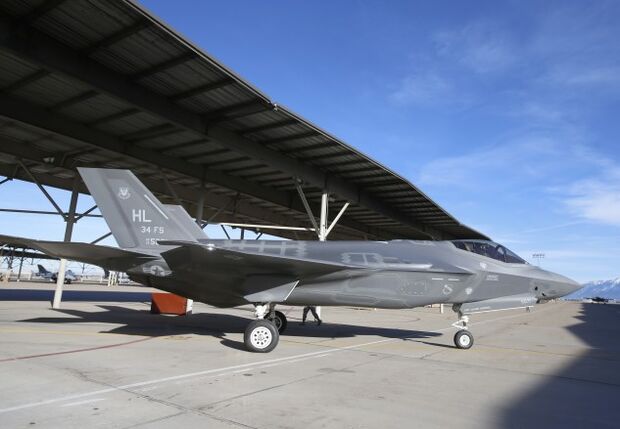 That also explains why Lockheed Martin Corp.'s F-35 jet, the world's costliest weapons program, has become even more expensive.
The estimated total price for F-35 research and procurement has risen by $22 billion, according to the report, and the estimate for operating and supporting the fleet of fighters over more than six decades grew by almost $73 billion to $1.196 trillion. The increase reflects for the first time the current cost estimates for a major set of upgrades planned in forthcoming "Block 4" modifications, according to the report. Bloomberg News first reported the projected cost increase in April.
Dollars Approved
The Pentagon's summary charts indicated that of the $362.4 billion estimated for F-35 aircraft purchases from Lockheed Martin, about $125 billion has been approved by Congress, $11.3 billion is planned for next year, with $226 billion to be spent thereafter.
Of Pentagon plans to spend $66 billion to buy Pratt and Whitney F-35 engines, $26 billion has been approved by Congress so far, with $1.7 billion pending for next year and $38 billion remaining.
Congress is in the process of writing the annual Pentagon spending and authorization measures for the fiscal year starting Oct. 1. Congress received the last of the Selected Acquisition Report and summary documents last week, said Pentagon spokesman Lt. Col. Mike Andrews. The Army was tardy in its submission, he said.
More Missiles
Missile programs accounted for some of the largest increases, particularly because of the boost in quantities that the military services plan on buying. Lockheed Martin's Joint Air-to-Surface Standoff Missile program costs increased by 113.4%, or $5.3 billion, according to report data. That boost is primarily because the Air Force now plans to buy 7,200 missiles—an increase of 4,335.
Costs for the Army's advanced Patriot missile program increased by 73.1%, or $6.6 billion, because of plans to buy 3,100 missiles, which are also made by Lockheed.
The costs of the Navy's Standard Missile program, under contract with Raytheon Co., increased $2.7 billion, or 31.5%, to $11.5 billion, because of plans to buy 2,331 missiles, a boost of 531 from previously planned numbers.
Raytheon also saw a 93.2% boost in the AIM-9X Block II Sidewinder program costs. Those costs increased $3.6 billion to $7 billion, due primarily to an increase of 2,678 missiles for the Navy and 2,957 missiles for the Air Force.
Changes in Plans
Not all of the higher projected costs were the result of larger quantities. Boeing Co.'s CH-47 F Block II Chinook program costs grew by almost 20% because of the Army's plans to slow down production and shift funds to different priorities.
The Army had scrapped the funding in its fiscal 2020 budget request as part of a plan to save $962 million through 2024 by cutting 28 of 68 previously planned Chinook heavy-lift helicopters. The Chinook proposal is the most controversial part of the Army's plan to shift as much as $31 billion through 2024—which would be saved from trimming 186 existing programs and lowering troop levels—into new projects intended to position the service for a potential conventional conflict with Russia or China.
Tardy Submission
The Selected Acquisition Reports and the summary document are annual documents analysts, defense company investors, public interest groups and citizens rely on to track major weapons expenditures. This year, their release is about four months late, because the Pentagon was waiting for the Army's documents, which require certification from the Army chief of staff and secretary, according to Andrews.
"While there is no requirement for public release of the SARs,'' Pentagon's chief weapons buyer Ellen Lord "has committed to being as transparent as possible while still following all operational security and classification guidelines,'' Andrews said.
To contact the reporters on this story: Roxana Tiron in Washington at rtiron@bgov.com; Tony Capaccio (Bloomberg News) in Washington at acapaccio@bloomberg.net
To contact the editors responsible for this story: Paul Hendrie at phendrie@bgov.com; Jonathan Nicholson at jnicholson@bgov.com; Robin Meszoly at rmeszoly@bgov.com