Pentagon Told to Review, Fix F-35 Pilot Breathing Issues (1)
F-35 breathing provisions added to must-pass defense bill
Department says 55 oxygen episodes reported as of July 1
(Updates July 28 story starting in sixth paragraph with data and comments from the Defense Department.)
A House panel concerned about persistent problems with the on-board breathing system for F-35 Joint Strike Fighter pilots is directing the Pentagon to investigate and correct the issues.
The House Armed Services Tactical Air and Land Forces Subcommittee wants the Pentagon, with help from NASA, to start testing and evaluating the breathing system in the Lockheed Martin Corp. aircraft in operational scenarios. The proposed provision is included in the subcommitee's portion of the fiscal 2022 defense authorization measure.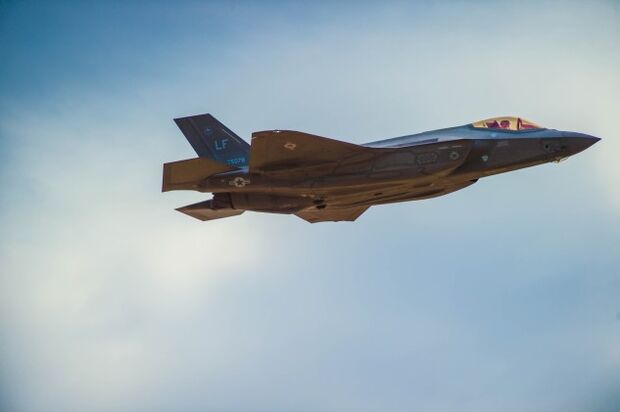 The requirement was prompted by a NASA study published earlier this year that had some concerning findings, according to a committee aide who asked not to be named. While the NASA study examined why F-18 and F-15 fighter jet pilots encountered physiological episodes, the team also analyzed a limited number of F-35 breathing issues and interviewed the pilots who experienced physiological episodes in the U.S. military's newest fighter aircraft.
Instead of the pilots adapting to the fighter aircraft, the Defense Department needs to ensure the planes comply with the military's specifications required for the breathing systems, the aide said, so that pilots shouldn't have to think about breathing on the plane.
Issue Has Grounded Planes
Pilots who fly high-performance jet aircraft use oxygen masks and other equipment to help them breathe when flying and maneuvering at high altitudes. Oxygen deprivation can lead to hypoxia, a deficiency in the amount of oxygen reaching the body's tissues.
The Air Force grounded F-35 Joint Strike Fighters at Arizona's Luke Air Force Base in June 2017 due to oxygen problems. There were 55 in-flight and on-ground physiological events related to the F-35 as of July 1, said Laura Seal, an F-35 office spokesperson. Internal program office figures had showed 47 incidents as of June 2020.
Seal said the in-flight and on-ground events "do not currently represent an unresolved top technical issue as the current system design accounts for all deficiencies directly identified as a root cause."
The F-35 program office doesn't concur with NASA's specific findings, Seal said, although she added the Pentagon's plan of action is "in line" with NASA's overall recommendation to further investigate the performance of the F-35 system.
Must-Pass Bill
Congressional defense committees that have been paying attention to the oxygen loss problem are using the annual must-pass policy legislation to force action.
The F-35 versions must be "operationally representative and realistic aircraft configurations," the panel wrote in its portion of the defense policy bill.
The measure also would require that testing and evaluation take place under a wide range of scenarios, including variable weather conditions, low-altitude flight, high-altitude flight, during weapons usage, at critical phases of flight such as take-off and landing, and in other challenging environments.
To contact the reporters on this story: Roxana Tiron in Washington at rtiron@bgov.com; Tony Capaccio in Washington at acapaccio@bloomberg.net
To contact the editors responsible for this story: Loren Duggan at lduggan@bgov.com; Sarah Babbage at sbabbage@bgov.com