Pentagon to Recompete $1.5B Support Services Contract: Top 20
Bloomberg Government subscribers get the stories like this first. Act now and gain unlimited access to everything you need to grow your opportunities. Learn more.
The Defense Department will be releasing a final solicitation to recompete its Analytic & Technical Support Services contract on June 8, according to a synopsis released April 22. The work will involve professional, scientific, and technical services administrative management as well as general management consulting services for a variety of offices within the department. The Pentagon estimates the contract's ceiling value at about $1.5 billion.
Analytic & Technical Support Services II (ATSS II) is the subject of this week's Bloomberg Government Top 20 Opportunities.
The new contract will be for administrative, analytic and technical services in support of the Undersecretary of Defense for Acquisition and Sustainment, the Undersecretary of Defense for Research and Engineering, and possibly other "Fourth Estate" agencies, such as the Defense Logistics Agency.
ATSS II will be a multiple-award indefinite-delivery/indefinite-quantity vehicle with one set-aside pool for small businesses and one unrestricted pool for both small and large businesses. An estimated 20% of the task orders will be set aside for small businesses and two or more small-business awards are planned. The remaining task orders will be competed in an unrestricted pool and two or more awards are expected on that contract. The period of performance will be five years and the maximum order will be $250 million.
Most of the work will take place in the National Capitol Region and contractors will be required to have an active DOD facility security clearance at the secret level. A draft solicitation is planned for May 4, with the final RFP coming June 8. Awards are expected around Aug. 31.
Incumbent Spending
BGOV has identified eight incumbent contracts that all end this June, with a combined total ceiling value of $650 million. Collectively, contractors have received a total of about $198 million in obligations since 2015.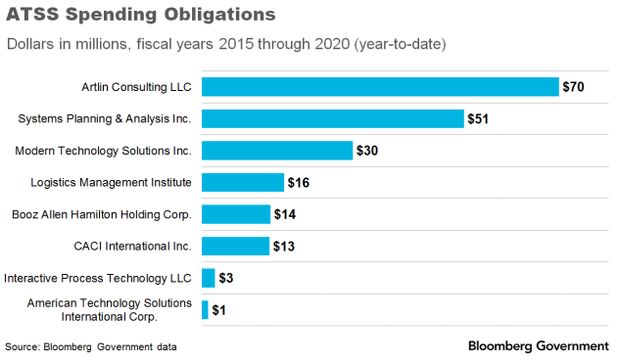 The primary funding agencies include the Office of the Secretary ($105 million), and Washington Headquarters Services ($89 million).
Small-business spending accounts for $74 million of the $198 million. Nearly all small-business spending was obligated to Artlin.
What's Ahead
The government intends to make a relatively quick decision on awards, based on estimates provided in the April announcement. The rapid turnaround may indicate that incumbents could have an advantage for continuing to deliver support services to the Office of the Secretary of Defense on ATSS II.
The total ceiling value on the incumbent contract — $650 million — compared with the follow-on ceiling of $1.5 billion suggests that the agency is expecting to ramp up acquisitions.
Using BGOV
Clients can use Bloomberg Government to research activity that's likely to be performed on ATSS II. Click here to review 10 orders totaling $113 million in spending obligations that are set to expire after Aug. 1, which is approximately the time the Pentagon expects the follow-on contract to be awarded. Among the orders are:
Artlin Consulting has received $17 million in spending obligations on $62 million total value since it was awarded in September 2018. The order provides joint acquisition, data, engineering support, and will expire in March 2023.
Booz Allen has generated $10.2 million in spending obligations on a $82 million total value order since it was awarded in February 2029. The order delivers technical support for cyber studies and is set to expire in February 2024.
Modern Technology Solutions Inc. has received $23 million in spending obligations of a $30 million order since January 2016. The order provides support services to the strategic capabilities office and is set to expire in February 2021.
To contact the analyst on this story: Robert Levinson in Washington, D.C. at rlevinson@bgov.com
Stay informed with more news like this – the intel you need to win new federal business – subscribe to Bloomberg Government today. Learn more.