Pentagon Stalls $900 Million in Malpractice Claims Despite Law
Army reports 85 claims worth $845 million
Lawmakers lash out at delays in settlements
Bloomberg Government subscribers get the stories like this first. Act now and gain unlimited access to everything you need to know. Learn more.
Roughly $900 million worth of medical malpractice claims are languishing at the Pentagon, more than a year after Congress eased the seven-decade ban on troops or their families seeking compensation for injury or death at the hand of military hospitals.
Lawmakers say they're angry over the Pentagon's delays in carrying out a policy for making payments, which may be further stalled by the change of administrations. Victims are talking about asking the courts to force the Pentagon's hand.
"This is an example of bureaucracy at its worst," Rep. Markwayne Mullin (R-Okla.), one of the initial sponsors of the legislation, said in a statement. "Congress took this historic step and it is unacceptable that bureaucrats are delaying implementation while service members and their families continue to suffer."
Troops have been barred from suing the military in federal civilian court for malpractice under what is called the Feres Doctrine, a Supreme Court legal precedent set in 1950. The 2019 law, passed as part of the fiscal 2020 defense authorization bill (Public Law 116-92), still doesn't allow them to sue.
But Congress, over the Pentagon's objections, did set up a system of compensation with the military that requires filing an administrative claim with the service branches. The Pentagon maintained the military's generous system of benefits was adequate.
Lawmakers were inspired by cases such as Richard Stayskal, an Army Green Beret soldier who had his lung cancer repeatedly misdiagnosed, and Rebekah Daniel, a Navy lieutenant who bled to death during childbirth in 2014 at a base in Washington state.
"It is certainly a little insulting that it is taking so long," Stayskal said in an interview. "I am trying to make sure my family is taken care of and everything is set in the right place and the kids get a chance to get a car when they are older or whatever they are going to do."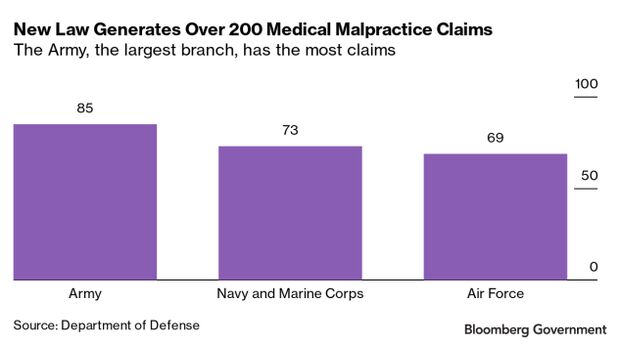 227 Claims
The Army, Air Force, Navy and Marine Corps said they received a total of 227 malpractice claims from troops or their surviving family members for hundreds of millions of dollars. The new law allowed claims to be filed throughout 2020 for incidents within the previous three years. All claims now must be filed within two years.
The Army's 85 claims allege damages worth $845 million, according to a service spokesman. The Air Force reported 69 claims and the Navy and Marine Corps had a combined total of 73.
The claims against those services could push the total to roughly $1 billion, if the Army's figures are an indication.
The law says the department will pay compensation up to $100,000 per case and refer higher amounts to the U.S. Treasury for payment. The cost of the legislation was estimated at $660 million over a decade by the Congressional Budget Office.
Many of the details were left up to the defense secretary.
The department is supposed to issue a federal interim final rule in the Federal Register laying out how it would handle claims. Lawmakers expected that would speed up the process because the interim rule that is effective immediately upon publication and doesn't require lengthy public feedback and waiting periods.
The Pentagon told Congress in June that the policy would be published no later than September. Still, no rule has been published, and no malpractice claims can be considered or resolved until it is.
'More Than Outraged'
The Pentagon has worked diligently on the policy and briefed Congress several times on progress, according to spokesman Lisa Lawrence.
The House Armed Services Committee has been pressing the Pentagon for months and Rep. Jackie Speier(D-Calif.), chair of the personnel subcommittee, sent a letter urging updates on progress, her aides said.
"I'm more than outraged," Speier said in a statement. "The rule must be issued immediately and those responsible for this shameful delay must be held accountable."
The draft rule is now parked at the office of the Defense Department general counsel and was under review by Paul Ney, who was the general counsel until leaving this month as President Joe Biden was inaugurated.
Now, Biden's White House Office of Management and Budget as well as newly confirmed Defense Secretary Lloyd Austin may want to pause the process for a review and possible revisions to the compensation policy, congressional aides said.
"Given the importance of the administrative claim process to service members and their families, it is essential we get this right," Lawrence wrote in an email.
Seeking Closure
One of the claims is Stayskal's. He filed in January 2020, after testifying to Congress about the string of medical failures at Fort Bragg that missed his cancer until it was terminal.
He and other troops who suffered malpractice may not live long enough to see the Pentagon set up its payment process, the Green Beret's attorney Alan Ripka, of Khawam Ripka LLP, wrote in a letter to the Defense Department general counsel last month.
Ripka this month—in a second letter seeking to nudge the Pentagon— warned that he may ask the courts to intervene. District courts can compel a government agency to perform a duty owed to the plaintiffs.
"They are not able to prepare for their families, they are not able to see this law be exercised, adjudicated," said Natalie Khawam, Ripka's law partner who founded the Whistleblower Law Firm in Florida that has represented Stayskal. "This really is unfair because they don't have the closure that they are entitled to, that the law provides."
To contact the reporter on this story: Travis J. Tritten at ttritten@bgov.com
To contact the editor responsible for this story: Paul Hendrie at phendrie@bgov.com
Stay informed with more news like this – from the largest team of reporters on Capitol Hill – subscribe to Bloomberg Government today. Learn more.