Pentagon Seeks $10.3 Billion to Buy the Stealthy B-21 Raider
The Pentagon is planning to spend almost $10.3 billion over four years to buy Northrop Grumman Corp.'s new stealth bomber, the B-21 Raider, according to budget projections for fiscal 2021 to 2025.
The Air Force would start procurement of the new bomber in 2022 with a projected request of $193 million, according to Air Force budget projections obtained by Bloomberg News. The procurement projections would significantly increase over the following three years: $2.3 billion in fiscal 2023, $3.4 billion in fiscal 2024, and $4.3 billion in fiscal 2025, amounting to a total of $10.28 billion over the planning period.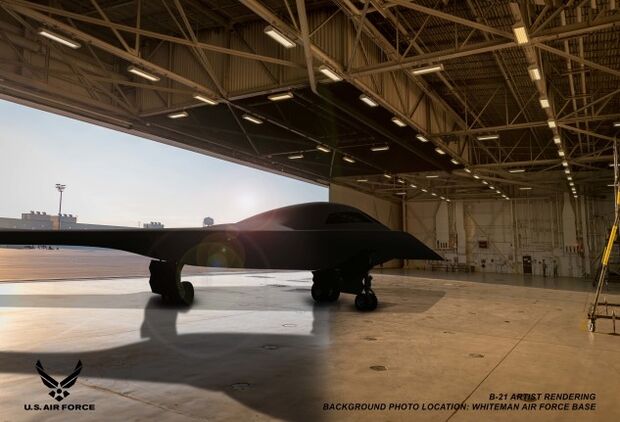 The new projections differ slightly from Pentagon plans last year that showed $202 million in 2022 before surging to $2.4 billion in 2023 and then $3.3
billion in 2024. The new projections also include another fiscal year, 2025. The Air Force last year said it planned to buy a minimum of 100 Northrop long-range bombers expected to be operational in "the mid-2020s." Within two years of becoming operational, the Raider is also expected to become capable of carrying nuclear weapons.
The Air Force has almost $3 billion in research and development funds for the classified program this year and is requesting another $2.8 billion for the same account in fiscal 2021.
Last March, the Air Force secretary announced the preferred bases for the B-21, including Ellsworth in South Dakota, Whiteman in Missouri, and Dyess in Texas. The final decision on bases will be made this year.
The Air Force is requesting $824 million in fiscal 2021 for the new Air Force One plane that flies the U.S. president. The service plans to invest $2.43 billion through fiscal 2025 in the program which is under contract with Boeing Co., according to the planning documents. The Air Force last year said negotiating strategies with Boeing to provide two new VC-25B "Air Force One" jets delivered $1.4 billion in savings. Boeing is expected to modify two 747-8 commercial aircraft which are expected to be delivered in 2024.
The Air Force plans to spend $8.7 billion buying 76 Boeing F-15 EX fighter aircraft, ramping to 14 in fiscal 2023 and 19 each in 2024 and 2025.
To contact the reporters on this story: Roxana Tiron in Washington at rtiron@bgov.com; Tony Capaccio (Bloomberg News) in Washington at acapaccio@bloomberg.net
To contact the editors responsible for this story: Paul Hendrie at phendrie@bgov.com; Robin Meszoly at rmeszoly@bgov.com