Pennsylvania Senate, Cawthorn Top Primaries to Watch Tuesday (1)
Credible incumbent challenges also waged in Oregon, Idaho
AIPAC, crypto executives spent big through super PACs
(Adds Fetterman statement on stroke in Pennsylvania section)
One of the busiest voting days of the 2022 elections comes Tuesday, with primaries in Idaho, Kentucky, North Carolina, Oregon, and Pennsylvania.
Donald Trump's clout with Republican voters will be tested in North Carolina and Pennsylvania, where the former president endorsed Senate candidates in politically competitive states that will help determine which party wins a majority in the 50-50 chamber on Nov. 8. The big-spending GOP primary in Pennsylvania has drawn particular attention, led by Mehmet Oz, a television personality and physician backed by Trump, and former Bridgewater Associates CEO David McCormick.
A few House incumbents facing credible re-election challenges from within their party are also worth watching. That includes a Republican primary in western North Carolina, where first-term Rep. Madison Cawthorn is trying to stave off opponents following a spate of unfavorable publicity about his personal behavior. Rep. Kurt Schrader (D-Ore.) faces a more liberal primary challenger, and Rep. Mike Simpson (R-Idaho) is fending off a challenge from his right.
Some House primaries featured big independent spending efforts by super PACs funded by the American Israel Public Affairs Committee (AIPAC), the influential pro-Israel lobby in Washington, and cryptocurrency exchange executives including billionaire FTX CEO Sam Bankman-Fried.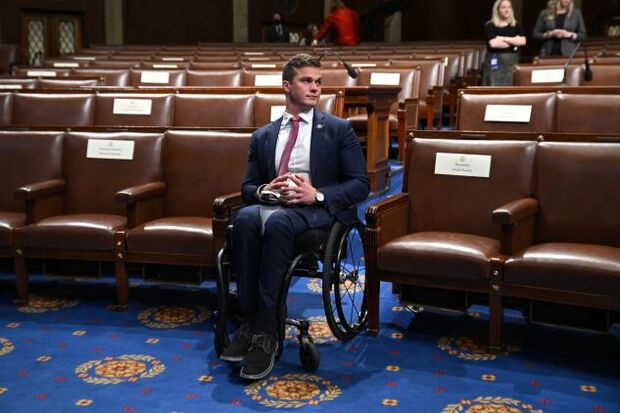 Here's a look at races to watch. President Joe Biden and Trump's 2020 election vote percentages in the states and districts are noted parenthetically.
Idaho
Senate (Trump won Idaho 64%-33%): Sen. Mike Crapo, the top Republican on the tax-writing Finance Committee, is favored to defeat four primary challengers and then win a fifth term in November in one of the nation's most Republican states.
2nd District (Trump 60%-37%): Simpson, the top Republican on the House Appropriations Energy and Water Development Subcommittee, is facing conservative lawyer Bryan Smith in a rematch of a 2014 primary.
Simpson's ads attacked Smith, who partially self-financed his campaign, as a "personal injury lawyer" and "debt collector." Simpson's backers included Building America's Economy, which is funded by the American Business Immigration Coalition, and American Dream Federal Action, a super PAC funded by $4 million from cryptocurrency exchange executive Ryan Salame. ADFA's ads defended Simpson's record on abortion, guns, and agriculture.
An anti-Simpson effort came from America Proud PAC, which called Simpson a "career politician" who was critical of Trump during the 2016 presidential election and voted for a bipartisan commission to investigate the Jan. 6, 2021 attack at the Capitol. The PAC is funded by $500,000 from Boise real estate developer Joe Russell, a Smith donor.
Kentucky
Senate (Trump won Kentucky 62%-36%): The primaries probably will set a November matchup between Sen. Rand Paul (R), a Trump opponent-turned-supporter who's favored to win a third term, and former state Rep. Charles Booker (D), who ran for the state's other Senate seat in 2020 and almost won the Democratic primary over Amy McGrath, the party establishment's favored candidate.
Democrats haven't won a Senate election in Kentucky since Wendell Ford won his final term in 1992.
3rd District (Biden 60%-38%): State Sen. Morgan McGarvey and state Rep. Attica Scott are seeking the Democratic nomination to succeed retiring eight-term Rep. John Yarmuth, the Budget Committee chair who's the only Democrat in Kentucky's congressional delegation.
McGarvey is far better-funded than Scott, with backers including Yarmuth, House Majority Leader Steny Hoyer (D-Md.), and labor unions. McGarvey also benefited from a nearly $1 million independent expenditure campaign by Protect Our Future PAC, a super PAC that received at least $13 million from crypto CEO Bankman-Fried.
Scott launched a challenge to Yarmuth before the incumbent announced his retirement. Scott, who's Black, received a donation from a PAC promoting more Black women in elected office. The Louisville-based 3rd favors Democrats.
North Carolina
Senate (Trump won North Carolina 50%-49%): Trump-backed Rep. Ted Budd (R) has led former Gov. Pat McCrory and former Rep. Mark Walker in Republican primary polling.
Budd is a member of the House Freedom Caucus, a bloc of hard-line conservatives who sometimes are at loggerheads with Republican leaders and vote against bipartisan spending agreements.
The likely Democratic nominee is Cheri Beasley, a former state Supreme Court chief justice who would be North Carolina's first Black senator.
1st District (Biden 53%-46%): Four Democrats and eight Republicans are seeking to succeed retiring Rep. G.K. Butterfield (D) in a swath of northeastern North Carolina that's more than 40% Black.
The leading Democrats are former state Sen. Erica Smith, whose donors include progressive groups, and state Sen. Don Davis, an Air Force veteran who has Butterfield's backing and a more moderate image. United Democracy Project, a super PAC funded by AIPAC, spent more than $2 million to aid Davis.
The top Republican candidates are Sandy Roberson, who's the mayor of Rocky Mount, and Sandy Smith, who was the 2020 nominee against Butterfield.
Congressional Leadership Fund, the top super PAC working to elect a House Republican majority, intervened late in the primary to oppose Smith, a sign House Republican leaders see her as a weaker general-election candidate than Roberson in a district they're hoping to wrest from Democratic control.
Under North Carolina law, if no candidate wins at least 30% of the vote in a primary, the top two finishers will compete in a runoff election in July.
4th District (Biden 67%-32%): The Democratic primary is the key race in a metropolitan Durham-Chapel Hill district where Rep. David Price (D) isn't seeking re-election after more than three decades of House service.
The top three candidates are state Sen. Valerie Foushee, Durham County Commissioner Nida Allam, and singer-activist Clay Aiken.
Foushee's backers include AIPAC and other pro-Israel groups; Higher Heights for America PAC, which works to elect more Black women to political office; and the Protect Our Future PAC, bankrolled by Bankman-Fried.
Allam is the first Muslim woman ever elected to public office in North Carolina, according to her campaign. Her donors include the Medicare for All PAC of Rep. Pramila Jayapal (D-Wash.), who leads the Congressional Progressive Caucus.
Aiken ran for the House in 2014 and lost to Renee Ellmers (R), who's seeking a comeback in the 13th District.
6th District (Biden 55%-43%): First-term Rep. Kathy Manning (D) will face the winner of a seven-candidate Republican primary in which the best-funded hopeful is Christian Castelli, a businessman and Army veteran.
11th District (Trump 54%-44%): Cawthorn has seven primary opponents in a race that will gauge how much Republican voters in North Carolina's westernmost district care about Cawthorn's turbulent personal behavior, ethical conduct, and antagonism of North Carolina Republican politicians, including Sen. Thom Tillis.
The 26-year-old Cawthorn, who's the youngest member of the Congress, was charged in March with driving with a revoked license after being issued speeding citations. He also had a gun confiscated at an airport security checkpoint and was rebuked by House Minority Leader Kevin McCarthy(R-Calif.) for his accusations about being invited by Washington politicians to orgies where he witnessed cocaine use.
Read More: Accusations Against Rep. Madison Cawthorn Multiply
Tillis is backing state Sen. Chuck Edwards, who's also getting support from a super PAC that aired an anti-Cawthorn TV ad that branded the congressman as a "reckless embarrassment" and "playboy politician." The super PAC, called Results for NC, received $500,000 from Salame and $670,000 from Americans for a Balanced Budget, a group led by North Carolina Republican consultant Dee Stewart.
Other Republican candidates seeking to hold Cawthorn under 30% of the vote include Michele Woodhouse, who formerly led the district's Republican Party organization.
Trump endorsed Cawthorn in March 2021, though the ex-president hasn't touted him recently. Cawthorn spoke at a Trump rally last month in east-central North Carolina.
The Democratic candidates include Jasmine Beach-Ferrara, a Buncombe County (Asheville) commissioner and pastor.
13th District (Biden 50%-48%): No incumbent is on the ballot in North Carolina's most politically competitive district, which is dominated by Wake and Johnston Counties in metropolitan Raleigh. Both parties have multi-candidate primaries.
Trump and the conservative Club for Growth Action are backing Bo Hines, a former North Carolina State football player. His top rival is Kelly Daughtry, a lawyer who loaned her campaign more than $3 million and received donations from groups advocating for more Republican women in Congress.
The GOP ballot also includes Ellmers, who's seeking a return to the House after a 2016 re-election loss and a fifth-place finish in the 2020 Republican primary for lieutenant governor.
The leading Democratic candidates are state Sen. Wiley Nickel and former state Sen. Sam Searcy. Nickel, a criminal defense lawyer, mostly self-financed his campaign and received donations from some labor unions.
Republicans could redraw this district more to their favor in 2023 if they keep their state legislative majorities and win control of the state Supreme Court in November. When the court gave final approval to the 2022 election map in February, it said the new lines would be used for just this election cycle.
14th District (Biden 57%-41%): A Democrat is favored to win this open district, which takes in about half of Democratic-friendly Mecklenburg County (Charlotte) and most of Gaston County west of Charlotte. The front-runner is state Sen. Jeff Jackson (D), an Army veteran who ended his U.S. Senate campaign last December.
Oregon
Senate (Biden won Oregon 56%-40%): Finance Committee Chair Ron Wyden (D), a senator since 1996 and a 15-year House member prior to that, is favored to win a fifth full term in one of the nation's most Democratic states.
4th District (Biden 55%-42%): Transportation and Infrastructure Committee Chair Peter DeFazio (D) is retiring after 36 years in Congress. State labor commissioner Val Hoyle is the likely Democratic nominee.
A congressional map drawn by Democrats raised Biden's margin of victory in the 4th District to 13 percentage points from 4 points, though the 4th could still be competitive for Republicans in November.
The Republican nominee is Alek Skarlatos, an Army veteran who served in Afghanistan and helped thwart a terrorist attack on a Paris-bound train in 2015. Skarlatos was the 2020 Republican nominee against DeFazio, losing by 5 points.
5th District (Biden 53%-44%): Schrader, a member of the Blue Dog Coalition of Democrats who emphasize fiscal restraint, is opposed on the left by Jamie McLeod-Skinner, a lawyer and emergency recovery coordinator.
She received donations from ideologically liberal PACs, the LGBTQ Victory Fund, and some labor unions. McLeod-Skinner attacked Schrader for accepting corporate PAC money and voting against a $15-per-hour minimum wage and some spending measures, including the initial House-passed version of a $1.9 trillion pandemic relief package that became the American Rescue Plan (Public Law 117-2). Schrader voted for the final version of the measure.
Schrader cast McLeod-Skinner as too far left for a district that was revised in redistricting to be a little less Democratic-leaning. Redistricting presented challenges for Schrader: more than half of the people in the revised 5th District, including most of Deschutes County in and around Bend and Redmond, aren't his current constituents.
Schrader, a member of the bipartisan Problem Solvers Caucus, said in a candidate debate he's concerned about "hyperpartisanship and incivility" in Congress and promoted his role in helping enact the 2021 infrastructure law (Public Law 117-58). His campaign spent more than $3 million in the first four months of this year.
Schrader's outside backers include Mainstream Democrats PAC, a super PAC partly funded by LinkedIn co-founder Reid Hoffman. The PAC's website says it was created to "consistently defend mainstream Democrats and defeat extreme candidates whose stated goal is 'to overthrow' the Democratic Party."
Republicans are eyeing this district in November. Their candidates include Lori Chavez-DeRemer, a Latina and former small-city mayor backed by House Republican Conference Chair Elise Stefanik (N.Y.), and Jimmy Crumpacker, a businessman who ran for the House in 2020.
6th District (Biden 55%-42%): Protect Our Future PAC, the super PAC funded by crypto CEO Bankman-Fried, spent more than $10 million in the nine-candidate Democratic primary to buttress Carrick Flynn, a political newcomer with a background in economic development.
An unusual endorsement of Flynn by House Majority PAC, the top super PAC working to defend the House Democratic majority, rankled the other Democratic candidates and some Oregon Democratic politicians and activists backing them. House Majority PAC, which spent $939,000 to aid Flynn, focuses almost exclusively on general elections against Republicans and rarely intervenes in party primaries.
Flynn's rivals include state Rep. Andrea Salinas, who's backed by Rep. Suzanne Bonamici (D) of the 1st District and the campaign arm of the Congressional Hispanic Caucus.
Other Democratic candidates include Loretta Smith, a former Multnomah County commissioner who worked for Wyden, and Kathleen Harder, a physician.
The lower-key Republican primary includes state Rep. Ron Noble, businessman Mike Erickson, Army veteran Nate Sandvig, and ex-Rep. Jim Bunn, who was a member of the big House GOP Class of 1994 and served one term.
The 6th leans Democratic but may be competitive in November if the political environment continues to be unfavorable for Democrats.
Pennsylvania
Senate (Biden won Pennsylvania 50%-49%): The race to succeed retiring Sen. Pat Toomey (R) was punctuated for weeks by the big-spending Republican primary.
Oz, McCormick, and their allied groups are now contending with a late surge by Kathy Barnette, a political commentator who won late backing from the Club for Growth and the anti-abortion-rights Susan B. Anthony List. Trump last week reiterated his support for Oz and said Barnette couldn't win the general election.
In the Democratic primary, Lt. Gov. John Fetterman has been the wire-to-wire front-runner over Rep. Conor Lamb and state Rep. Malcolm Kenyatta. Lamb has raised concerns about Fetterman's electability in the fall.
Fetterman was hospitalized Friday after a stroke. He released a statement saying "we are still on track to win this primary on Tuesday, and flip this Senate seat in November."
Read More:
1st District (Biden 52%-47%): Rep. Brian Fitzpatrick (R), who has a history of outperforming Trump and Pennsylvania Republican statewide candidates in a politically competitive, suburban Philadelphia district, is favored to win the primary and then secure a fourth term in November.
Fitzpatrick, who sometimes votes with Democrats on labor and environmental policy, faces little-known primary challenger Alex Entin, a procurement manager and first-generation immigrant from Moldova who reported spending just $14,000 through April 27.
Defending Main Street, a centrist Republican group, and Congressional Leadership Fund together spent about $300,000 before the primary to bolster Fitzpatrick, who won his 2020 primary 63%-37% over an underfunded opponent.
Democrat Ashley Ehasz, a former Army helicopter pilot, is unopposed in the primary.
6th District (Biden 57%-42%): Two-term Rep. Chrissy Houlahan (D) will face the winner of a four-candidate Republican primary in Chester County and most of Berks County near Philadelphia.
The GOP candidates include self-funding businessman Steve Fanelli and Guy Ciarrocchi, who formerly headed the Chester County Chamber of Business and Industry.
Though the 6th voted decisively Democratic in 2020, the Democratic Congressional Campaign Committee put Houlahan on its list of "Frontline Democrats" who party leaders think will have competitive races in November.
7th District (Biden 50%-49%): Rep. Susan Wild (D) and Republican businesswoman Lisa Scheller are headed for a rematch of a 2020 election that Wild won by fewer than 4 points.
Redistricting maintained Lehigh and Northampton counties as the district's population centers. Republicans benefited from the 7th adding Carbon County, which Trump won by an almost 2-1 ratio in 2020.
8th District (Trump 51%-48%): Five-term Rep. Matt Cartwright, who leads the House Appropriations Commerce-Justice-Science Subcommittee, is likely to face Jim Bognet (R), a former Trump administration political appointee, in a rematch of a 2020 race that Cartwright won by fewer than 4 points.
Trump and House Republican leaders are supporting Bognet in the primary over Mike Marsicano, a former Democratic mayor of Hazleton who lost to Bognet in the 2020 Republican primary.
The district includes Scranton, Wilkes-Barre, and other territory in northeastern Pennsylvania. Redistricting made the 8th about a point and a half more Democratic, though it still would have voted for Trump over Biden in 2020.
12th District (Biden 59%-39%): The five-candidate Democratic primary to succeed retiring Rep. Mike Doyle (D) is the election that matters in this Democratic bastion in Pittsburgh.
The top candidates are state Rep. Summer Lee and lawyer Steve Irwin.
Lee, a democratic socialist, has support from Sen. Bernie Sanders (I-Vt.), who campaigned for Lee last week in Pittsburgh; the Congressional Progressive Caucus PAC; and the Justice Democrats organization that helped fuel the rise of Rep. Alexandria Ocasio-Cortez (D-N.Y.).
Lee's opponents and Irwin's backers include United Democracy Project, the AIPAC-affiliated super PAC. It cited Lee's past criticism of Biden and the Democratic Party. Irwin, who worked in former Gov. Ed Rendell's (D) administration, has support from other pro-Israel groups and Doyle.
A third Democratic candidate, law professor Jerry Dickinson, ran against Doyle in the 2020 primary and took 33% of the vote.
17th District (Biden 52%-46%): No incumbent is on the ballot in this mildly Democratic-leaning district that includes most of Allegheny County outside Pittsburgh, plus Beaver County bordering Ohio and West Virginia. It's essentially the district that Lamb is giving up to run for Senate.
Democrat Chris Deluzio, a lawyer and Navy veteran who served in Iraq, has donors that include labor unions and groups advocating for more veterans in Congress. His opponent is Sean Meloy, a former Doyle aide with a background in LGBTQ advocacy.
The best-funded of the three Republican candidates is Jeremy Shaffer, a former township commissioner.
To contact the reporter on this story: Greg Giroux in Washington at ggiroux@bgov.com
To contact the editors responsible for this story: Bennett Roth at broth@bgov.com; Kyle Trygstad at ktrygstad@bloombergindustry.com