Pennsylvania Democrat Uses Tried and True Playbook in Tough Race
Matt Cartwright won a Trump-supporting district three times
Republicans target district after being outspent last cycle
Rep. Matt Cartwright made sure to thank a man wearing a Vietnam veteran cap for his service on a recent Saturday in his northeastern Pennsylvania district.
When the veteran identified himself as "a Trump man," Cartwright (D-Pa.) kept the conversation going. How was the veteran's health? How was the VA treating him? What's his phone number? Cartwright punched the digits into his cell and called it, telling the veteran to contact him if he could ever help.
In a year when dozens of Democrats are facing potential loses in November, Cartwright is a model for how to win. His district not only supported Trump in 2016 and 2020, but Cartwright won it in 2016, 2018 and 2020 — the only Democratic lawmaker running this year who can make that claim. While other candidates in purple districts look to Cartwright as an example, he isn't taking his past success for granted this year.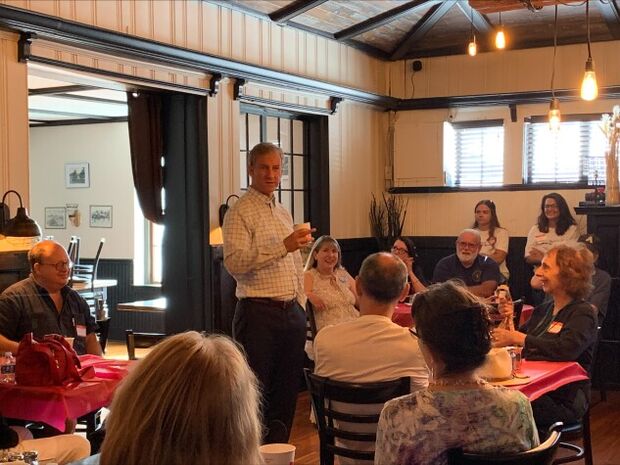 Former New York Rep. Steve Israel, who headed the Democrats' campaign arm from 2011 to 2015, said Cartwright is "a national model on how Democrats can keep and bring back white working-class communities."
"If you are a Democrat in an increasingly Trump district," Israel said, "you need to read the playbook that was written by Matt Cartwright."
Cartwright's approach is critical for Democrats in a year when they are projected to lose the House. Although their prospects improved in recent weeks, they continue to be dogged by high inflation and President Joe Biden's low approval ratings.
The playbook also will be put to the test in Cartwright's northeastern Pennsylvania district. Republicans have gone all in for Jim Bognet, who Cartwright beat by only 3.6 percentage points in 2020. House Minority Leader Kevin McCarthy (R-Calif.) and former President Donald Trump visited the district in the past week.
Republicans groups are pouring advertising funding into the district after Democrats outspent them nearly 2 to 1 in 2020. This year, Republicans have spent nearly $7.1 million in ads and future reservations, compared with the $6.3 million Democratic groups have spent, according to AdImpact.
Yet Cartwright is sticking to his strategy of going local. In ads, he speaks directly to the camera, focusing on his ties to the district, and his support of an incoming manufacturing facility to turn shale gas into gasoline vehicles can use.
Bognet is working to capitalize on Biden's low poll numbers. His ads blame Biden for high inflation and highlight Cartwright's record of voting with Biden's policies 100% of the time.
At a campaign event in Jermyn, Pa., a small town outside Scranton, Bognet said in an interview he's heard a lot of "buyers' remorse" from Biden voters.
"He said he'd be a moderate and a healer. And the country seems more divided than ever," Bognet said.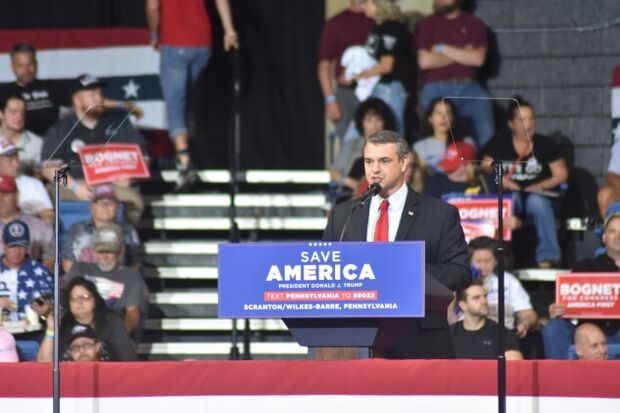 Cartwright's ability to distance himself from the president, whose birthplace is Scranton, was key in 2020 when he ran 8 points ahead of Biden, the second highest gap of any Democrat, according to the University of Virginia Center for Politics.
Yet when Biden visited Wilkes-Barre last week, Cartwright was in the front row.
"I'm in Cartwright county!" Biden said. "He knows how to deliver for this district."
Cartwright is aware of the increasing polarization between parties.
"I work very hard to swim against that stream," Cartwright said. "Connecting with the local people is the important thing."
'Peril' in Igonring Inflation
While Biden and others in his party are touting recent legislative wins and highlighting low unemployment, Cartwright is taking a different path.
"Inflation is hurting them," Cartwright said of voters during an interview at a pizza joint. "Any public official who ignores that fact does so at his or her own peril."
Cartwright, 61 and a former lawyer, said 25 years of jury trials has led him to believe people can "smoke out a phony." He said he tries to "be genuine, let go of all pretense and be who you are."
He's also worked to connect with voters from the opposite party, including those who back Trump. The way Cartwright sees it, northeast Pennsylvania's economy never recovered after the North American Free Trade Agreement led to the loss of companies and good paying jobs. Why wouldn't voters flock to Trump after he promised to renegotiate trade agreements?
Tarah Probst, the Democratic mayor of Stroudsburg, recalled Cartwright saying in 2017 that he wanted to hug Trump supporters because he recognized their pain.
"He realized these people voted for Trump because they feel like they weren't listened to," she said. "He empathizes with that and he tries to find common ground with people."
'Everything's Messed Up'
The race in Pennsylvania's 8th District is rated a "toss up" by numerous election handicappers.
A late June poll from Bognet's campaign showed him leading by a single point, although the poll's 4.3% margin of error meant either candidate could be ahead.
Early August polling done for Cartwright shows him in a better situation — leading by 6 points with a 4% margin of error.
The race is being shaped by numerous issues including abortion, immigration, and Pennsylvania's competitive governor and senator races. Yet both candidates and multiple voters said the biggest concern is high prices.
Democrats are hoping recent economic trends such as lower gas prices and inflation holding steady will help them in November. But many voters are still feeling squeezed.
As he pushed his cart out of a grocery store in Wayne County, Dave Rechmeier said he voted for Cartwright in the past but likely won't this time.
"It's time for a change," he said. "Everything's just messed up." He lamented a lack of good paying jobs and questioned why the US sent money to other countries when Americans are hurting. Biden, he said, is a "terrible president."
Bill Torbeck, a Republican who is running for the Pennsylvania statehouse, said Cartwright is a friend and a strong candidate, but thinks he'll lose in the Biden backlash.
"Today we see the policies that Joe Biden supports. I see more people getting hurt," Torbeck said. "At the end of the day, it's always about the pocketbook.
Cartwright's local focus has so far helped him overcome national issues, but if this year is different, he's not the only Democratic lawmaker at risk.
"I'm going to do my dead level best to hold this seat," Cartwright said at a meet and greet in Milford. "Because I think if we can't hold this seat, it's going to be impossible to hold the House."
To contact the reporter on this story: Emily Wilkins in Milford, Pa., at ewilkins@bgov.com
To contact the editors responsible for this story: Angela Greiling Keane at agreilingkeane@bloombergindustry.com; Loren Duggan at lduggan@bgov.com