Pelosi Presses Biden Agenda Vote; Billionaire Tax Offer in Flux
Speaker Nancy Pelosi said she's asked the House Rules Committee to hold a hearing tomorrow on President Joe Biden's economic agenda, but Democrats are still debating the tax provisions they'll include to pay for it. One top lawmaker said that a proposed tax on billionaires' unrealized gains has been pulled amid opposition from a key centrist, but that provision's author said it's still alive.
Here's what Bloomberg Government is tracking so far today.
Biden Amps Up Pressure on Democrats for Economic Plan Deal
The White House is stepping up pressure on congressional Democrats to finalize at least the framework for a deal on President Joe Biden's economic agenda on the eve of the president's departure tomorrow for a series of meetings in Europe.
Senior White House officials met on Capitol Hill this morning with key moderates Joe Manchin (D-W.Va.) and Kyrsten Sinema (D-Ariz.), following up on the senators' session with Biden last night. Biden needs the support of all Democrats in the evenly divided Senate to squeak his social-spending and tax plans through that chamber.
"We're doing great, we're making progress," Sinema said after the meeting with White House counselor Steve Ricchetti, National Economic Council Director Brian Deese, and legislative liaison Louisa Terrell. Manchin deflected, saying, "It's really up to the rest of the caucus." He added: "There's 50 of us and everyone has to participate."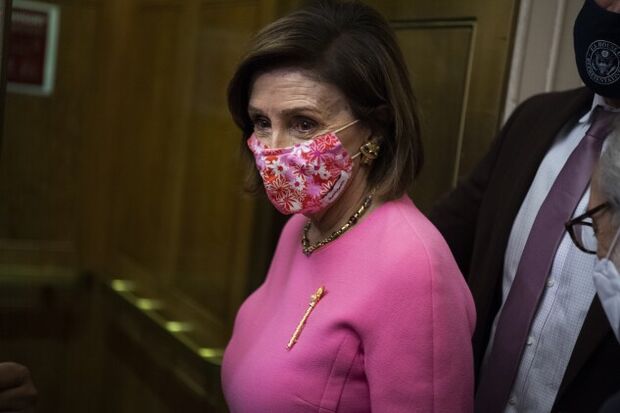 Biden is also keeping the door open to a meeting with Democrats on Capitol Hill later today to discuss his agenda, a White House official said.
Speaker Nancy Pelosi (D-Calif.) told House Democratic leaders this morning that she will lay out within several hours the next steps regarding the tax-and-spending bill and a separate $550 billion infrastructure package that has already passed the Senate, a person familiar with the meeting said. Pelosi later sent a letter to House Democrats saying the Rules Committee would hold a hearing tomorrow on Biden's agenda. The panel governs floor debate, but it wasn't clear what the hearing would entail since there is no legislation to consider.
Rules Chair James McGovern (D-Mass.) said he would convene his panel only if there is at least draft text to consider. He acknowledged that Pelosi's announcement of a hearing was designed to put pressure on the Senate to strike a deal. "The deal is people have to start making decisions and we have to get this done," McGovern said.
House progressives have held up a vote on the infrastructure bill as leverage on negotiations on the larger tax and spending package. Pelosi acknowledged at the meeting that the House needs to have confidence in the social-spending legislation before voting on the roads and bridges measure, the person familiar said.
Progressive Caucus Chair Pramila Jayapal (D-Wash.) said this afternoon her caucus would continue to refuse a vote on the infrastructure bill until there is a vote on the broader economic agenda.
There are discussions among House leaders to keep members in Washington possibly into Saturday to pass the infrastructure bill, said a lawmaker familiar with ongoing discussions. "I think a framework deal is likely in the next 24 to 36 hours," said House Democratic Caucus Chair Hakeem Jeffries (N.Y.) today.
The lawmakers said it appears Pelosi hopes to announce an agreement on a framework for the economic agenda, even if that comes with some blanks regarding precise revenue streams. Democrats, who for weeks have said they are closing in on a deal, have scurried in recent days to find revenue streams the entire caucus can support.
Key House Democrat Richard Neal (D-Mass.) said earlier this afternoon a proposal to tax the assets of billionaires has been dropped, while a surtax on millionaires is under discussion. The House is discussing with the Senate the inclusion of a 3% surtax, on top of the top income rate, for those earning more than $10 million, Neal, chairman of the tax-writing House Ways and Means Committee, said today. Read more from Billy House and Erik Wasson.
Democrats Try to Save IRS Bank-Reporting Plan: Democratic negotiators are making a last-ditch effort to win backing for some form of Biden's proposal to require banks to report some account flows to the IRS, in the face of opposition from lawmakers including Manchin. The Senate Finance Committee had been working on a plan to require that banks disclose accounts with $10,000 of aggregate deposits or outflows over a year to the Internal Revenue Service. Negotiators are now looking at ensuring that people with income below $400,000 a year would be exempt, according to an administration official speaking on condition of anonymity as the talks are private. Read more from Colin Wilhelm, Kaustuv Basu and Laura Davison.
Biden Lacks Crucial Climate Deal He Sought for Summit: Biden was counting on sweeping climate legislation to prove the U.S. commitment to the fight against global warming, but even his allies are conceding the most he will have is a framework subject to further negotiations as world leaders gather for a summit on the topic this weekend. Democratic lawmakers and White House efforts might yield only a handshake agreement on the total planned spending in a climate package. Democrats have been focusing on nailing down a final commitment on climate spending first, said Sen. Sheldon Whitehouse (D-R.I.). Read more from Jennifer A. Dlouhy and Ari Natter.
Happening on the Hill
DeLauro Invites Senators for Spending Talks: House Appropriations Chair Rosa DeLauro (D-Conn.) has invited senators to start bicameral negotiations to fund the government, her spokesman wrote on Twitter. DeLauro wants negotiations with Senate Appropriations Chairman Patrick Leahy (D-Vt.), Vice Chairman Richard Shelby (R-Ala.), and House Appropriations ranking member Kay Granger (R-Texas), spokesman Evan Hollander said in an email.
Dec. 3 is the deadline to avert a shutdown. Shelby told reporters yesterday he expects lawmakers will have to rely on another stopgap funding measure for the Dec. 3 deadline. Read more from Jack Fitzpatrick.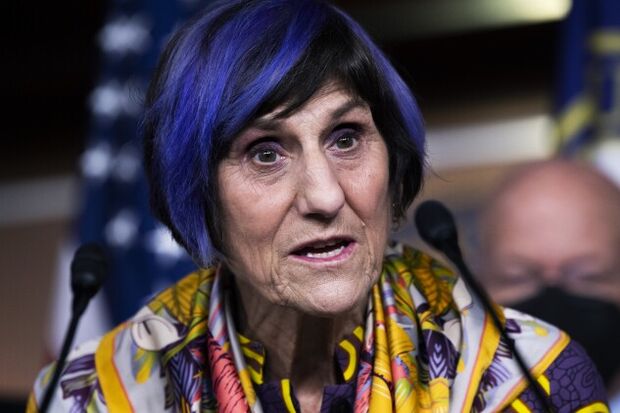 Pentagon Allotted $23.3 Billion to Military Intelligence: The Defense Department's military intelligence program had a budget of $23.3 billion in fiscal 2021, which ended Sept. 30, the agency said in an announcement today. The figure includes a base budget and overseas contingency operations, the agency said. The top line, which is routinely released after the close of the fiscal year to protect intelligence operations, doesn't jeopardize classified activities, DOD said, Roxana Tiron reports.
Democrats Seek Fines for Fed Leader Trading Breaches: Federal Reserve officials who fail to follow new ethics rules around trading individual stocks could face fines under a new proposal by a group of Senate Democrats, including Banking Chairman Sherrod Brown (D-Ohio). The bill would ban Fed officials from trading individual stocks, but allow investments in diversified mutual funds, investment trusts and U.S. Treasury securities. If enacted, Fed officials that don't comply with the law would face fines of no less than 10% of the value of the investment that was either bought or sold. Olivia Rockeman has more.
CFTC Needs More Authority on Crypto, Nominee Says: The nominee to lead the U.S.'s top swaps regulator has a warning for lawmakers: Crypto misconduct the agency has already exposed is "the tip of the iceberg" and it likely needs more authority to police the white-hot market. Rostin Behnam, the Biden administration's pick to head the Commodity Futures Trading Commission, said the explosive growth of digital tokens means Congress might have to step in to ensure the watchdog has the tools it needs to crack down. The CFTC's powers are mostly limited to overseeing derivatives. Read more from Ben Bain.
Chopra Says Big Tech Poses Harm: The Consumer Financial Protection Bureau wants to make sure that tech companies like Apple, Amazon, Facebook and Google don't "squelch" smaller competitors from operating their own payment systems, the bureau's new director told Congress. The CFPB's recent letters to the four tech giants along with PayPal and Square are meant to ensure that financial innovation in the payments space doesn't harm consumers or limit their product options, CFPB Director Rohit Chopra told the House Financial Services Committee today. Read more from Evan Weinberger.
Blumenthal Wants More Hearings on Social Media: The Senate will hold more hearings on social media and big tech's negative effects on children, Sen. Richard Blumenthal (D-Conn.) said during a press briefing. "We have the capacity and we have the obligation to act," Blumenthal said during a joint briefing with Sen. Ed Markey (D-Mass.), calling on lawmakers to move legislation to hold big tech companies such as Facebook accountable, Rebecca Kern and Anna Edgerton report.
Garland Pressed on School Threats, Terrorism, Border: Republican senators unloaded a torrent of criticism against Attorney General Merrick Garland during a hearing on matters from asking the FBI to help address violent threats against local school officials to how the Justice Department is responding to terrorist dangers and border security. At a Senate Judiciary Committee hearing today, Republicans sought to trip up Garland, often interrupting him from providing full answers to their questions as he struggled to respond in the lawyerly manner of his career as a prosecutor and judge. Chris Strohm has more.
EPA Research Arm Nominee Vows to Measure PFAS: The Biden administration's pick to lead the EPA's research office promised a Senate panel today that, if confirmed, he would work on developing more ways of measuring "forever chemicals" in the environment. Approved testing methods only exist for about a dozen types of per- and polyfluoroalkyl substances, or PFAS, but there are thousands of different kinds, Christopher Frey, the administration's nominee to head up the Environmental Protection Agency's Office of Research and Development. Read more from Stephen Lee.
At Least 59,000 Meat Workers Got Covid-19 Early On: At least 59,000 meatpacking workers contracted the coronavirus in the first year of the pandemic as the virus rapidly spread in plants' cramped conditions, according to internal documents from five major meat conglomerates obtained by the House Select Subcommittee on the Coronavirus Crisis. The panel's findings offer greater detail on the virus' toll among a largely immigrant workforce that managers implored to keep showing up for work as much of the rest of the country shut down. Read more from Mike Dorning and Megan Boyanton.
BGOV OnPoint: Drug Approvals in Spotlight, Lawmakers Prep Bills
Defense & Foreign Affairs
Blinken Orders Afghan Evacuation Reviews by State: Secretary of State Antony Blinken has ordered internal reviews of the U.S. evacuation from Afghanistan, after the Biden administration came under sharp criticism for leaving hundreds of Americans and thousands of Afghan allies behind in the chaotic rush to get out as the Taliban took power.
"We will not let this opportunity to learn and do better pass us by," Blinken said today in a speech focused on modernizing the State Department. "Now we owe it to ourselves, to our Afghan friends and partners and to future State Department employees who might find themselves facing a similar challenge one day to capture all that we learned, study it, apply it and preserve it." Blinken didn't detail what the reviews would look like. Read more from Nick Wadhams.
Iran Says Nuclear Accord Talks Will Resume Within Weeks: Iran said it had agreed with the European Union to restart big-power talks to revive the 2015 nuclear deal before the end of November and a precise date for the negotiations would be announced in the next week. In the U.S., State Department spokesman Ned Price said the U.S. would discuss Iran with its European allies on the sidelines of the G20 meeting in Rome this weekend. And White House Spokeswoman Jen Psaki reiterated that the U.S. is committed to a "diplomatic path forward." Read more from Arsalan Shahla, Patrick Sykes and Yasna Haghdoost.
U.S.'s Russia Mission Staff Down 90%: The U.S. has cut its diplomatic staff in Russia by about 90%, to 120 people overall, in the last four years, paring back to only the most basic services, according to a senior State Department official, as relations between Washington and Moscow continue to languish. Those cuts mean the U.S. has had to suspend almost all visa services for Russians and in some cases only has one or two technicians to handle basic maintenance of buildings and technology, the official said. Read more from Nick Wadhams.
World Leaders Hit Rome to Toast Incomplete Tax Deal: Global heads of government including Biden will endorse a historic revamping of international corporate tax rules when they gather in Rome this weekend, though they have a long way to go to make the plan a reality. Multi-country negotiations over important aspects of the plan remain unfinished. And the details that won't emerge for many months may determine whether the U.S. Congress approves or rejects the deal, a decision that could make or break it internationally. Read more from Christopher Condon.
U.S. Says Assange Wouldn't Face Supermax Prison: Julian Assange won't face solitary confinement or supermax prison in Colorado if he's jailed in the U.S., as lawyers for the country argued his extradition shouldn't have been blocked by a London judge on mental health grounds. The U.S. laid out several assurances over his potential confinement and access to psychological treatment at the start of the London appeal calling for Assange to be sent to the U.S to face espionage charges. Read more from Katharine Gemmell.
Politics & Influence
Herschel Walker Backed by McConnell: Minority Leader Mitch McConnell (R-Ky.) endorsed Herschel Walker for the U.S. Senate from Georgia, completing the establishment Republican embrace of the ex-professional football star recruited by former President Donald Trump in a 2022 race that will be key for determining which party controls the chamber. McConnell said he was "happy" to endorse Walker's bid to defeat Sen. Raphael Warnock (Ga.), calling the former football star "the only one who can unite the party" and "help us take back the Senate" in a statement. Mark Niquette has more.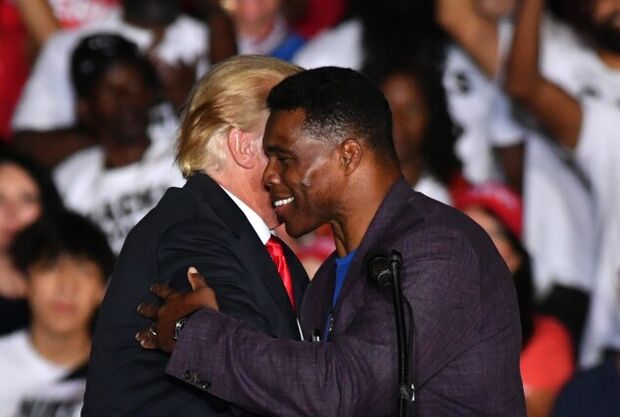 Luntz Says Va. Race Will Foreshadow 2022 Midterms: Whether Democrats pass Biden's economic agenda won't have an impact on the current Virginia governor's race, but the outcome will say a lot about next year's midterm elections with control of Congress in the balance, Republican pollster and strategist Frank Luntz said. Speaking on Bloomberg TV today, Luntz was doubtful Democrat Terry McAuliffe would get a boost in his race with Republican Glenn Youngkin if Congress passes Biden's plan before Tuesday's election. Read more from Mark Niquette.
Murphy's Lead in N.J. Governor Race Narrows: New Jersey Gov. Phil Murphy's (D) lead narrowed against challenger Jack Ciattarelli in the final days of campaigning ahead of the Nov. 2 election, according to a new Monmouth University poll. Half of registered voters support Murphy, giving the Democratic incumbent an 11-point lead over Republican Ciattarelli, according to the Oct. 21-25 survey of registered voters released today. While Murphy maintains a sizable lead over the former assembly member, the margin has shrunk by five points since Monmouth's August poll. Read more from Shelly Banjo.
Sondland's Claim for Impeachment Testimony Fees Switches Courts: Former EU Ambassador Gordon Sondland's suit against the U.S. government alleging Secretary of State Michael Pompeo breached an agreement to reimburse impeachment testimony-related attorneys' fees has moved to the U.S. Court of Federal Claims. The claims court yesterday accepted the transfer of the suit from the U.S. District Court for the District of Columbia. Read more from Daniel Seiden.
Around the Administration
Biden's HHS Rolls Out Sweeping Opioid Plan: The Department of Health and Human Services today unveiled a four-pronged, treatment-focused strategy for combating rising opioid addiction numbers amid the coronavirus pandemic. Harm reduction, evidence-based treatment, recovery support, and primary prevention are the "four key target areas" the HHS outlined in a brief chronicling the agency's efforts to curb overdoses. Almost 97,000 deaths were reported in the 12 months up to March 2021, according to Centers for Disease Control and Prevention data. Read more from Ian Lopez.
Vaccine for Kids Wins NIH Chief's Support: The NIH chief said he agreed with a scientific advisory panel's decision to back Pfizer's Covid-19 vaccine for kids, although he acknowledged gaps in data leave important questions looming. "I side with the majority of the 17 people who voted yes. I would have voted that way too," Francis S. Collins said in an interview today. The comments from the longtime director of the National Institutes of Health—who's stepping down by the end of the year—follow a recommendation from the FDA's vaccine advisory committee. Read more from Jeannie Baumann.
FDA Official Says Tobacco Product Reviews Coming: The Food and Drug Administration is close to wrapping up a sweeping review of tobacco products sold in the U.S., though it faces a round of lawsuits challenging actions it has taken. "Many of the reviews are in final stages," said Mitch Zeller, director of the agency's Center for Tobacco Products, speaking at a virtual conference hosted by the Food and Drug Law Institute today. Zeller said the agency has already refused to allow 200,000 products to continue being sold, has authorized only three, and has around 80,000 products pending. Read more from Tiffany Kary.
Raimondo to Head Council on Diversity: Commerce Secretary Gina Raimondo will take the reins of a national initiative to promote innovation by women and minorities as part of the Biden administration's broader strategy to improve gender equity. The Council for Inclusive Innovation, formerly known as the National Council for Expanding American Innovation, will work to promote groups that are underrepresented in patenting, the Patent and Trademark Office said today. Read more from Samantha Handler.
U.S. Issues First Passport That Uses 'X' for Gender: The U.S. has issued its first passport with an "X" gender marker, the State Department said, underscoring the government's progress toward recognizing the rights of people who don't identify as either male or female. The "X" can be selected by people who identify as non-binary, intersex, and gender non-conforming when applying for a U.S. passport or a Consular Report of Birth. The U.S. hopes to more broadly offer the identification option next year, according to a statement today. Read more from Mary Biekert.
Plan to Nix Trump Religious Contractor Rule Near: A Department of Labor proposal to rescind a Trump-era rule on religious defenses that federal contractors can use to shield themselves from workplace discrimination claims cleared White House regulatory review, signaling it's likely to be released soon. The White House Office of Information and Regulatory Affairs concluded its review of the proposed rule, according to an online notice today. That's usually the last step before an agency will publish a regulatory action in the Federal Register. Read more from Paige Smith.
EV Battery Projects to Get $209 Million From Energy: The Biden administration will invest $209 million into 26 new federal lab projects to boost research into advanced batteries and fast-charging of electric vehicles, the Department of Energy said today. The research will focus on slashing the cost and size of next-generation battery storage and shortening the time needed to fast-charge electric vehicles to under 15 minutes. Read more from Dean Scott.
What Else to Know
Decision on Trump Rule Opens Door to Clean Water Act Revision: A federal court's decision to vacate a Trump-era Clean Water Act rule clears the way for the EPA to revise its 50-year-old guidance governing state and tribal authority over water pollution discharges, attorneys said. Judge William Alsup of the U.S. District Court for the Northern District of California last week vacated the 2020 Clean Water Act Section 401 Certification Rule, saying that leaving it in place pending Environmental Protection Agency review would have risked "significant environmental harms." Read more from Tripp Baltz.
U.S. Seen Global Outlier With Supply-Chain Delays: The U.S. is suffering longer delivery delays than other economies because of stronger demand from American consumers, a signal that high inflation rates are likely to persist, according to the latest research by the Institute of International Finance. They found that while the global supply-chain crunch is causing tailbacks everywhere, the U.S. "continues to be an outlier" in the latest monthly data from October. Read more from Ben Holland.
Bankers Rush to Settle Redlining Suits: A U.S. crackdown on redlining is coming — and at a particularly awkward time for the financial industry. Not only is public awareness of racial inequity heightened, bankers are also pressing government authorities to approve mergers and acquisitions at one of the fastest clips since the 2008 financial crisis. To get their paydays linked to those deals, more executives may feel pressure to resolve government claims. Read more from Max Abelson.
To contact the reporter on this story: Michaela Ross in Washington at mross@bgov.com
To contact the editors responsible for this story: Brandon Lee at blee@bgov.com; Zachary Sherwood at zsherwood@bgov.com