Pelosi Pitches Drug Language in Agenda; Biden Meets Pope Francis
Bloomberg Government subscribers get the stories like this first. Act now and gain unlimited access to everything you need to know. Learn more.
Speaker Nancy Pelosi is working to fold a plan to cut prescription drug prices into Democrats' sweeping economic package, after President Joe Biden left it out of a framework proposal yesterday. Meanwhile, Biden, a Catholic who has been criticized by church officials for his political beliefs, met with Pope Francis today as the administration continues a legal bid to protect abortion rights.
Here's what else Bloomberg Government is tracking today.
Pelosi Leading Talks to Include Drug Price Cuts in Biden Plan
Speaker Nancy Pelosi (D-Calif.) is leading an effort to add a plan to cut prescription drug prices to President Joe Biden's $1.75 trillion economic plan, and lawmakers are optimistic a deal can be reached within days.
Biden left mention of cutting drug prices out of the outline he presented to Congress on yesterday, but even opponents of the original House provision said they would be open to a more limited version. Sen. Kyrsten Sinema (D-Ariz.) had agreed to at least some version of drug price cuts in a deal with the White House, according to a person familiar with her views.
To win over the handful of House and Senate Democrats who were holding out support, top Democrats have dropped a proposed excise tax on drug companies that was to be used to force them to lower prices for younger patients not part of Medicare, according to Rep. Peter Welch (D-Vt.).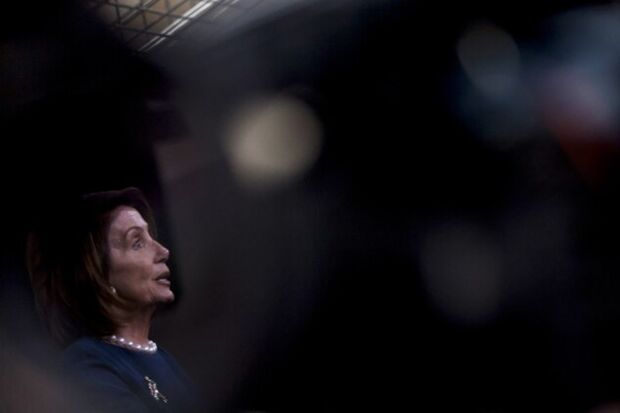 Welch said Pelosi is "intimately" involved in the talks and they are working with drug price provision holdout Rep. Scott Peters (D-Calif.). Peters has prevailed in his quest to have the tax penalty removed, Welch said. Read more from Erik Wasson.
Sub-Minimum Pay for Disabled Workers Targeted: A proposal to help phase out a sub-minimum wage for workers with disabilities is included in Democrats' $1.75 trillion tax and social spending framework, one example of an initiative supported by progressives that survived the paring back of worker-focused policy items.The legislative package, which is still under negotiation, would provide federal grants to states to support employers as they reshape their businesses to stop paying a sub-minimum wage to workers with disabilities. Read more from Paige Smith.
Farmers Said to Have Most to Gain Since Dust Bowl in Biden Bill: Biden's $1.75 trillion spending framework would offer the largest pot of money for farm conservation since the 1930s Dust Bowl, dedicating $27 billion for farmers and ranchers to combat climate change, congressional Democrats say. The provision is part of the emerging Build Back Better Act (H.R. 5376) that would allot more than $90 billion to agriculture, forestry, and rural America, a breakdown by the Senate Agriculture, Nutrition, and Forestry Committee shows.
The outline is an indication from the Senate panel of where it's leaning on the agriculture portions of the spending package. The legislative priorities largely track with what the House Agriculture Committee approved last month. Read more from Megan U. Boyanton.
PFAS Firefighter Protections Boosted: Firefighters would get significant help under Democrats' $1.75 trillion social and climate spending legislation to secure protective firefighting equipment and more environmentally friendly firefighting foam to curb their exposures to so-called "forever chemicals." A proposed $95 million would fund grants through fiscal 2022 for the Federal Emergency Management Administration for personal protective equipment and to acquire firefighting foam free of per- and polyfluoroalkyl substances, or PFAS. Read more from Dean Scott.
Congress Debates Paid Leave Under Buttigieg, Pandemic Spotlight: Thanks in part to criticism of Transportation Secretary Pete Buttigieg's taking of paternity leave, a conversation over men's familial roles is unfolding as Democrats in Congress abandon a proposal for paid family leave in order to get Biden's economic plan over the line. Republicans are united in opposition to the plan, and two moderate Democratic senators, Joe Manchin (D-W.Va.) and Krysten Sinema. Read more from Mary Biekert.
More Headlines on Reconciliation:
Biden Says Pope Told Him to Continue Receiving Communion
President Biden said that Pope Francis told him during a meeting at the Vatican today that he should keep receiving communion even as some church officials at home seek to punish him for his political beliefs.
"We just talked about the fact he was happy that I was a good Catholic and I should keep receiving communion," Biden told reporters after the meeting, which he described as a private conversation. Biden, the second U.S. Catholic president, said that the issue of abortion didn't come up during the meeting with Francis.
The U.S. Conference of Catholic Bishops has weighed whether to deny Biden communion over his support of abortion rights, though the president has long said he personally opposes the procedure. Asked if he discussed the bishops' push with the pope, Biden said it was a private conversation.
The two leaders also discussed global efforts to counter climate change and the Covid-19 pandemic, the White House said. The connection between them was warm, and there was laughter during the meeting, a White House official said. Read more from Jennifer Epstein and Justin Sink.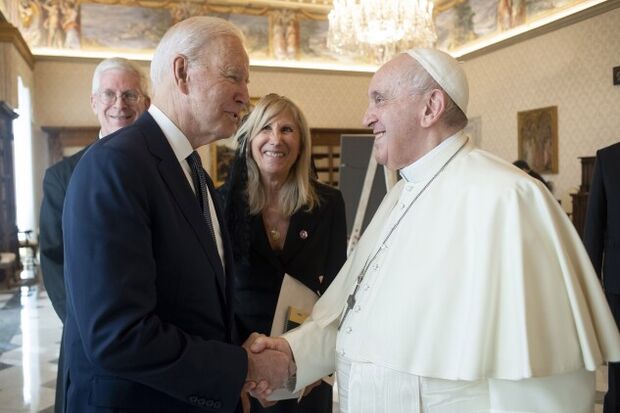 Solicitor General Debut in Texas Abortion Cases: Meanwhile, Elizabeth Prelogar will make her debut as U.S. solicitor general in the Supreme Court challenge to the country's most restrictive abortion law in Texas. Prelogar, who argued earlier this year on an acting, or interim, basis was confirmed yesterday on the eve of arguments Nov. 1 in a pair of cases involving the Texas six-week abortion ban, which were fast-tracked by the justices.
Prelogar's just-in-time confirmation ensures the abortion double-header doesn't feature an all-male lineup. The three other attorneys arguing the major women's rights cases are all men. Read more from Kimberly Strawbridge Robinson.
Biden Admits Handling of Sub Deal Was 'Clumsy': Biden said that his administration had been "clumsy" in handling a new defense pact with Australia while meeting with French President Emmanuel Macron today, as the U.S. continues to work to repair a key alliance. "What we did was clumsy, it was not done with a lot of grace," he said, sitting next to Macron in Rome as they talked ahead of the Group of 20 leaders summit. "I had been under the impression long before that France had been informed" of the deal. Read more from Jennifer Epstein and Justin Sink.
G-20 Still Deadlocked as China Won't Budge on Climate Goals: Negotiations ahead of the Group of 20 summit in Rome dragged into today, stuck on energy and climate issues. Some countries singled out China, saying it is refusing to beef up commitments to limit temperature increases and digging in over coal, with Russia and India also dragging the chain. Countries are set to commit to ending international funding for coal-fired power plants overseas during this weekend's meeting but are struggling to agree on a date by when they'll ditch supporting them at home, officials said. John Follain, Alberto Nardelli and Ilya Arkhipov have more.
The Coronavirus Pandemic
FDA Clears Pfizer Vaccine for Children 5-11: Pfizer and BioNTech's Covid-19 vaccine was cleared by U.S. regulators for children ages 5 to 11, a long-awaited pandemic milestone that opens a new phase of the immunization campaign. The emergency authorization, announced today in a statement by the Food and Drug Administration, brings the U.S. a step closer to shots being administered at schools, pediatricians' offices and pharmacies around the country. The formulation for young kids is one-third the dose of the adult shot.
Before youngsters can begin to receive the vaccine, the Centers for Disease Control and Prevention's immunization advisory committee will also meet to make more specific recommendations about who should get it and how to administer it. The panel is currently scheduled to convene on Nov. 2 and 3. CDC director Rochelle Walensky will then need to sign off on the advisers' guidance. Read more from Josh Wingrove and Fiona Rutherford.
Covid-19 Vaccines Protect Better Than Earlier Infection: A new study offers more evidence that Covid-19 vaccines provide stronger protection against hospitalization than immunity from an earlier infection, the CDC said today. Hospitalized patients who weren't vaccinated but had been previously infected with Covid-19 were about five times more likely to test positive for the infection than people who had been vaccinated, according to the CDC study. Read more from John Tozzi.
Groups Pushing Covid-19 Misinformation Targeted: A House panel will probe online entities spreading Covid-19 misinformation and pitching "disproven and potentially hazardous" treatments such as hydroxychloroquine and ivermectin, Rep. James Clyburn (D-S.C.) said in statement. Clyburn, chairman of the Select Subcommittee on the Coronavirus Crisis, sent a letter to FTC Chair Lina Khan requesting an investigation into whether these groups violated federal law, Daniela Sirtori-Cortina reports.
Ten GOP-Led States Sue Over Covid-19 Vaccine Mandate: Missouri and nine other states today became the latest to join a Republican-led effort to sue the Biden administration over vaccine mandates. The complaint filed by Missouri Attorney General Eric Schmitt (R), Nebraska Attorney General Doug Peterson (R), and the other states' attorneys general asks the U.S. District Court for the Eastern District of Missouri to block mandated Covid-19 vaccines for all employees of federal contractors. The Biden administration doesn't have the authority to require the vaccines, the states say. Read more from Mary Anne Pazanowski.
Watchdog Cites Hurdles, Delays in $8 Billion Tribal Relief Plan: The Treasury Department faced challenges distributing $8 billion in coronavirus relief funding for American Indian tribes, according to a new report from the nonpartisan Government Accountability Office. The department was tasked with doling out the money from a March 2020 pandemic aid package for tribal governments to offset costs from public health initiatives and assist businesses and individuals affected by virus-related shutdowns, Genevieve Douglas reports.
Defense & Foreign Affairs
Biden Makes New Bid to Kill Trump 'Remain in Mexico' Policy: The Department of Homeland Security is prepared to terminate the Trump-era "Remain in Mexico" border policy, again, as soon as it clears key legal hurdles. DHS on today unveiled a new memorandum to end the program, formally known as the Migrant Protection Protocols, that forces border crossers to wait in Mexico for months while U.S. officials review their asylum claims in makeshift tent courts. The Biden administration nixed the policy earlier this year, but a federal court ordered DHS to pursue a restart. Read more from Ellen M. Gilmer.
Microsoft Wins Protest of Amazon's NSA Cloud Services Award: Microsoft won its protest of the National Security Agency's award of a cloud services contract to Amazon, the GAO said in a statement released today. The procurement, known as WILDANDSTORMY or WandS, was issued to support the agency's classified and unclassified computing requirements, the GAO said. Read more from Daniel Seiden.
Russia Rules Out Recognizing Afghan Taliban for Now: Russia's UN Ambassador Vassily Nebenzia ruled out recognition of the Taliban in the near future, signaling their effort to gain Afghanistan's seat at the United Nations is unlikely to succeed. "Nobody is in a hurry to recognize," Nebenzia told reporters in New York today. "The question of recognition will arise when the international community makes sure that the promises and commitments that the authorities announced will be delivered." Read more from David Wainer.
What Else to Know Today
Trump Critic Kinzinger Won't Seek Re-Election: Six-term Republican Rep. Adam Kinzinger (Ill.) said today he isn't running for re-election next year and plans to launch a non-partisan group as a new political platform. Kinzinger, a critic of former President Donald Trump and one of 10 House Republicans who voted to impeach him in January, had previously signaled he might retire because his safe Republican district was being carved up in a reshaping of the state's political map. Read more from Billy House.
Attorney General Garland Restores Access Office: Attorney General Merrick Garland has re-established a Justice Department office that aims to expand services for people who can't afford lawyers, making good on a promise by Biden. The Office for Access to Justice, part of a new agency flow chart Garland signed today, is part of a broader plan to expand legal services throughout the federal government for low-income Americans. Read more from Sam Skolnik.
Ex-NYC Consumer Protection Chief to Run CFPB Office: A former top New York City consumer protection official will now lead the Consumer Financial Protection Bureau's supervision team. Lorelei Salas, the commissioner of New York City's Department of Consumer and Worker Protection from 2016 through April 2021, was named the CFPB's assistant director for the Office of Supervision Policy, the bureau announced today. The Office of Supervision Policy develops strategies and policies for the CFPB's supervision teams when they examine financial firms for compliance with bureau regulations. Read more from Evan Weinberger.
Group Tell Agencies Zuckerberg Should Face Criminal Probe: A liberal nonprofit that advocates for market competition is urging federal authorities to investigate whether top executives including Mark Zuckerberg and Sheryl Sandberg broke the law, adding personal accusations to the allegations facing the company following disclosures from a whistle-blower. The Washington-based American Economic Liberties Project is sending a letter today to the leaders of the Justice Department, the Securities and Exchange Commission and the Federal Trade Commission offering examples of what it identified as potential wrongdoing and calling on the agencies to open inquiries. Read more from Anna Edgerton.
To contact the reporter on this story: Michaela Ross in Washington at mross@bgov.com
To contact the editors responsible for this story: Zachary Sherwood at zsherwood@bgov.com; Brandon Lee at blee@bgov.com
Stay informed with more news like this – from the largest team of reporters on Capitol Hill – subscribe to Bloomberg Government today. Learn more.