Partisan Tensions Stemming From Jan. 6 Roil House Functionality
Lawmakers see new low in chamber's heated atmosphere
Disputes have led to delays in once bipartisan legislation
Bloomberg Government subscribers get the stories like this first. Act now and gain unlimited access to everything you need to know. Learn more.
Simmering partisan tensions in the House since Jan. 6 have led to outbursts, tit-for-tat retaliations, and a clogged legislative pipeline.
Bipartisan bills that in a previous Congress would be passed through quick voice votes were backlogged thanks to Freedom Caucus members requesting a vote on each one. At least two Democrats refused to partner with Republicans on legislation because of their votes against certifying the Electoral College results. And even trekking to the House floor to vote has become contentious, as some Republicans have chafed at having to pass through metal detectors and still wear a mask.
It's added up to a contentious and polarizing atmosphere in the closely divided chamber ahead of what's likely to be a hectic summer of legislating and as incumbents — and former President Donald Trump — hit the campaign trail again.
"The partisan temperature right here has been nuclearized," said Rep. Rodney Davis(R-Ill.), tapping one of the metal detectors off the House floor.
Speaker Nancy Pelosi (D-Calif.) has said the floor mask mandate — backed by fines of as much as $2,500 — will remain in place until more members and staff are vaccinated.
Meanwhile, tensions have stretched into the hallways, with members sniping at each other in heated conversations and outright yelling — most notably Rep. Marjorie Taylor Greene's (R-Ga.) confrontation last month with Rep. Alexandria Ocasio-Cortez (D-N.Y.).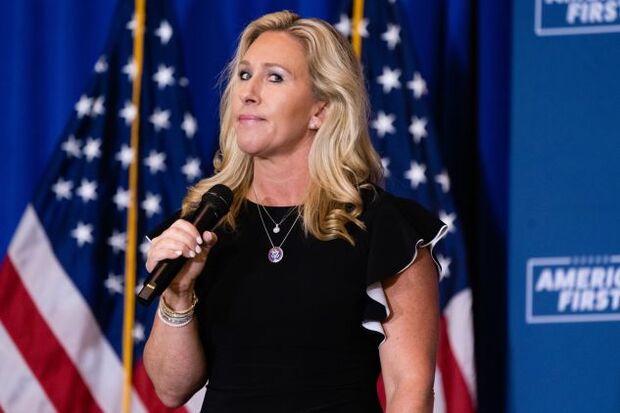 Legislation (H.R. 1629) limiting market exclusivity for certain drugs, which was easily passed last Congress, didn't get the two-thirds majority it needed under suspension of the rules last month. Republicans voted against it because the bill's sponsor, Rep. Madeleine Dean(D-Pa.), blocked Rep. Buddy Carter (R-Ga.) from being the lead cosponsor, citing his vote against certifying the Electoral College vote from her state.
The House eventually passed the bill by a comfortable 402-23 margin after it was brought up for another vote under a different process — a routine move when a measure hits such a snag.
House Democratic leaders can use other tools to force legislation through. Still, too many defections among their ranks can imperil legislation as seen in the narrow 213-212 passage of a supplemental Capitol security appropriations bill (H.R. 3237), which squeaked through when three Democrats responded present, rather than no.
House-passed measures also have to be cleared by the 50-50 Senate or reconciled with the versions that typically have to win over at least 10 Republicans in that chamber to move forward, such as legislation to keep the government open past Sept. 30.
How Jan. 6 Lingers
Carter, one of 139 Republicans who voted against certifying the vote in Pennsylvania, Arizona, or both, stood by his votes, saying those states' election changes should've been approved through state legislatures.
"Until Democrats get past Jan. 6, it looks like we're not going to be able to get anything done in a bipartisan fashion," Carter said.
Democrats don't see the assault on the Capitol as something to sweep past. Dean, who was led out of the locked-down chamber in a gas mask that day, said the only way to move forward is if an independent commission examines the issue. But only a fifth of House Republicans voted for a measure (H.R. 3233) that would create the investigatory panel, and last week it didn't have the support of 60 senators needed to advance, though six Republicans backed the procedural motion.
"The precious thing we all talk about as Americans, so special to us, is the peaceful transfer of power, and that's the first time it was interrupted since the Civil War," Dean said. "People died that day."
Dean isn't the only Democrat who's put distance between herself and her colleagues across the aisle. Rep. Mike Levin (D-Calif.), who previously sponsored a bill to expedite renewable energy development with Rep. Paul Gosar (R-Ariz.), declined to add Gosar's name to the bill this year because of Gosar's Electoral College votes and sympathetic comments toward the rioters.
"My only goal with this bill is to get it signed into law," Levin said at a recent hearing. "As I explained to Mr. Gosar, having his name at the top could be detrimental to that goal."
Levin, like Dean, said Gosar could join the bill after its introduction, which Rep. Pete Stauber (R-Minn.) said sets "a disturbing precedent."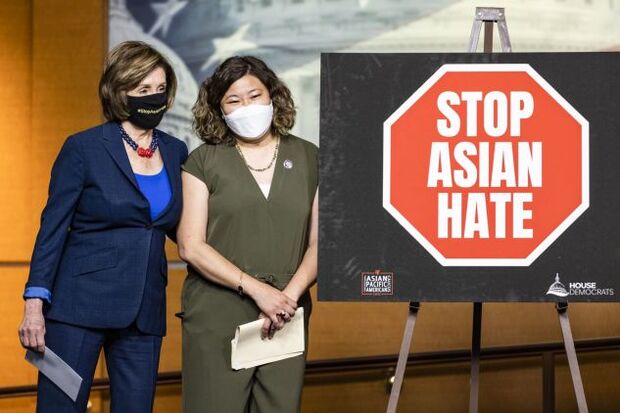 Even bills that would seem easy to gain bipartisan support — such as legislation (Public Law 117-13) that would, among other things, award grants to state and local governments to support and encourage the reporting of hate crimes — have been splattered with political mud, said Rep. Judy Chu (D-Calif.), who noted 62 House Republicans voted against the bill.
"We are facing a more partisan Congress than ever before," Chu said. "This is the most partisan Congress, and I do think it has to do with President Trump."
Dividing Lines
Trump continues to dole out endorsements to incumbents who've stood by him and is launching a rally tour to, in part, oppose those who haven't.
Metrics show the chamber has become increasingly partisan over the last several decades — well before Trump was in office — in part because lawmakers are reflecting a more polarized electorate. Only 16 congressional districts voted for a House lawmaker from one party and the presidential candidate of the other in 2020, according to an analysis by Bloomberg Government. It was 35 in 2016, down from 109 in 1996, according to the Brookings Institution's Vital Statistics on Congress.
Several lawmakers said partisan tensions were compounded by precautions taken for Covid-19 that allowed members to spend less time together. House leaders changed the calendar and rules, keeping members in their home districts for more time than anticipated. They also made committee hearings virtual and encouraged members to come to the floor, vote, and leave.
"Before I got here people used to talk about how it was hard because families don't mix anymore and people don't travel together anymore," Rep. Jaime Herrera Beutler(R-Wash.) said. "I certainly think that the pandemic has caused everybody to retreat, so you're not even physically together."
Things are so bad it's begun to trickle down to staff members, who used to be able to forge compromises between their bosses, said Jonathan Bydlak, director of the Governance Program at R Street Institute, a nonpartisan public policy research organization. He said lawmakers largely view the other party as a monolith: Democrats are socialists who want to defund the police, while Republicans are racists who believe the 2020 election was stolen.
"In the past, I think there were more good faith efforts to try to pass legislation in a bipartisan way," Bydlak said. "Now the presumption, because of the viewing of the other side as the 'other,' is that it's a waste of time and it's not necessary."
'Like A Cancer'
"I suspect it's like a cancer," Carter said of the chamber's polarization. "Unless you treat it, unless you try to mediate it, it's going to get worse and worse and it's going to grow."
Jason Grumet, president of the Bipartisan Policy Center, rejected the idea that Congress is truly broken, pointing to the ability of lawmakers to come together last year and pass legislation to address the Covid-19 crisis. By contrast, a $1.9 trillion package (Public Law 117-2) signed this year by President Joe Biden didn't attract a single Republican vote in either chamber.
But he and other congressional experts pointed to aggravating factors such as rank-and-file members having less influence on legislation.
According to a tally from the Bipartisan Policy Center,the Rules Committee hasn't issued any open rules — which allow lawmakers to offer an amendment as long as it complies with House rules — since the 114th Congress, which ended in 2017.
Instead, it's issued structured rules, making in order specific amendments, or closed rules barring them altogether. During the pandemic, the panel packaged multiple amendments together to reduce the number of votes, which have been stretched out to allow social distancing.
GOP members also objected to a rules change adopted at the beginning of this year that prevented them from offering motions to recommit with instructions — their one guaranteed chance to secure a vote on a legislative change.
While it's undeniable the House is struggling, it's not irreparable, Grumet said. He said that the "vast majority of our elected officials are good people with bad incentives" and many of the frustrations people have with Congress were "created by design."
With assistance from Greg Giroux
To contact the reporter on this story: Emily Wilkins in Washington at ewilkins@bgov.com
To contact the editors responsible for this story: Kyle Trygstad at ktrygstad@bgov.com; Loren Duggan at lduggan@bgov.com
Stay informed with more news like this – from the largest team of reporters on Capitol Hill – subscribe to Bloomberg Government today. Learn more.