Parties Set for Election Law Clash as Senate Bill Heads to Floor
Democrats introduced overhaul bill passed by House
It's aimed in part at rebutting GOP efforts in states
Bloomberg Government subscribers get the stories like this first. Act now and gain unlimited access to everything you need to know. Learn more.
Democrats in Congress and Republicans in many statehouses are on a collision course over elections laws, with both sides racing to get their preferred rules in place before the 2022 elections.
The Senate is set to kick off consideration of a Democratic-backed election bill (S. 1) with a hearing next week, coinciding with a $30 million advertising and mobilization campaign to push for passage of the measure. A House-passed version (H.R. 1) would outlaw restrictions on voting by mail and partisan gerrymandering, among scores of other provisions that also would change campaign finance and ethics rules.
At the same time, Republicans are teeing up bills in state legislatures they control that would tighten voting restrictions, such as by limiting options for mail-in ballots and early voting for many voters. They're also getting set for a new round of redistricting likely to favor GOP lawmakers, especially in southern states set to gain House seats.
Which side prevails could determine how elections are conducted — and who wins — for years to come, both parties say.
By designating the legislation as S.1, Senate Majority Leader Chuck Schumer (D-N.Y.) said Wednesday, "Senate Democrats made clear we are committed to standing up to the voter suppression efforts that are threatening the core tenets of our democracy, to ending dark money in politics, and to ensuring public officials work for those they represent and not the special interests."
Schumer has indicated he's considering changing Senate rules to overcome a certain Republican filibuster to get it passed. "Failure is not an option," he said.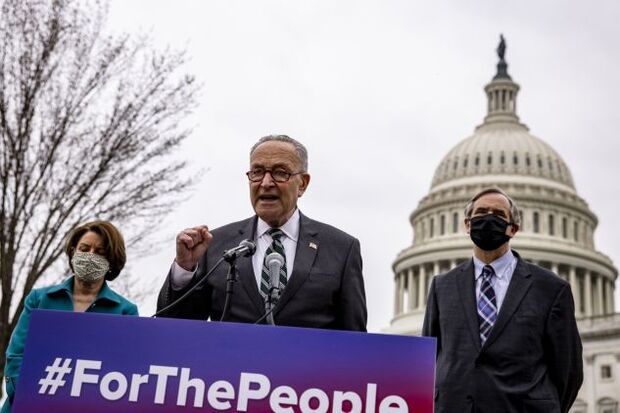 The Senate Rules and Administration Committee will hold a hearing on the bill March 24 and schedule a markup to advance it to the floor soon after, Chairwoman Amy Klobuchar (D-Minn.) said in a statement Wednesday.
She said Congress has clear power under the Constitution to set rules for federal elections and override state rule changes. And in announcing the bill, Klobuchar called it "essential to protecting every American's right to vote."
Partisan Pushback
The bill faces long odds in the Senate, where Republican Leader Mitch McConnell (R-Ky.) promised Tuesday a "scorched-earth" response if they try to change filibuster rules to pass the election bill and other liberal measures on a party-line vote. Democrats and Republicans are divided 50-50 in the Senate, with Vice President Kamala Harris holding the deciding vote to give Democrats the majority.
McConnell, the Senate's strongest opponent of changes in federal election and campaign finance laws, said earlier this year that the Democratic bill the House recently passed was an effort to "grab unprecedented power over how America conducts its elections and how American citizens can engage in political speech."
But Republicans also are facing a backlash over their election proposals in states including Georgia, where legislation that would roll back voting by mail and early voting are seen by critics as aimed at restricting minority voting.
"Rather than change their message, they're busy trying to change the rules," Sen. Raphael Warnock (D-Ga.) said of Republican legislators on Wednesday in his first floor speech since being elected in January.
Tying that effort to his election as the state's first Black senator, he said, "We are witnessing right now a massive and unabashed assault on voting rights unlike anything we've ever seen since the Jim Crow era."
Republican lawmakers say they're reacting to widespread concerns about election integrity. The Republican State Leadership Committee launched a commission last month for state leaders to share ideas on overhauling voting laws.
"Restoring confidence in our nation's elections won't happen overnight, but the RSLC's Commission on Election Integrity has served as a fantastic hub of ideas for beginning the process," RSLC President Dee Duncan said in a statement.
Recent GOP polling has shown a steep dropoff in Republican election confidence after Donald Trump's claims of widespread fraud in the 2020 election.
A poll sponsored by the conservative nonprofit R. Street found less than a quarter of Republicans believed the presidential election results were valid, even though about half GOP voters took advantage of mail-in ballots or early voting and nearly 90% said they were personally satisfied with the process they used to cast ballots.
Ads in Five States
Supporters of the Democratic election bill say their polling shows support for the voting rights and anti-corruption measures it contains. The campaign to pass the bill is being supported by the National Democratic Redistricting Council, whose chair is former Attorney General Eric Holder, along with liberal groups that have long supported revamping election and campaign finance laws.
Digital ads are already running. TV ads will start next week as Senate hearings on the bill get under way, with messages aimed at supporting Democrats who back it and at persuading Republicans. The first round of ads is set to target Alaska, Arizona, Georgia, Maine, and Pennsylvania.
Democrats have used reform messages successfully to elect candidates in recent elections, according to Tiffany Muller, head of the nonprofit End Citizens United/Let America Vote, which is spearheading the latest ad effort. But this effort is aimed at getting a bill passed, not election messaging, she insisted.
"There's a new urgency to getting that done as we see voting rights attacked across the country," Muller said on a call with reporters Wednesday. If Republicans are allowed to set the rules for the 2022 elections "it makes the ability to just have the same debate in 2023 much more difficult," she said. "And there's no doubt that's what Republicans are counting on."
There's no similar ad campaign among opponents of the election bill, David Keating, president of the nonprofit Institute for Free Speech, said in an email, but he pointed to widespread opposition from Republican officials, conservative organizations, and the American Civil Liberties Union.
To contact the reporter on this story: Kenneth P. Doyle in Washington at kdoyle@bgov.com
To contact the editors responsible for this story: Kyle Trygstad at ktrygstad@bgov.com; Bennett Roth at broth@bgov.com
Stay informed with more news like this – from the largest team of reporters on Capitol Hill – subscribe to Bloomberg Government today. Learn more.