Paralysis Grips U.S. Election Overseer While Complaints Pile Up
The agency charged with enforcing campaign finance law begins the presidential election year paralyzed by the lack of a board quorum and unable to dispense with hundreds of complaints.
As Republican Caroline Hunter assumes the rotating chairmanship of the Federal Election Commission, she inherits a growing backlog of more than 300 pending campaign finance complaints, nearly 70 of which may never be resolved because they are close to the expiration of a five-year statute of limitations.
FEC analysts continue to review campaign finance reports filed by candidates, and staff lawyers can interview witnesses and collect documents in more than two dozen investigations approved by the commissioners before the loss of a quorum at the end of August. However, none of these probes can conclude and no new investigations can begin until a quorum is restored.
"The FEC's ability to monitor the billions of dollars sloshing around this election cycle is currently severely constrained, and its ability to punish those who break the law is severely curtailed until it regains a quorum," said Michael Beckel, research director at Issue One, a campaign finance watchdog nonprofit group.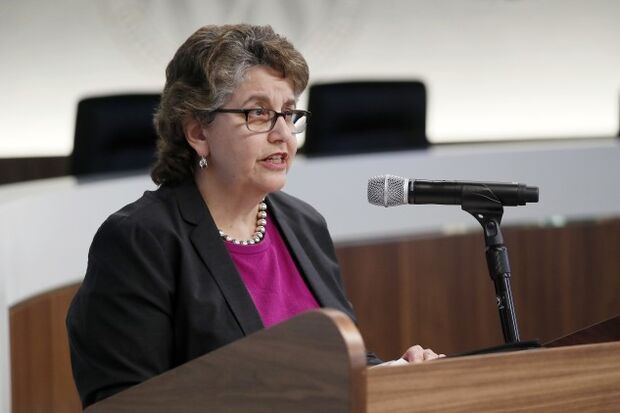 Prolonged Vacancies
Partisan differences have stalled efforts to fill the requisite number of seats on the panel to conduct business.
Federal campaign finance law and FEC precedents require the chairmanship to rotate each year to a new commissioner from a different political party. Hunter is taking over the leadership role from Democrat Ellen Weintraub, who said in a year-end statement that her efforts in 2019 to reduce a backlog of enforcement matters were reversed by the departure of Republican commissioner Matthew Petersen at the end of August.
That meant the loss of a quorum of at least four commissioners needed to approve settlements, fines and other enforcement action. The number of these cases awaiting a vote by the commissioners "has nowhere to go but up," as prolonged vacancies at the FEC continue into the presidential election year, she added.
Seats on the six-member FEC are equally divided among commissioners recommended by Democrats and Republicans. Petersen's resignation left only three current commissioners and three vacancies.
Congressional Democrats and Republicans have been deeply divided on campaign finance issues and appear to have reached an impasse over demands by Senate Majority Leader Mitch McConnell (R-Ky.) to replace all the current commissioners. Weintraub, Hunter and Steven Walther, a political independent who holds a Democratic seat, are serving in "holdover" status after their six-year terms expired and are all eligible to be replaced.
Congressional Standoff May Delay Federal Election Oversight
President Donald Trump has nominated a new commissioner to fill one of two Republican vacancies: James "Trey" Trainor, an election lawyer from Austin, Texas, who advised Trump's 2016 campaign. Senate Democrats have recommended Shana Broussard, an FEC staff attorney, for a Democratic commission vacancy, but Trump hasn't nominated her. She would be the first African American to serve on the panel. The recommendation was first reported by the Center for Public Integrity.
The Senate hasn't held any confirmation hearings on Trainor, who was first nominated in September 2017. Traditionally, Democratic and Republican commission nominees have been paired before the Senate agrees to confirm them.
Foreign Affairs
Weintraub, whom Republicans criticized for pushing for further investigation into foreign interference in elections, said in her report last month that the list of pending cases includes three dozen that involve alleged illegal foreign influence in campaigns.
While details of pending enforcement matters are kept under wraps due to confidentiality provisions, Weintraub called on the commission staff in April to review the report by Special Counsel Robert Mueller for possible campaign finance violations regarding Russian interference in the 2016 election.
McCain Funding
The last time the FEC was in this position was also a presidential election year: 2008. The commission limped along with just two commissioners for the first six months of that year until a slate of four new commissioners was appointed and confirmed by the Senate. Helping to force action that year was a request from Sen. John McCain (R-Ariz.), the Republican presidential nominee, for $84 million in public funding for the fall general election campaign. Release of the money had to be approved by at least four commissioners.
The presidential public financing system has fallen into disuse because it requires campaign spending limits. None of the 2020 presidential candidates have so far requested public funding, except for Montana Gov. Steve Bullock, who dropped out of the Democratic primary contest early last month.
Issue One called on Trump to nominate — and the Senate to confirm — new commissioners "who are committed to enforcing the laws on the books," Beckel said. The group has also called for Congress to revamp the FEC to deal with partisan deadlocks that impeded the enforcement of campaign finance laws even before the commission was completely hamstrung by the loss of a quorum.
To contact the reporter on this story: Kenneth P. Doyle in Washington at kdoyle@bgov.com
To contact the editors responsible for this story: Bennett Roth at broth@bgov.com; Kyle Trygstad at ktrygstad@bgov.com