Pandemic Is Changing the Military, From Boot Camp to Office Work
U.S. Navy recruits who arrive at the service's only boot camp outside of Chicago are now given iPads to learn basic training as they languish for two weeks in quarantine isolation.
The Marine Corps, a service that prides itself for doing more with less equipment, is experimenting with distance and computer learning as well as simulators to avoid training in groups.
"What we'd like to be able to do is have large-scale exercises with people plugging into an exercise either virtually or live from multiple locations," Major Gen. William Mullen, the head of Marine Corps Training and Education Command, said during a Pentagon briefing in July.
The U.S. military is finding its footing and changing how it operates as cases of the coronavirus keep rising. The services have been forced to continue widespread use of quarantines and to rethink future training, deploying, and day-to-day work. The virus curve has shot up from 10,462 cumulative cases in early June to 37,824 total cases by late July, according to the Defense Department. The figure includes more than 14,300 current infections among active-duty troops, as well as total cases reported among civilian workers, dependents and contractors since the pandemic began.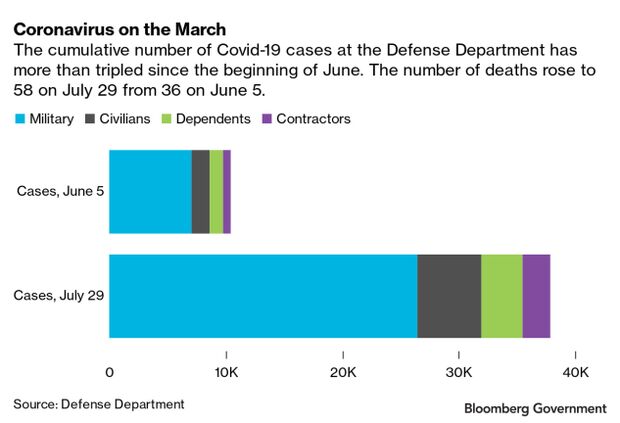 "We are giving the services some room within their systems of moving people around to do it as efficiently as possible to address some of the issues raised there," Defense Secretary Mark Esper told a military town hall.
The shifts could mean billions of dollars spent on renovating facilities to add quarantine periods into boot camp, artificial intelligence, and robotic maintenance as well as advanced testing for the virus and other bio-threats on ships where social distancing is almost impossible. Congressional Republicans anticipate more than $3 billion would be needed in 2020 alone to make adjustments to buildings, training, and pandemic prevention.
Boot Camp
Boot camp has been under pressure as the military needs tens of thousands of new service members each year to keep operations going. While recruiting numbers have rebounded since a drop-off in March, hundreds of recruits are testing positive for Covid-19.
Navy recruits are quarantined for weeks in costly off-base hotel rooms that the services call restriction of movement housing, or ROM, to ensure they don't infect the training pipeline.
"By far, the most expensive part of this for us is paying for our off-site ROM facilities," Rear Adm. Jamie Sands, the head of Naval Service Training Command, told reporters this month.
Senate Republicans are proposing about $2.6 billion in Pentagon emergency spending for construction of facilities, distance learning, and training in a coronavirus rescue package that serves as a harbinger for the projected costs of some of the necessary changes. Another $83 million would go just to boost distance learning and training.
Sands said the Navy is looking for a cheaper, more sustainable way to isolate recruits and is considering using Naval Station Great Lakes, the service's sole boot camp located outside of Chicago.
The Army trains 46,000 recruits daily and on average almost 2% test positive for Covid-19, meaning about 900 are regularly removed from their boot camp platoons, isolated for two weeks, and provided health care, Major Gen. Lonnie Hibbard, the commander of the U.S. Army Center for Initial Military Training, told reporters recently.
"Each of our Army training centers have a location set aside, a barracks, for those trainees and an overflow, if we happen to get more trainees than can fit in that barracks," Hibbard said.
The Army and Air Force, for example, will meet recruiting missions this year, but it is largely due to strong retention, said Emma Moore, a research associate for the Military, Veterans, and Society program at the Center for a New American Security. "As the pandemic continues, there may be an uptick in interest in service due to economic realities."
Training, Deployments
The Army said it would resume large-scale training at the Joint Readiness Training Center in Fort Polk, La., and National Training Center at Fort Irwin, Calif., as well as brigade-level training in Germany, all with extra health checks.
"The services are likely to treat the pandemic as something to be contained and mitigated but not as something that will fundamentally shift how they train," Moore said. "The rhetoric that they are confident in their own protocols is unsurprising, though to a degree assumes the military will be able to insulate itself from trends amongst the broader public."
The Navy, however, may be looking at some lasting changes after the coronavirus derailed several deployments, most notably the aircraft carrier USS Roosevelt. The ship was sidelined in Guam for almost two months after a large portion of the crew ended up testing positive for Covid-19.
The Roosevelt wasn't the only vessel that had to return to port after an outbreak. The Navy said in April that the USS Kidd was doing so because 18 sailors on the destroyer tested positive for the coronavirus, with more expected. Pentagon spokesman Jonathan Hoffman said that the Navy responded quickly and flew a specialized medical evaluation team onto the Kidd to conduct testing.
Congress is working to mandate that the Navy develops and adopts technology and protocols to help prevent and subdue future pandemics. The Senate, in its defense policy bill (S. 4049), is pushing the Navy to use artificial intelligence and data-driven infectious disease modeling and interventions; shipboard airflow management and disinfectant technologies; personal protective equipment, sensors, and diagnostic systems; and unmanned logistics to reduce human contact.
Testing
The pandemic is also stressing the military's disease testing capabilities for its 2.15 million troops. The services and Congress want to expand those capabilities beyond the pandemic to protect against diseases in the future.
A top need for Marines is "testing, immediately," Troy Black, the Sergeant Major of the Marine Corps, said during a webinar this month.
"Imagine being able to test on board a vessel continually. Marines, sailors coming on and off that ship and being able to immediately put them through a process and know if they have some sort of contagion or virus," Black said.
Testing and technology that is dual-use for Covid-19 and future outbreaks needs to be more accessible than it has been to front-line troops, Master Chief Petty Officer of the Navy Russell Smith said during the virtual event.
"Today's fight is Covid, we have this bad habit of always fighting the last fight instead of the next one," Smith said.
The House version of the annual defense authorization bill, H.R. 6395, would create a pandemic preparedness fund for the military. As much as $50 million could be used to develop testing, technology, and medical countermeasures for troops to quell a new type of outbreak. Another $750 million would support research into bio-medical and pandemic preparedness and be spread across all the services as well as the military's global health system.
The Senate also is pressing to ensure rapid access to vaccines to preserve force readiness. Its defense policy measure would direct the Pentagon to "pursue late-stage, multi-modal platform technologies capable of responding to pandemics such as influenza, COVID–19, and future infectious diseases." It would also authorize an additional $40 million in the research accounts to back emerging biotechnology.
Telework
Daily work at the Defense Department has shifted dramatically as personnel clock in from home. As many as 1 million of the department's 2.87 million troops and civilians work remotely on any day, up from an average of about 95,000.
"We really shattered the myth that you cannot do any work at DOD via a telework situation," Chief Management Officer Lisa Hershman said during a web event this month.
The IT infrastructure including laptops and software needed to support that shift has cost the Pentagon $324 million. The services now suggest the shift is an opportunity.
"As you look across the Navy, if you can have some percentage of the force that was taking up office space and now you can save those resources," Vice Adm. John Nowell, the chief of naval personnel, said during a web event. "We can put that into runways and into harbors, instead of into leasing buildings."
How much of the department's office space around the world could eventually be deemed excess remains to be seen. Pentagon Chief Information Officer Dana Deasy has said he expects remote work to remain after the pandemic, and a wide range of defense officials have touted the productivity of personnel working from home.
"I've had probably close to 95-97 percent of my workforce here at our headquarters that is telework," Nowell said. "So that's well over 700 people and I have to tell you it's going along very, very well, and that's what we've seen throughout the Navy."
To contact the reporters on this story: Travis J. Tritten at ttritten@bgov.com; Roxana Tiron in Washington at rtiron@bgov.com
To contact the editors responsible for this story: Cheryl Saenz at csaenz@bloombergtax.com; Robin Meszoly at rmeszoly@bgov.com; Sarah Babbage at sbabbage@bgov.com