Palm Springs' Congressman in Crosshairs as GOP Nixes Gay Funding
Member who represents gay mecca voted to ax LGBTQ earmarks
Targeting same-sex marriage could hurt GOP with younger people
Bloomberg Government subscribers get the stories like this first. Act now and gain unlimited access to everything you need to know. Learn more.
Rep. Ken Calvert's California district was redrawn at the beginning of the decade to include Palm Springs, a desert oasis that's a magnet for celebrities, golf players, retirees — and a large gay community.
The addition of the liberal resort has become a political headache these days for the conservative Republican lawmaker whose party is increasingly targeting transgender and gay rights.
This summer Calvert joined other GOP appropriators in rejecting funding for three LGBTQ centers that had been tucked into annual spending bills and adding a provision that would protect people with a "sincerely held religious belief" opposing same-sex marriage.
Such moves are being pushed by social conservatives emboldened by recent Supreme Court rulings and GOP presidential candidate and Florida Gov. Ron DeSantis, who has made opposing "woke culture" a central campaign theme. The rightward tilt on these hot-button issue poses risks to those in the party such as Calvert who represent swing districts that include voters uneasy with attacks on same-sex marriage and other LGBTQ rights.
"In Palm Springs, I don't understand how he thinks he can win re-election by telling tens of thousands of us that we don't deserve to eat when we get older," said Will Rollins, an openly gay Democrat who is seeking a rematch for Calvert's seat.
Rollins was referring to Republicans' move in the Appropriations Committee to strip earmarks from the Transportation-Housing and Urban Development spendings bill (H.R. 4820) for LGBTQ community centers in Boston, Philadelphia, and Reading, Pa. Other appropriations riders would restrict gender-affirming care for minors and protect individuals who oppose same-sex marriage.
BUDGET BRIEF: Earmarks Fight Casts Shadow on House Funding Work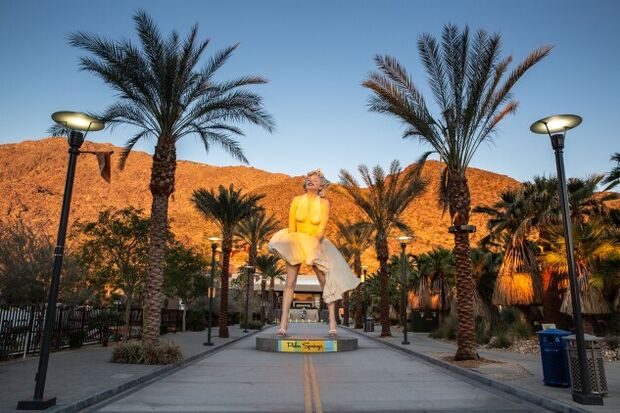 Calvert declined to be interviewed and instead issued a statement that he opposed funding the LGBTQ centers because of "political activism" related to communism, a lack of age limits for gender-affirming care, and inappropriate material for children.
"I believe most of my constituents, regardless of sexual orientation, do not believe that US taxpayer dollars should be used on activities that undermine the foundations of our country," he said in the statement. "I do not condone discrimination of any kind and I will always vote my conscience."
Redrawn District
Calvert beat Rollins in 2022 by about 11,000 votes in his first election in the redrawn district that included Palm Springs and other Democratic-leaning cities, in addition to the more conservative parts of Riverside County he already represented. Former President Donald Trump would have carried the new 41st by 1 percentage point in the 2020 election.
Palm Springs was previously represented by Rep. Raul Ruiz, a Democrat who won a different district after California's congressional lines changed. Sonny Bono, Cher's former husband and musical partner, represented the desert city as a Republican from 1995 until he died in a skiing accident in 1998. Their son Chaz Bono is transgender.
Matt Lesenyie, a political science professor at California State University – Long Beach, said Calvert's stance on culture war issues signals that he thinks he needs to take a conservative enough stance to win his primary.
But he said California Republicans aren't as concerned about LGBTQ issues as voters elsewhere in the country. He said they tend to care more about "kitchen table" topics like environmental regulation, economic development, and crime.
"I'm surprised that he's going back to the well" on riders involving same-sex marriage, Lesnyie said of Calvert.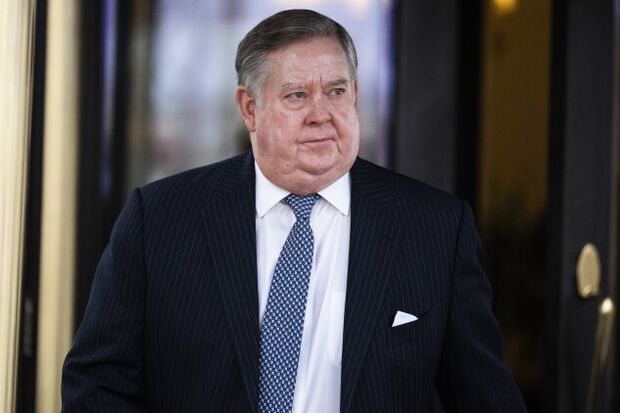 Until recently gay rights groups had been encouraged that attitudes, particularly on marriage, had been shifting among Republicans. Almost half of Republicans supported legal same-sex marriage, a recent Gallup poll showed. Support is higher among unaffiliated voters, who often decide elections in swing districts: 78% of the independents polled favoring same-sex marriage.
A group of 39 House Republicans — including Calvert — voted with Democrats last year to protect same-sex marriage on a federal level through the Respect for Marriage Act (Public Law 117-228; see BGOV Bill Summary).
But since that measure became law, the GOP has taken over the House majority and appropriators have introduced language critical of same-sex marriage. Provisions in 11 appropriations bills would block the federal government from discriminating against someone with a "sincerely held religious belief or moral conviction" against such unions.
Religious Freedom
Connor Semelsberger, government relations manager at the Heritage Foundation, said Republican lawmakers' emphasis on social issues in the appropriations process comes from their inability to weigh in substantially on the Respect for Marriage Act while in the House minority.
"They really had no opportunity whatsoever to try to amend that bill to add some really substantive and robust religious freedom protections for Americans," Semelsberger said of the 117th Congress.
The lawmakers who back the spending riders say they would protect religious freedom for Americans who believe marriage must be between a man and woman. The provisions echo the Supreme Court's decision earlier this year that allowed a web designer who opposes gay marriage to refuse service for same-sex weddings.
House Republicans who supported the Respect for Marriage Act argue that its a different issue than the federal government funding LGBTQ-related projects.
"That stuff belongs in their home, in the bedroom or wherever," said Rep. Jeff Van Drew (R-N.J.), who backed same-sex marriage legalization. "I don't think that we need to fund those types of things," he said of his party's push to block funding for LGBTQ centers.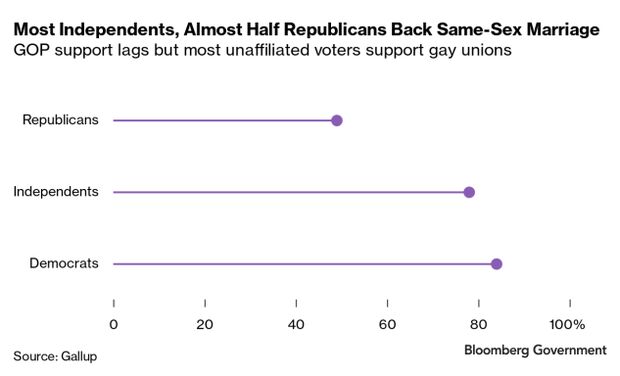 David Stacy, government affairs director for the Human Rights Campaign, a prominent gay rights advocacy group, said that more members of Generation Z — a group aging into voting — identify as LGBTQ+ than any other generation.
"What the Republicans appear to be doing is doubling down on their senior citizen and older base to try to motivate them, to scare them," Stacy said. "But it's really short sighted and it's going to be a long term loser for them."
Other Republicans want to see fewer such legislative efforts on LGBTQ issues. Former Rep. Ileana Ros-Lehtinen (R-Fla.) has been lobbying her former colleagues to support legislation like the Respect for Marriage Act and nondiscrimination protections for transgender people.
Rodrigo Heng-Lehtinen, her son, is an LGBTQ rights advocate and the executive director at the National Center for Transgender Equality. Heng-Lehtinen has seen public acknowledgment of transgender people shift significantly since coming out in 2007.
"If it was true that going after LGBT Americans, and especially transgender Americans, was going to win you an election, DeSantis would be the frontrunner in the Republican primary," Heng-Lehtinen said.
'Don't Say Gay'
DeSantis, who spearheaded legislation in Florida limiting discussions of LGBTQ issues in schools that his opponents dubbed the "Don't Say Gay" policy, is polling well behind former President Donald Trump in the 2024 GOP primary contest.
Calvert and other Republicans in swing districts are betting that pocketbook issues like inflation and economic development will hold more importance for undecided voters.
National Republican Congressional Committee spokesperson Ben Petersen said Calvert's position on Appropriations — the committee that approved the LGBTQ riders — is a prime example of why voters will support him.
Petersen said the $24 million Calvert secured for local transportation projects in the district as an example, adding that voters will "once again reject extreme soft-on-crime liberal Will Rollins."
James Dozier, a lifelong Republican and the president of centrist policy nonprofit Centerline Liberties, agreed voters are focused on topics like the economy, crime, and competitiveness with China. But Dozier said he hopes the party pivots away next year from anti-LGBTQ legislation and toward policies that attract younger, independent and suburban voters.
"Republicans need to get back to the big tent coalition building that we used to have and not win elections by the slimmest majorities, but start to build out real winning coalitions," Dozier said.
— With assistance from Greg Giroux.
To contact the reporter on this story: Maeve Sheehey in Washington at msheehey@bloombergindustry.com
To contact the editors responsible for this story: Bennett Roth at broth@bgov.com; Loren Duggan at lduggan@bgov.com
Stay informed with more news like this – from the largest team of reporters on Capitol Hill – subscribe to Bloomberg Government today. Learn more.