Organ Donation Overhaul Pushed by Former Health Officials
Organ donation system has issues with tech, oversight: report
Group backs rule to boost transplants by 5,000 annually
Bloomberg Government subscribers get the stories like this first. Act now and gain unlimited access to everything you need to know. Learn more.
The U.S. organ donation and transplantation system is convoluted and badly needs changes, a group of former federal technology officers say in a new report.
The report identifies inefficient technologies, misaligned incentives, and a monopolistic contracting system as key issues in the organ donation system. It was produced by a group led in part by five former Department of Health and Human Services chief technology officers.
"Thousands of lives could be saved every year by installing basic accountability measures for the government contractors who run the organ donation system," said Greg Segal, one of the founders of Organize, an organization lobbying for changes to the organ donation system, which helped produce the report.
The group behind the report is pushing for HHS to finalize a set of proposed regulations that would create new performance standards for the dozens of organ procurement organizations that act as middlemen between donors and transplant centers. They are also nudging Congress for more oversight of the procurement organizations.
The lack of accountability for these organizations is causing serious problems in the current system, according to the report, shared with Bloomberg Government ahead of official publication. About 17% of donated kidneys are first offered to dead people who haven't yet been removed from the list of potential recipients, according to the report, which attributed the issue to inefficient matching technology.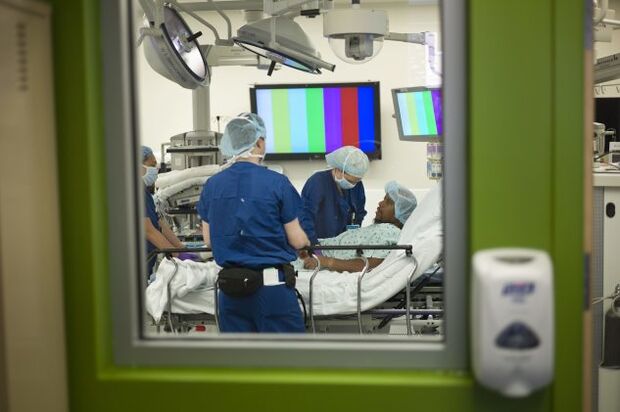 Segal said his group is working to spread the word that changes are needed for the organ donation system and those changes can be simple.
"So much of the problem is that it can sound more complex than it really is," Segal said. "The goal of this report is to demystify the process so that we can modernize organ donation, and contractors can be held accountable for their performance on behalf of patients and taxpayers."
The report was funded by Arnold Ventures, founded by John Arnold, a former Enron trader and hedge fund manager, and his wife Laura Arnold. It was also funded by Schmidt Futures, founded by former Google CEO Eric Schmidt and his wife Wendy Schmidt.
Organ Middlemen Respond
The group that represents organ procurement organizations, the Association of Organ Procurement Organizations, says it welcomes changes but that the federal government is proposing to set the bar too high in certain areas.
"At the end of the day we too want new metrics and we want to improve performance," Steve Miller, the group's CEO, said.
Organ procurement organizations have increased their lobbying presence since the Trump administration proposed changes that would bring new oversight to the industry, according to federal lobbying disclosures.
In June 2019, three organ procurement organizations formed Organ Donation Advocacy Group, headlined by Kate McAuliffe, who previously worked for Democratic leader Richard Gephardt, according to federal records. McAuliffe didn't immediately respond to a request for comment.
Around that same time the AOPO doubled its quarterly lobbying spending. The group spent $20,000 in the first half of 2019 on lobbying, and $42,000 in the second half of 2019. It has spent $63,000 this year on lobbying, according to federal lobbying disclosures.
Miller said his group wants "a seat at the table" in discussing proposed reforms.
Proposed Changes
HHS in late 2019 proposed changes to how organ procurement organizations are overseen. Instead of a system in which groups self-report data to federal authorities, the new system would require groups to meet donation rate measures and be assessed more independently.
Miller said HHS is setting the bar too high for some of these new measurements. In some instances organ procurement organizations will be judged by the performance of the top quarter of their peers, potentially setting up the rest to fail, he said.
"You'd never design a system where 75% of hospitals or 75% of physicians would fail," Miller said.
HHS estimated the changes would increase the number of annual transplants from about 32,000 currently to 37,000 by 2026.
The changes would go into effect in 2022, if finalized.
Congressional Oversight
Regulation of organ procurement organizations has caught the attention of key lawmakers.
Sens. Chuck Grassley (R-Iowa) and Ron Wyden (D-Ore.), the leaders of the Senate Finance Committee, sent a letter to HHS on Oct. 21 with concerns about lapses in oversight over organ procurement groups that have resulted in lost organs and other issues.
"The Department's own data suggests that thousands of lifesaving organs go unrecovered every year," the senators wrote.
"Investigative reporting has highlighted significant lapses in quality control and patient safety, including a report last month about a patient who died after the organ procurement organization (OPO) responsible for the transplant incorrectly identified the donor's blood type," they added.
The senators asked HHS for surveys of procurement organizations done by the agency and copies of complaints sent to the organizations.
To contact the reporter on this story: Alex Ruoff in Washington at aruoff@bgov.com
To contact the editors responsible for this story: Sarah Babbage at sbabbage@bgov.com; Heather Rothman at hrothman@bgov.com
Stay informed with more news like this – from the largest team of reporters on Capitol Hill – subscribe to Bloomberg Government today. Learn more.