'Onslaught' of Political Ads Primed for Markets Across the US
Key outside groups initially reserved $618 million in fall TV
Top super PACs spending at least $81 million this summer
Residents in and around Washington, D.C., will soon start seeing TV ads about Rep. Abigail Spanberger — even if they can't vote for or against her in the capital's suburbs.
"I apologize in advance," the Virginia Democrat quipped.
More than $618 million in combined initial fall TV airtime reservations were announced one by one in the spring by the major political parties' House and Senate campaign committees and the four leadership-aligned super PACs. The last of the eight, which all aim to win control of Congress, came this month and put the final touches on an early look at the political battleground.
Those eight groups can change their spending plans along the way, adjusting for campaign developments and budget constraints. But their first reservations, and the raft of ads already on the airwaves, foreshadow the most competitive corners of the country set to receive the bulk of outside spending, with majorities in both chambers on the line.
"The trend is that each cycle there's more and more spending, and that the spending is earlier," said Martha McKenna, a Democratic admaker who previously ran the independent expenditure operation for the Democratic Senatorial Campaign Committee. "And I think that's certainly true this cycle as well."
Fred Davis, a Republican admaker, said the amount of advertising will result in "guaranteed overkill," especially after Labor Day. He said voters still deciding whom to support will get bombarded with advertising about inflation, the baby formula shortage, and abortion rights.
"It's going to be an onslaught," Davis said.
Hot Spots
Las Vegas, which anchors three competitive House races and a key Senate race, attracted the lion's share of initial reservations from the eight groups, which account for a major portion of outside spending but are far from alone on the airwaves.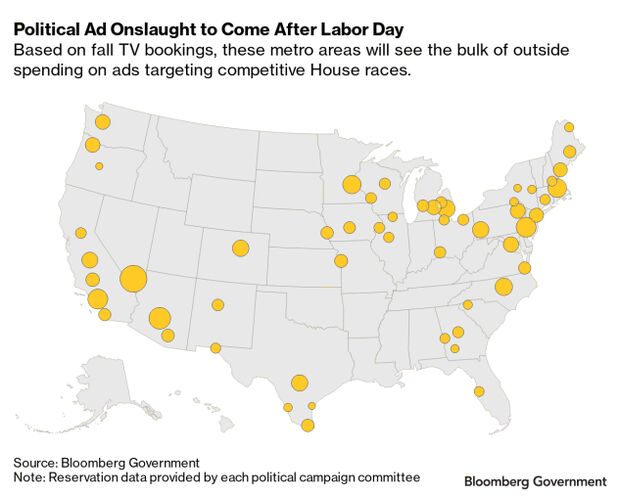 Those working on House races booked $34.3 million there, and those planning to play in Sen. Catherine Cortez Masto's (D-Nev.) re-election race put down another $47.5 million statewide.
"People get fed up with particularly negative advertising," said Rep. Steven Horsford (D-Nev.). He said it's especially true when people are struggling to "keep a roof over their head, keep food on the table."
In Los Angeles, these groups reserved $15.4 million in fall TV time, as a handful of House members seek re-election there. That includes Rep. Young Kim, a Republican currently favored to win re-election in southern California, according to ratings by the Cook Political Report with Amy Walter.
"If outsiders come and play in my favor, that's good," Kim said in an interview. "If they play against me, that also means that I'm doing the right thing. You don't get attacked unless you are doing the right work."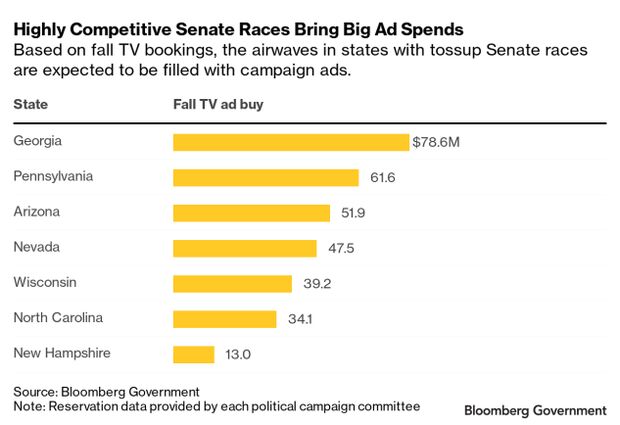 Coming Attractions
The four groups assigned with winning the House announced initial bookings of $284.6 million in fall TV time. A little less than half came from the Republican super PAC Congressional Leadership Fund alone.
The National Republican Congressional Committee earlier this month became the last to reveal its spending plans, after CLF and the two Democratic groups, House Majority PAC and the Democratic Congressional Campaign Committee.
"It's double anything we've done," NRCC Chairman Tom Emmer (R-Minn.) said. "And it's very interesting, if you take a look, it seems to match up fairly well with all the defensive money that Democrats have put out."
Four groups dedicated to breaking the 50-50 split in the Senate announced booking $333.3 million in TV advertising for the fall.
As on the House side, the top committee is the GOP-aligned super PAC — in this case Senate Leadership Fund — which is helmed Steven Law, a former top aide to Senate Minority Leader Mitch McConnell (R-Ky.). Democrats' Senate Majority PAC booked the second most, followed by the two party committees, the National Republican Senatorial Committee and the DSCC.
All four groups blocked off time in Georgia, Arizona, and Nevada, where Democratic incumbents are seeking re-election; in Pennsylvania, where an open Republican-held seat is on the line; and in Wisconsin, where Sen. Ron Johnson (R) is running for a third term.
"There hasn't been a lot of examples of the Republicans disagreeing, so I think this is what the map looks like," said JB Poersch, SMP's president and a former top aide to Senate Majority Leader Chuck Schumer (D-N.Y.). Poersch noted that there will be changes in the spending "as we go along."
Democrats are also eyeing GOP-held seats in Florida, North Carolina, and Ohio, where airtime is expensive and winning statewide is more challenging.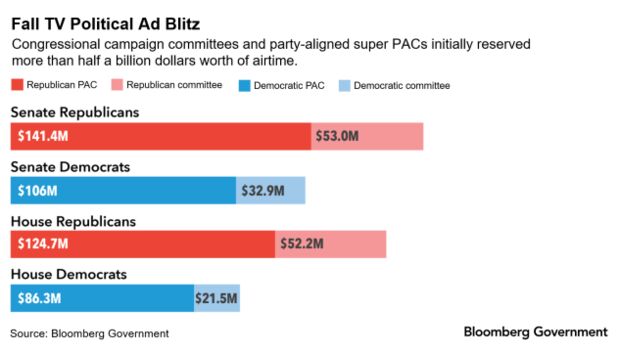 Even as strategists rely more and more on reaching voters through digital advertising, TV remains the biggest slice of the media spending pie.
Rep. Dean Phillips (D-Minn.), who's running for re-election in the Minneapolis area where at least $12.2 million in airtime was booked, attributed that to the evolution of "a very perverse incentive system" of "the political-industrial complex to spend as much as humanly possible, on television in particular."
Now Playing
The groups aligned with party leadership aren't waiting for the fall to start advertising. SMP and its affiliated political nonprofit, Majority Forward, recently announced plans to spend $38 million this summer to run TV ads in Arizona, Georgia, Nevada, Pennsylvania, and Wisconsin.
One Nation, a nonprofit also aligned with McConnell, is running $43.5 million in ads in Arizona, Georgia, Nevada, New Hampshire, and Wisconsin. The NRSC has run negative ads in Arizona, Nevada, North Carolina, and Pennsylvania.
"What we're trying to do is make sure we define the Democrats, and define them early," said NRSC Chair Rick Scott (R-Fla.).
Read More: Democratic Senators Hit Airwaves Backed by Big Fundraising Hauls
Bolstered by record-breaking fundraising, some Democratic Senate candidates also got on the airwaves earlier this year.
"They've done a phenomenal job of raising money, and they'll be able to stay strong right to the end," DSCC Chair Gary Peters (D-Mich.) said.
Seemeen Hashem also contributed to this story.
To contact the reporter on this story: Zach C. Cohen in Washington at zcohen@bgov.com
To contact the editors responsible for this story: Kyle Trygstad at ktrygstad@bloombergindustry.com; Kimberly Wayne at kwayne@bgov.com